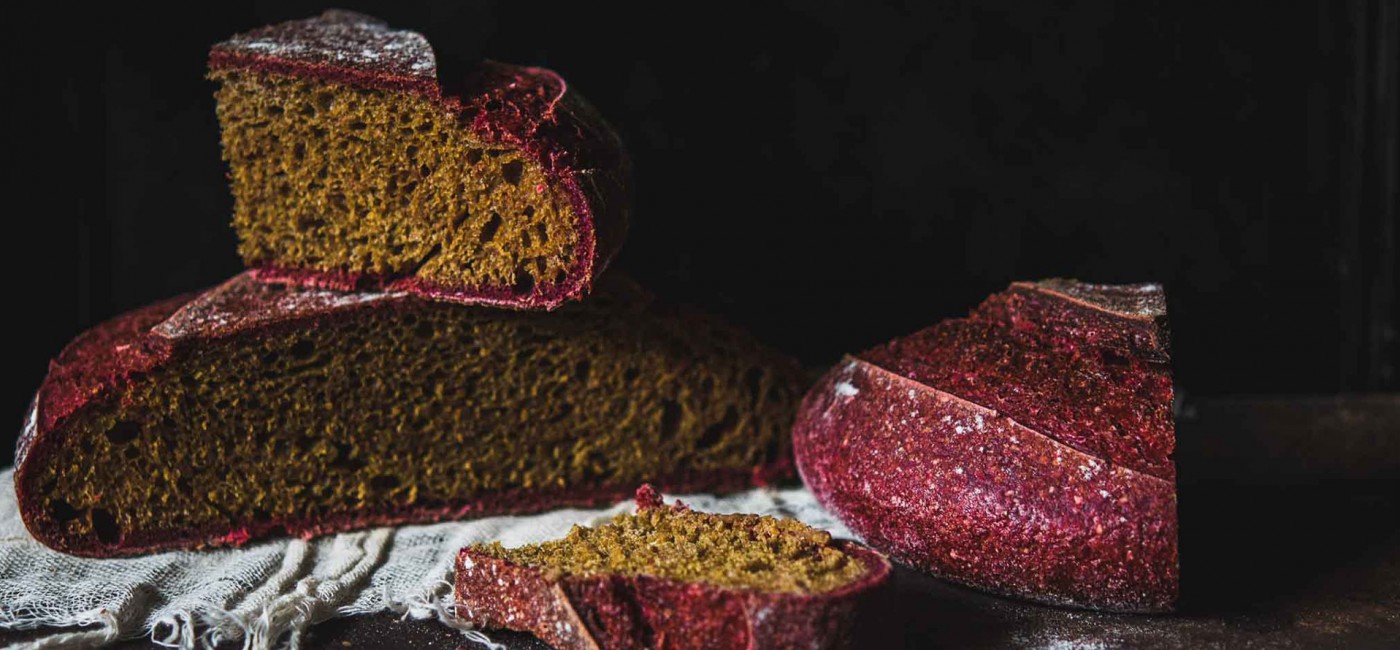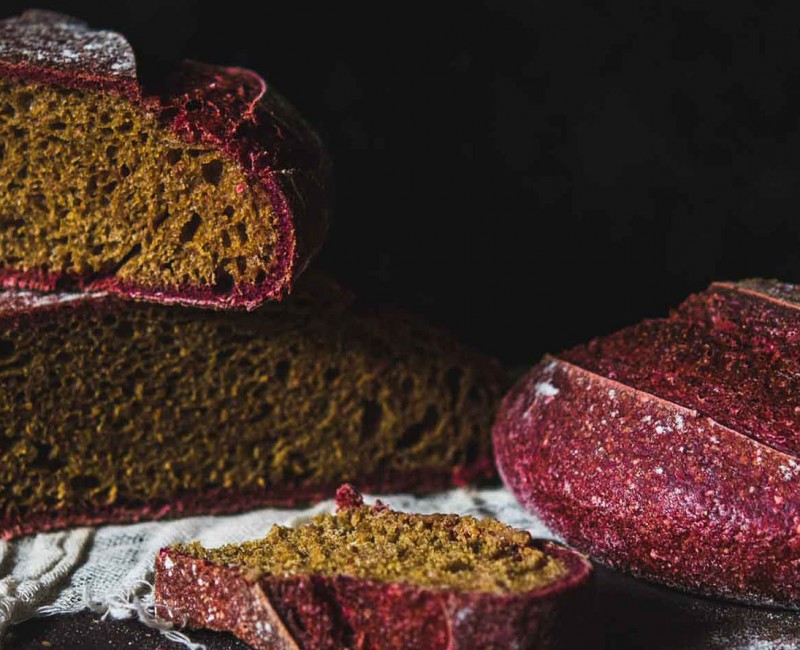 Beetroot Sourdough Bread
June 14, 2017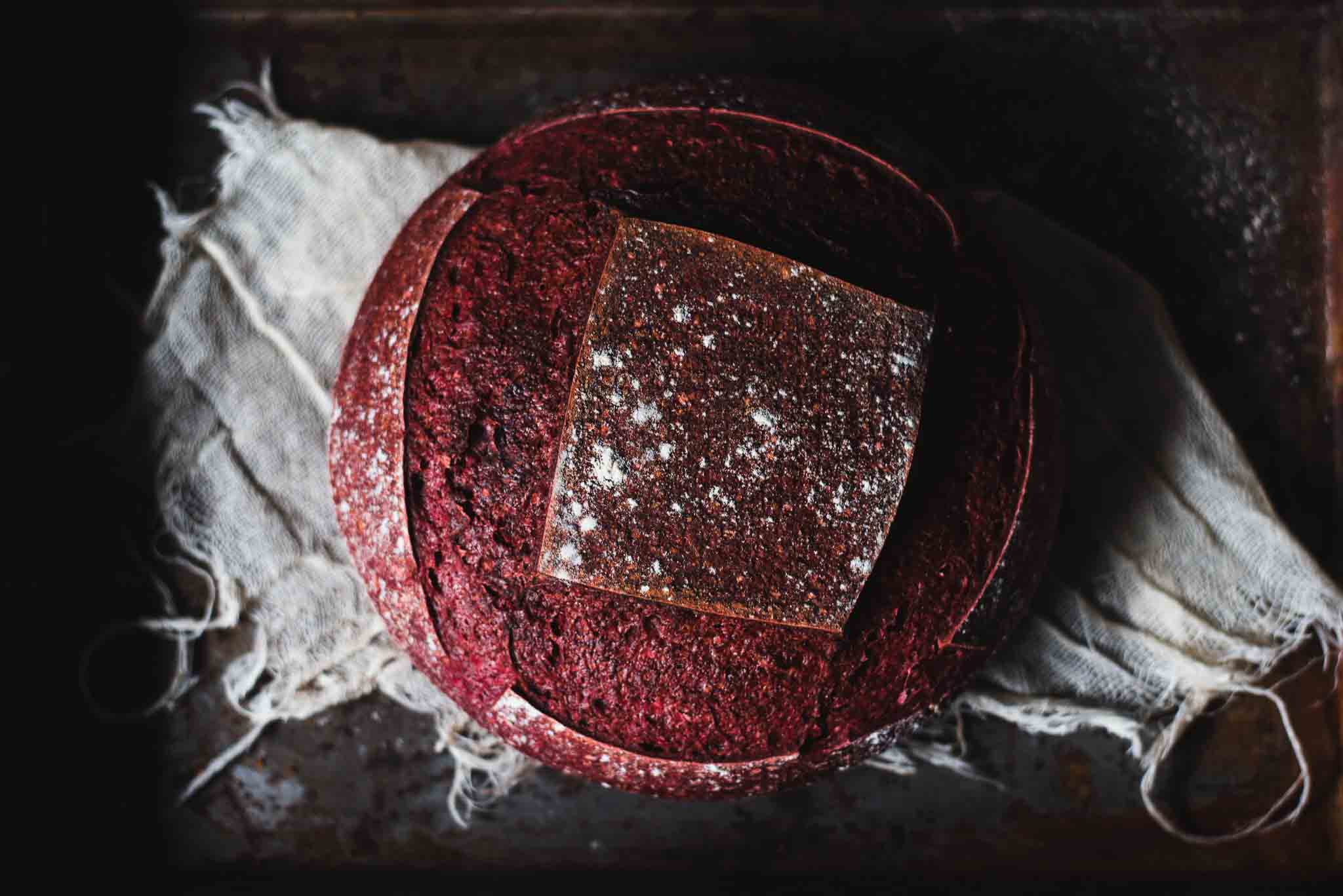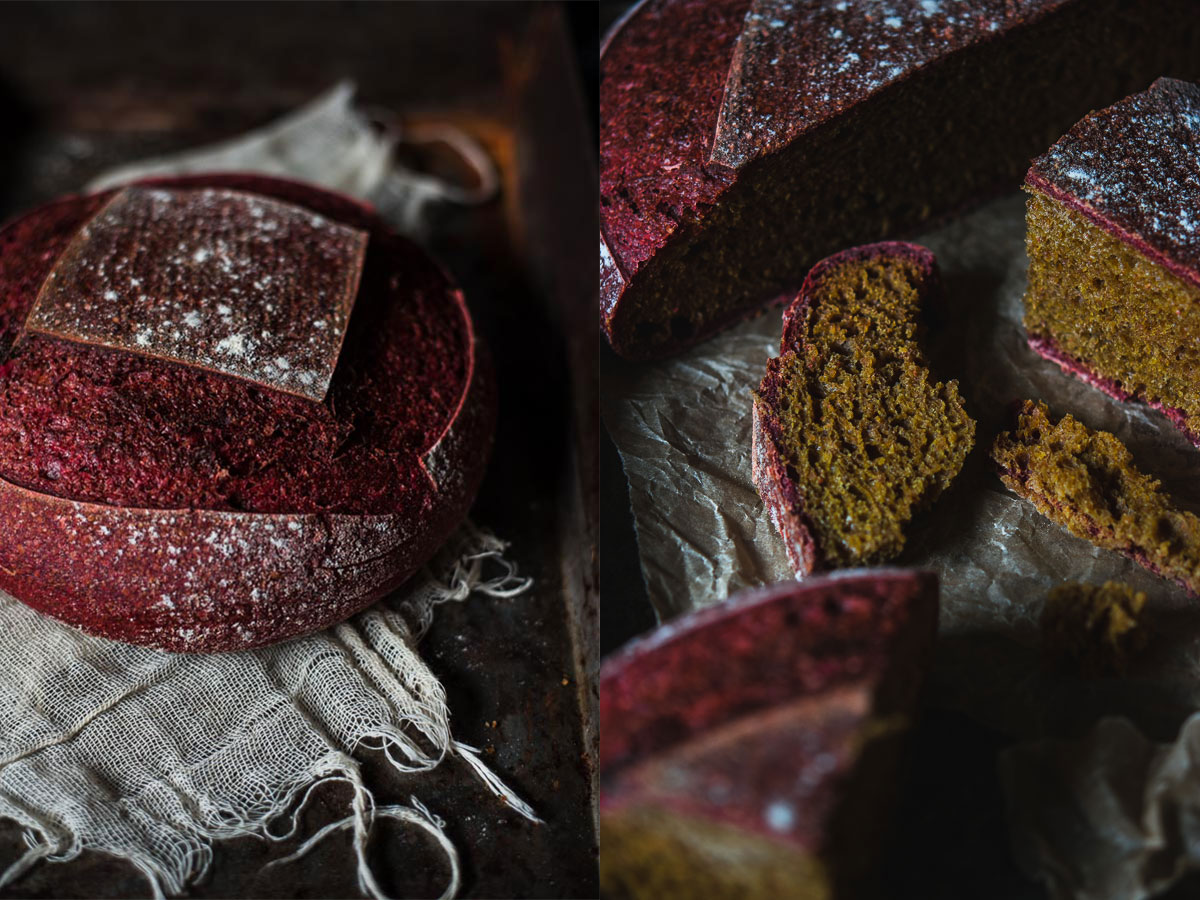 Makes 1 Loaf
Pre-ferment
150 g whole grain Emmer flour
150 g water
1 heaping tbsp of active rye sourdough starter
Dough
300 g of pre-ferment
125 g whole grain Emmer flour
125 g white wheat flour
150 g fresh beetroot juice, room temperature
8 g salt
Equipment/Tools
stand mixer with hook attachment
plastic shower cup or a clean plastic bag
razor blade, small sharp knife or a lamé
METHOD
Pre-ferment
(8:00 h in the morning)
Mix all the ingredients in a plastic or glass container, cover with a lid, or a plastic shower cup and leave to ferment until bubbly and double in volume. It may take 8-12 hours, it depends on how warm is your kitchen.
Dough
(4:00 h in the afternoon)
Step 1 - Kneading
In a medium size mixing bowl, mix the flours, set aside.
Place the pre-ferment into a stand mixer bowl, pour over the beetroot juice and mix gently to dissolve it.
Add flours, and with mixer running on low speed, mix until all ingredients come together. The dough should be soft to be able to knead it without any resistance. Cover the bowl with a plastic shower cup and let it rest for 1 hour in a warm place.
After 1 hour add 8 g of salt, and knead the dough for couple of minutes until smooth. Let it rest again for 1 hour in a warm place.
After 2 hours the dough should have risen for about a third of its initial volume and should feel alive and airy between your fingers.
Step 2 - Shaping
Remove the dough from the bowl onto lightly floured work space and let it rest for 30 minutes. Flatten the dough slightly with your palms. Take the corner of the dough and fold it right over the opposite side, turn the dough 90º clockwise and repeat the previous step.
Turn the dough over and tuck in the underneath of the dough with your fingers as you rotate the dough until you've formed a rounded ball.
Generously coat with flour the inside of the proofing basket and place the dough inside (seam side up)
Cover the basket with shower cup and let the dough rise in a warm place for 2-6 hours, until doubled in size, or place it in the fridge overnight.
Step 3 - Baking the bread
Pre heat the oven to 250ºC.
If the dough was rising in a warm place for a few hours, place the basket with the dough in the fridge for 30 minutes, that will stabilize the dough, and it will make the scoring easier. If the dough was rising overnight in the fridge, take the basket out of the fridge and let the dough warm up while you pre heat the oven.
Sprinkle the base of the dutch oven with flour and place the dough into it. Score the loaf with a sharp knife, a razor blade or a lamé with a design of your choice.
Cover the Dutch oven with the lid and transfer to the pre heated oven, lower the temperature to 220ºC.
Bake the bread for 30 minutes, and then, carefully take of the Dutch oven lid and bake for additional 15 minutes. Let it cool on a wire rack. Perfectly baked bread should sound hollow when tapped on the bottom.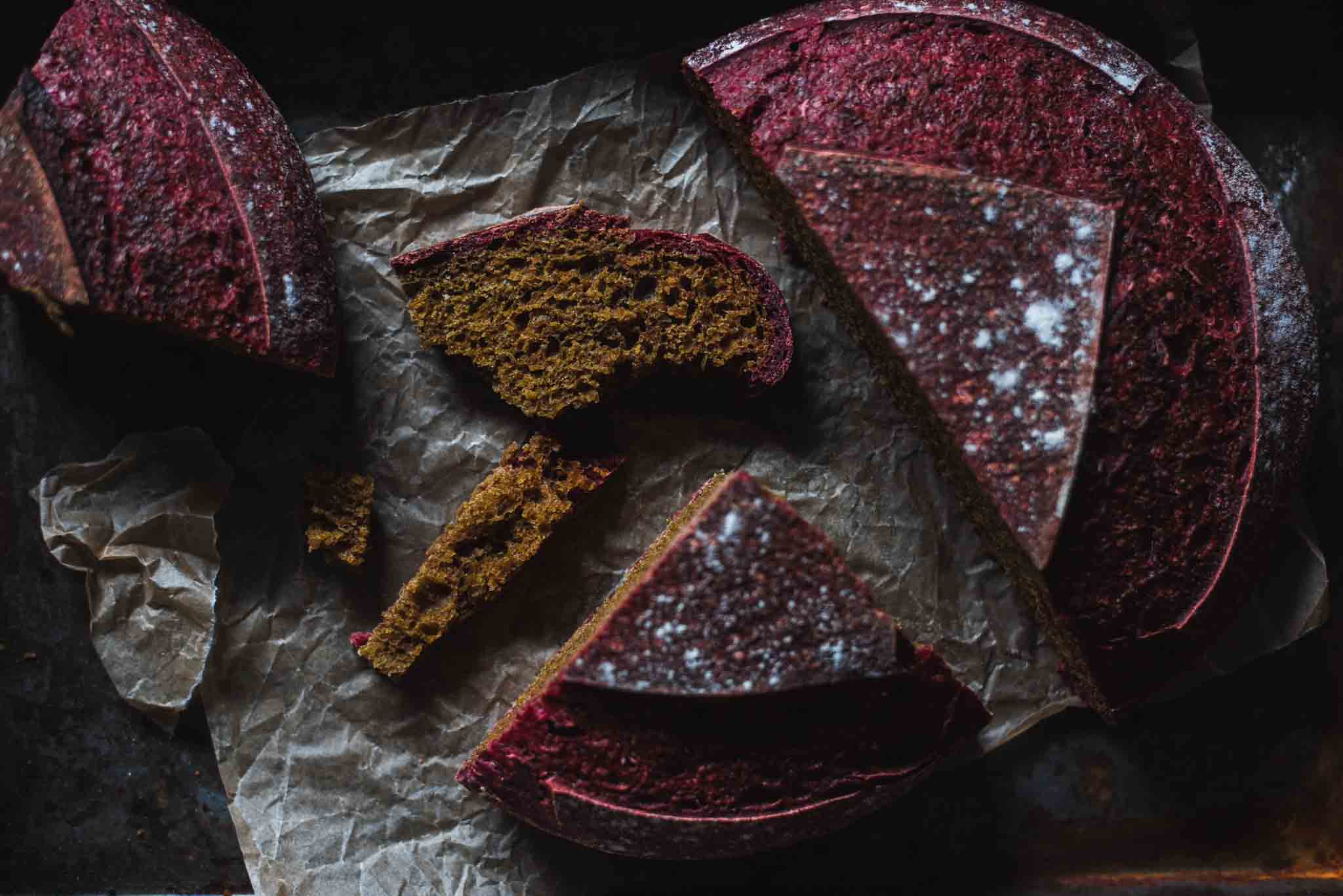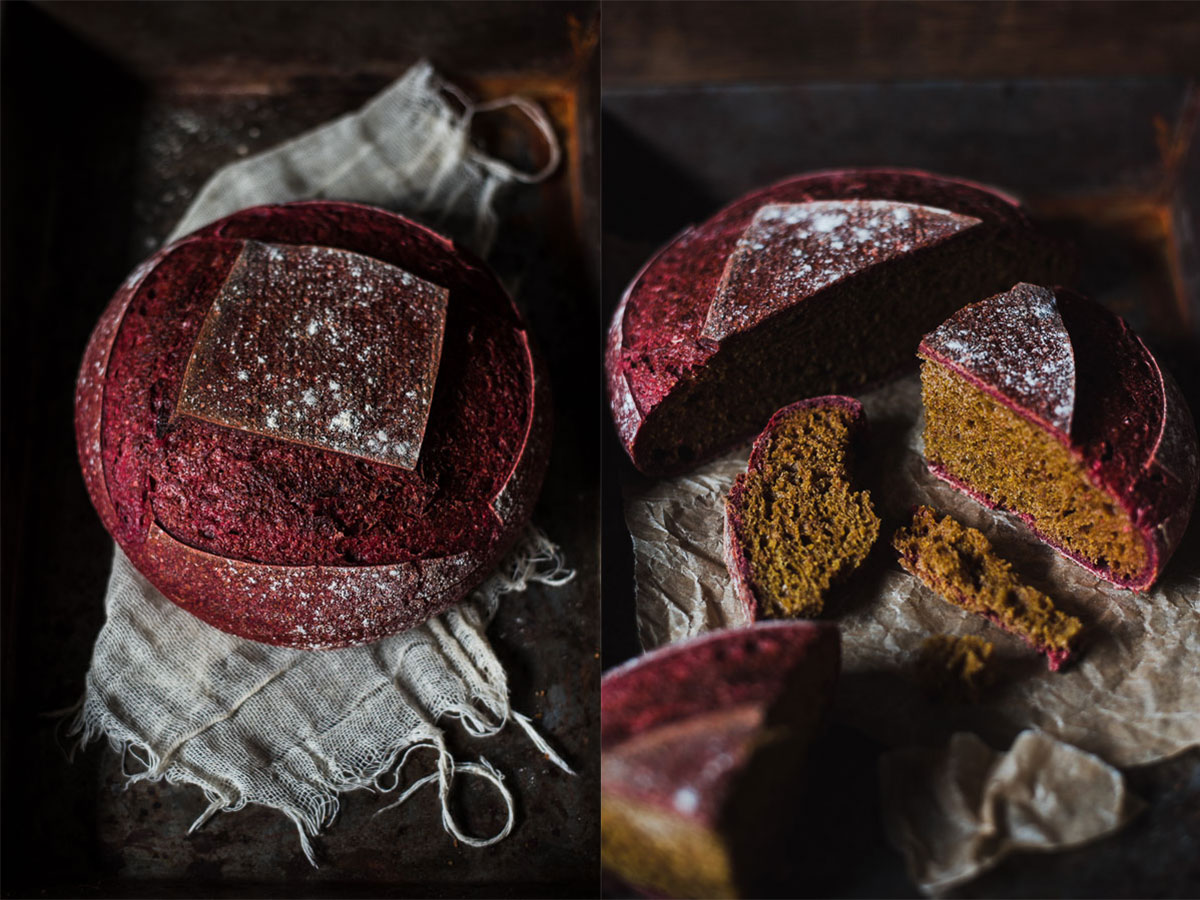 Happy baking!
Makes 1 Loaf
Pre-ferment
150 g whole grain Emmer flour
150 g water
1 heaping tbsp of active rye sourdough starter
Dough
300 g of pre-ferment
125 g whole grain Emmer flour
125 g white wheat flour
150 g fresh beetroot juice, room temperature
8 g salt
Equipment/Tools
stand mixer with hook attachment
plastic shower cup or a clean plastic bag
razor blade, small sharp knife or a lamé