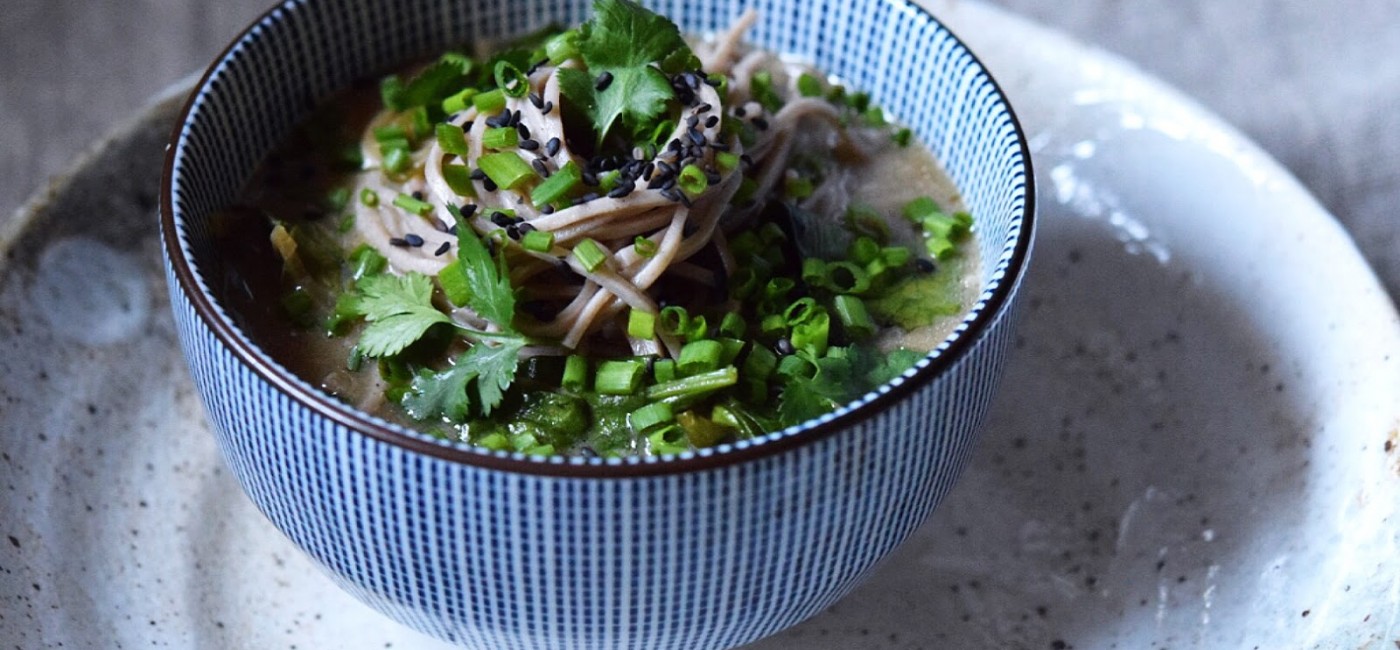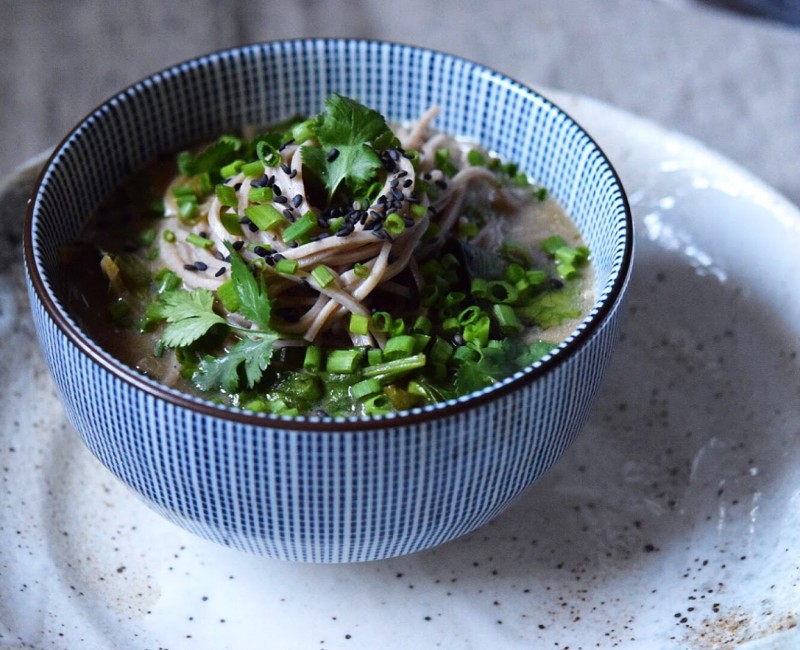 Coconut Mushroom Soup with Noodles
February 12, 2016
Delicious mushroom soup inspired by Thai cuisine.

1 tbsp coconut oil
2 tbsp fresh ginger, grated
2 tbsp green garlic
1-2 tsp red curry paste
2 cups mixed mushrooms (oyster mushrooms, porcini, button mushrooms and shiitake)
500 ml vegetable stock
2 tbsp cooking sake (optional)
300 ml coconut milk
fresh lime juice
salt to taste
buckwheat noodles, to serve (you can use any of your favorite noodles)
handful fresh cilantro, roughly chopped
green onion, for garnish
black sesame seeds, for garnish
METHOD
Boil the noodles according to pack instructions, set aside.
In a large pot heat the coconut oil, add ginger, garlic and curry paste. Cook, stirring for about a minute. Add the mushrooms, stir to coat them in curry mix , add sake and cook for about 5 minutes.
Slowly pour the stock over the mushrooms, bring to boil, lower the heat and simmer for 10 minutes.
Stir in the coconut milk and cook for 5 minutes or until the mushrooms are tender. Add good squeeze of lime juice, season with salt.
Server with noodles, garnished with cilantro, green onions and black sesame seeds.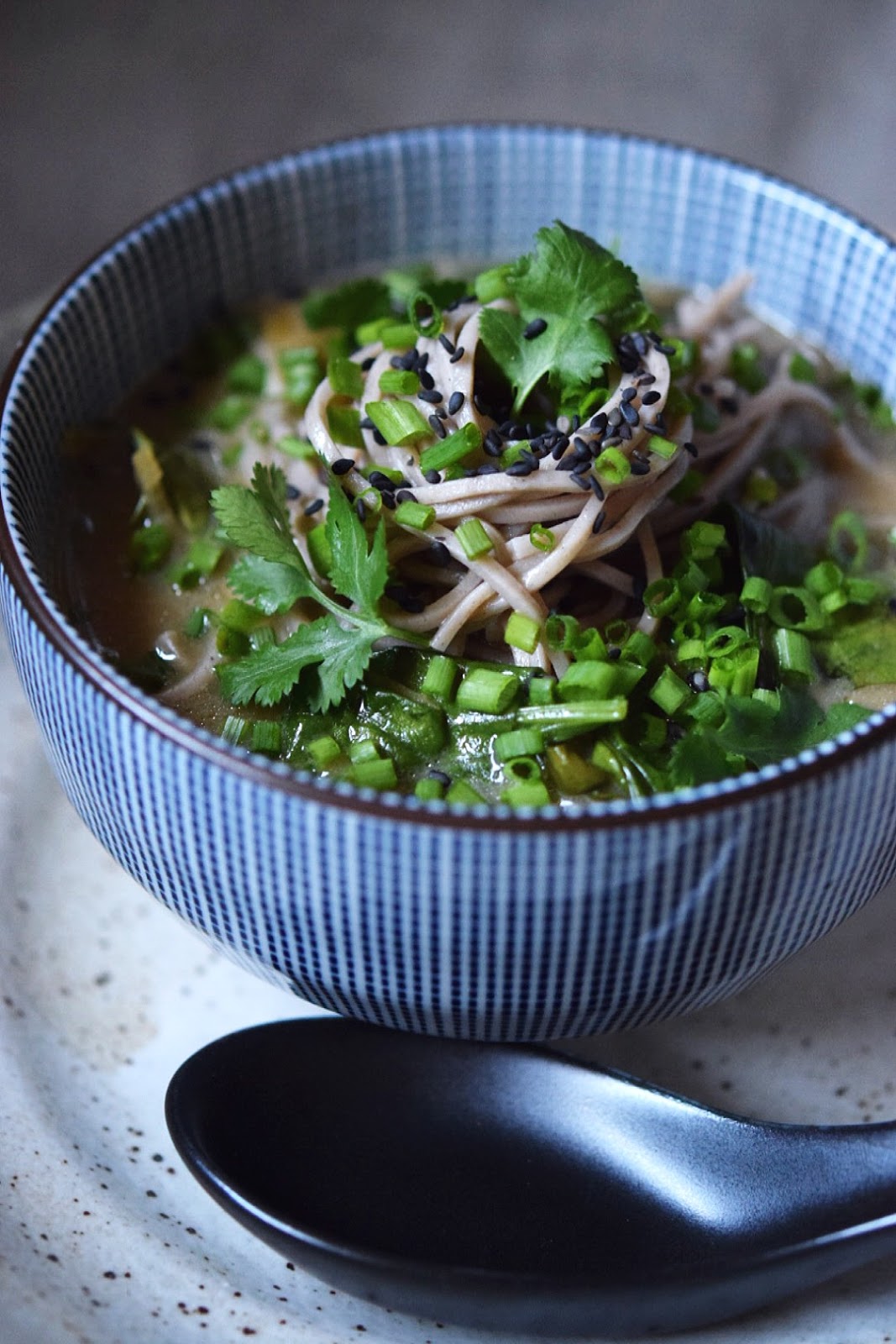 1 tbsp coconut oil
2 tbsp fresh ginger, grated
2 tbsp green garlic
1-2 tsp red curry paste
2 cups mixed mushrooms (oyster mushrooms, porcini, button mushrooms and shiitake)
500 ml vegetable stock
2 tbsp cooking sake (optional)
300 ml coconut milk
fresh lime juice
salt to taste
buckwheat noodles, to serve (you can use any of your favorite noodles)
handful fresh cilantro, roughly chopped
green onion, for garnish
black sesame seeds, for garnish