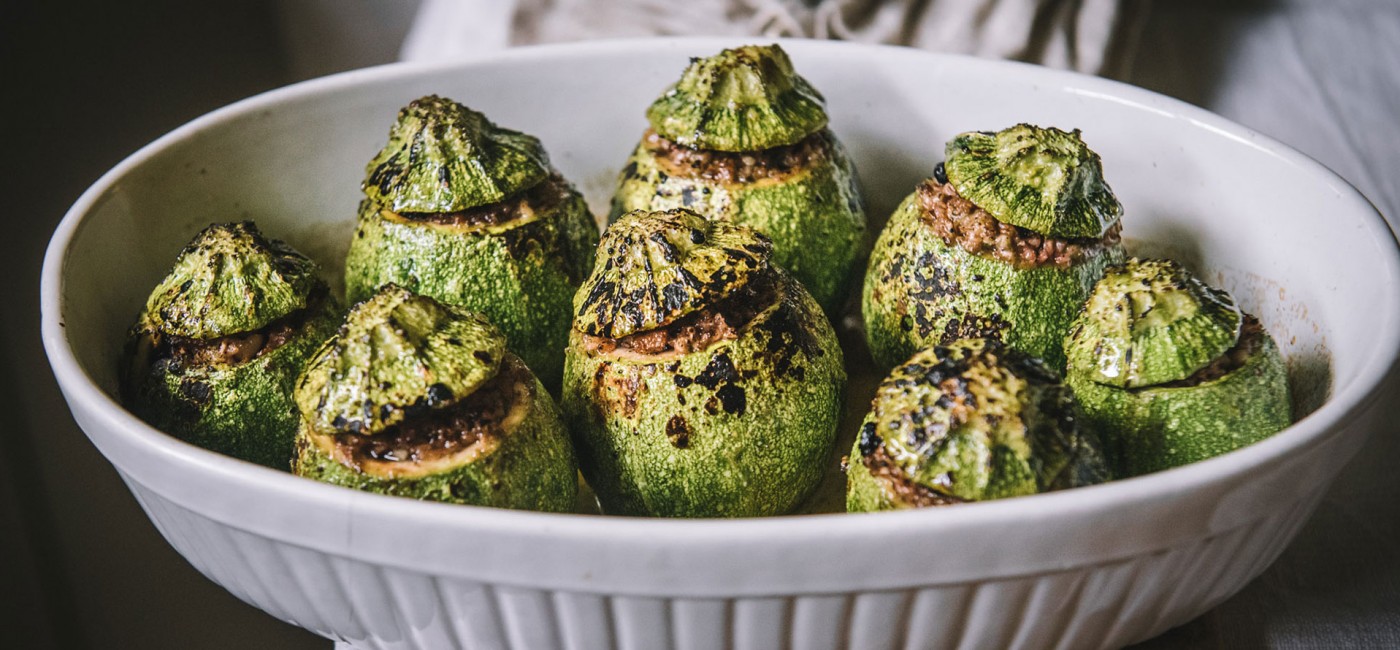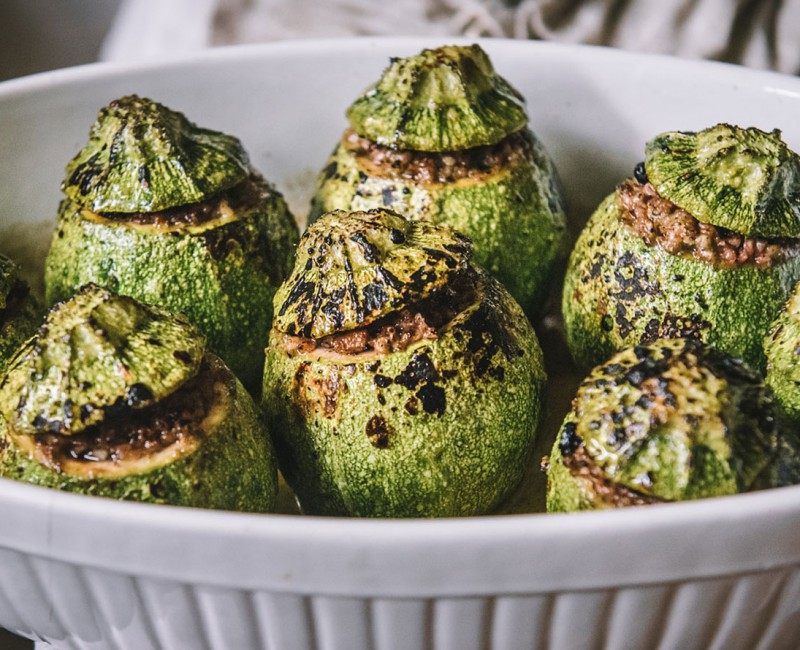 Stuffed Zucchini with Dill Sauce
June 01, 2022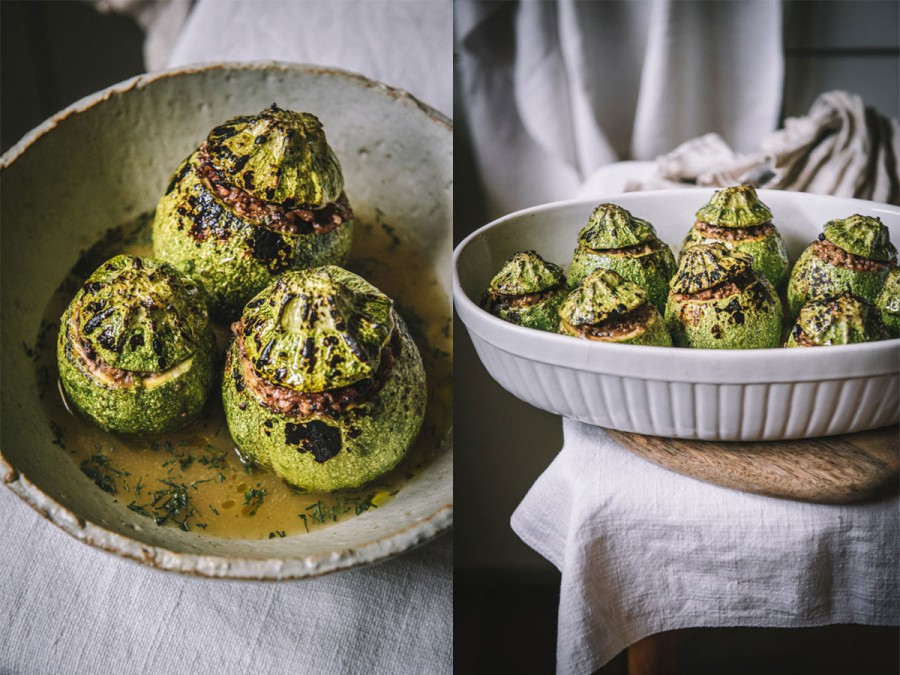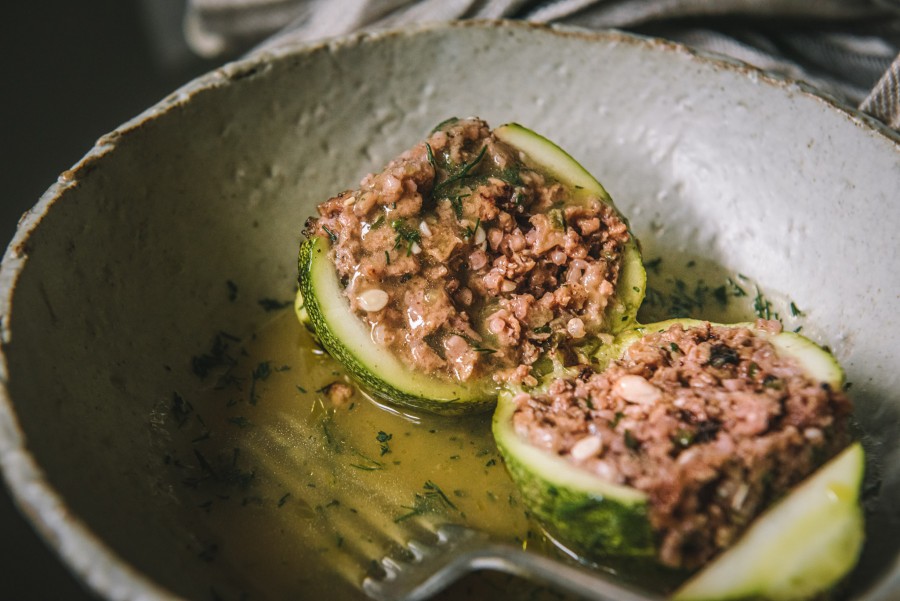 Serves 4
About 2 hours including cooking
8 round zucchinis
1x 300 grams of plant-based mincemeat (I used Beyond Meat)
3 tablespoons crushed pearls barley, uncooked
1 small onion, chopped
2 garlic cloves (or more if you like), minced
1 teaspoon ground cinnamon
1 teaspoon ground allspice
2 tablespoons pine nuts, coarsely chopped
2 tablespoons barberries or currants
a handful of fresh parsley, finely chopped
Olive oil for cooking
Cooking broth:
1 teaspoon celery salt
1 clove of garlic, minced (optional)
Juice of 1 lemon
1 tablespoon olive oil
1/3 cup water
Sauce:
1/2 cup vegetable broth
1-2 tablespoons lemon juice
1/2 teaspoon corn starch
a handful of chopped dill, plus more for serving
salt and pepper to taste
METHOD
Wash the zucchinis well, and cut a thin slice off the top of each one. Scoop out pulp, leaving about 1/2 cm shell. Reserve and finely chop 1/2 cup of the flesh. You can use the rest to make fritters or risotto. Set the shells aside while you prepare the stuffing.
Heat 1 tablespoon of olive oil in a frying pan, add onion and garlic, and cook, frequently stirring, for about 5 minutes. Add reserved zucchini flesh and cook for an additional 5 minutes. Remove the pan from the heat and place the veggies in a medium-size bowl.
Using the same pan (don't wash it), cook the barley. Heat the pan over medium heat, add 1 teaspoon of olive oil, add barley, and stir fry it for a couple of minutes. Make sure all the barley grains are coated with oil. Add about 1/4 cup of water and cook, frequently stirring, until all the liquid is absorbed.
Place cooked barley into a bowl with cooked veggies, and add crumbled "meat." Add ground cinnamon, allspice, pine nuts, barberries, and chopped parsley. Mix to combine.
Using a spoon, fill the zucchini shells and place them into a save dish. Combine all the broth ingredients in a small bowl, and pour over the zucchinis. Cover the dish with a lid or aluminum foil and bake for 30 minutes at 200C. After 30 minutes, take the cover off and bake the zucchini for an additional 15 minutes. You can set your oven to a broil/grill setting if you want to char the zucchinis slightly.
While the zucchinis are baking, gather all the sauce ingredients. Combine broth, lemon juice, and corn starch in a small jag or a bowl.
After zucchinis are done cooking, you should have about 1/4 cup of the liquid on the bottom of the dish. Place the liquid in a small saucepan, add the broth mixture and bring to boil over medium heat. Cook for a few minutes until the sauce thickens. Take off the heat, add dill, and season with salt and pepper.
Serve the zucchinis with sauce and extra dill. Enjoy!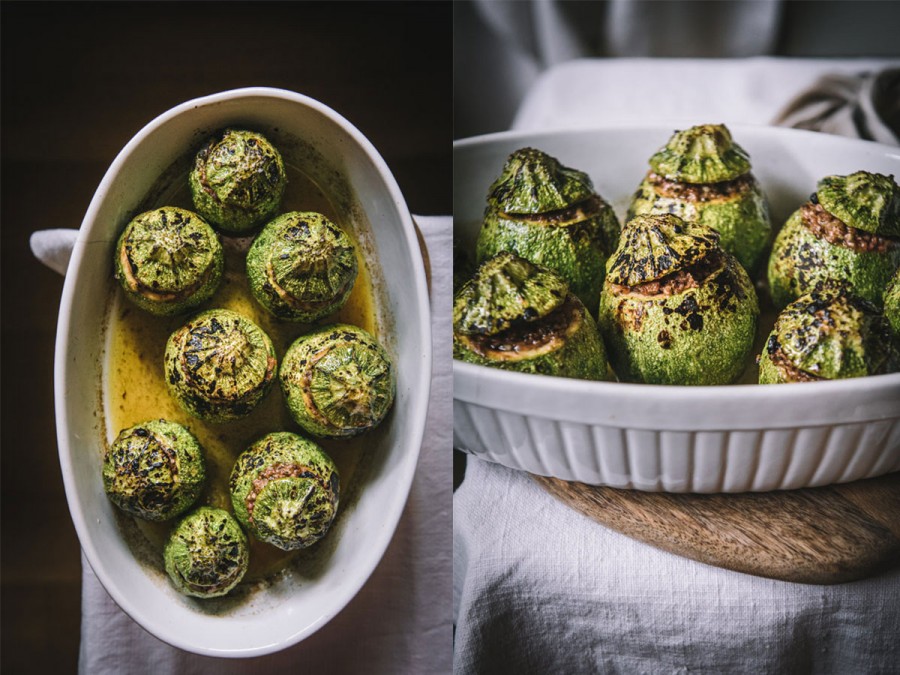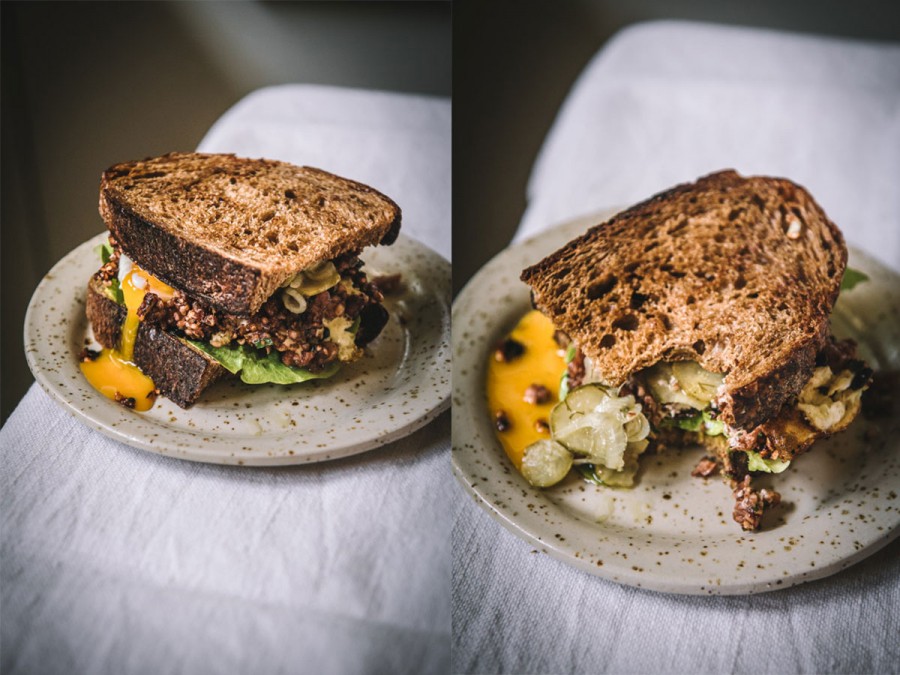 After I stuffed all of my zucchinis, I had two tablespoons of the filing left. I stir-fried it quickly on the high heat and then cracked one egg on top. I toasted two slices of sourdough bread, and then I layered it all into a heavenly sandwich. I've added Dijon mustard, butter lettuce, and dill pickles.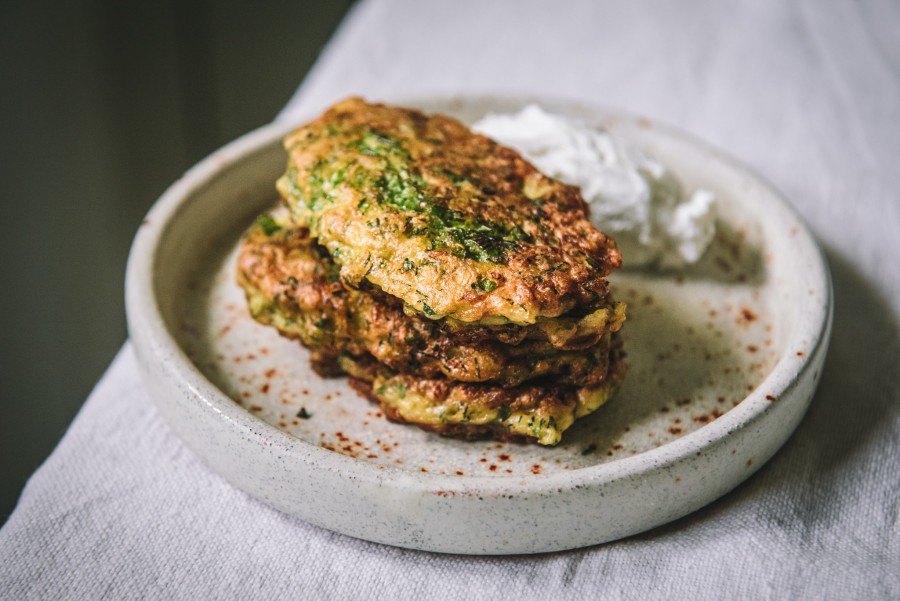 Zucchini fritters
Serves 4
About 2 hours including cooking
8 round zucchinis
1x 300 grams of plant-based mincemeat (I used Beyond Meat)
3 tablespoons crushed pearls barley, uncooked
1 small onion, chopped
2 garlic cloves (or more if you like), minced
1 teaspoon ground cinnamon
1 teaspoon ground allspice
2 tablespoons pine nuts, coarsely chopped
2 tablespoons barberries or currants
a handful of fresh parsley, finely chopped
Olive oil for cooking
Cooking broth:
1 teaspoon celery salt
1 clove of garlic, minced (optional)
Juice of 1 lemon
1 tablespoon olive oil
1/3 cup water
Sauce:
1/2 cup vegetable broth
1-2 tablespoons lemon juice
1/2 teaspoon corn starch
a handful of chopped dill, plus more for serving
salt and pepper to taste