Sushi Yoshi {Japan, Osaka}
November 18, 2017
According to the Michelin Guide, a Three Star restaurant is one worth traveling to from anywhere in the world to eat there. After visiting Osaka for the first time in May 2017, and eating (or experiencing would be a better word) the food at Chef Hiroki Nakanoue's 2 star "Sushi Yoshi", we decided that, when travelling to Japan again, we would make it a point to go back to Osaka just to experience his food. We are no Michelin Guide experts, but we can happily say that Chef Hiroki has 3 stars in our hearts!
His style is bolder and much different vs. any other 2 star Japanese we've ever been too. He is fun and entertaining, speaks good English and cares to explain things to his customers (max 8 people every night at his counter only restaurant) while they experience a barrage of delights for about 3 hours (yes, it's a long, slow dinner!). He combines traditional Japanese ingredients and techniques with some unique, imported goodies (like handpicked, by himself, Bordeaux caviar, and White Truffle from Italy) and modern techniques, and the result is truly one of a kind. We shall return!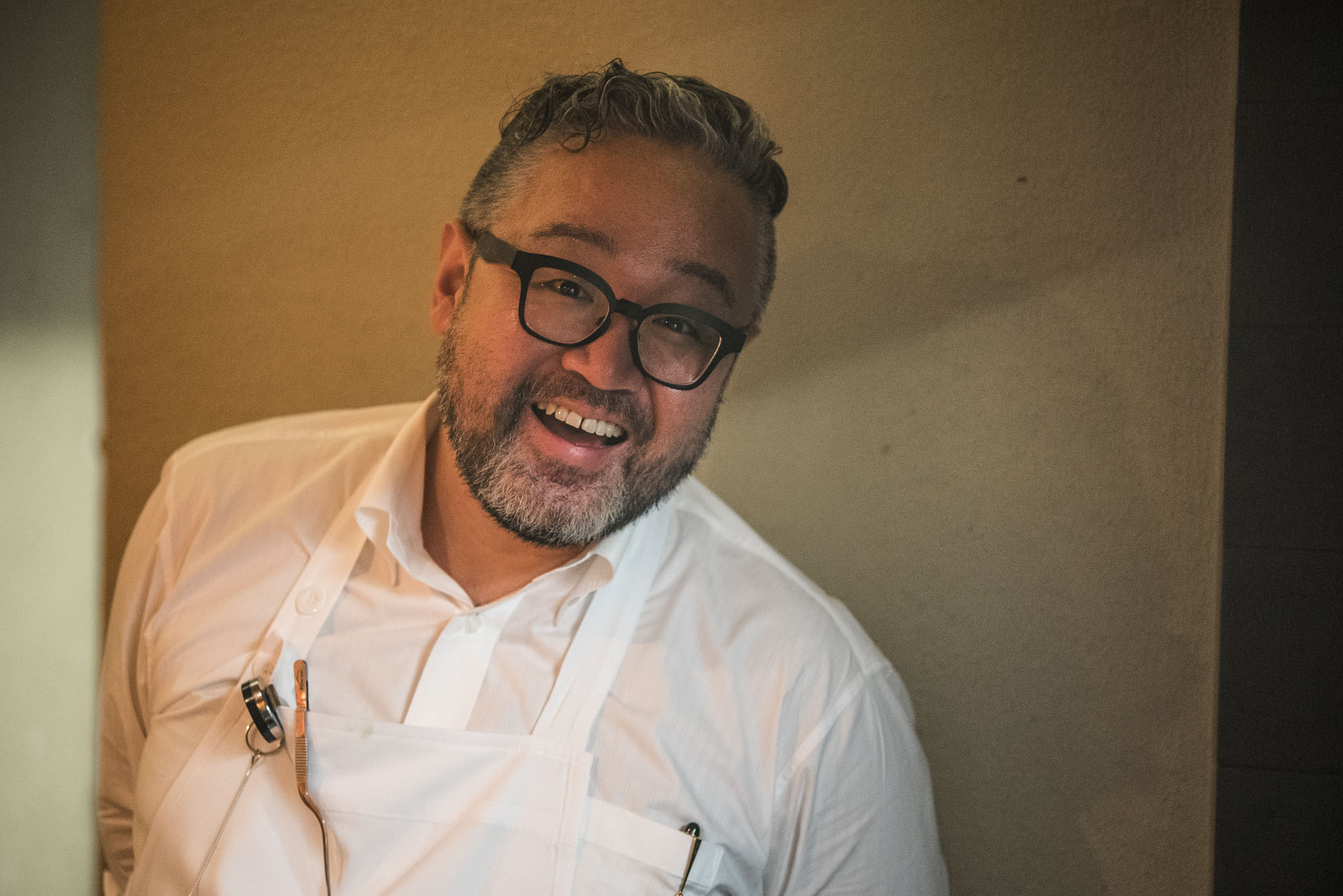 Chef and owner of Sushi Yoshi, Hiroki Nakanoue. Always in a good mood, and always smiling!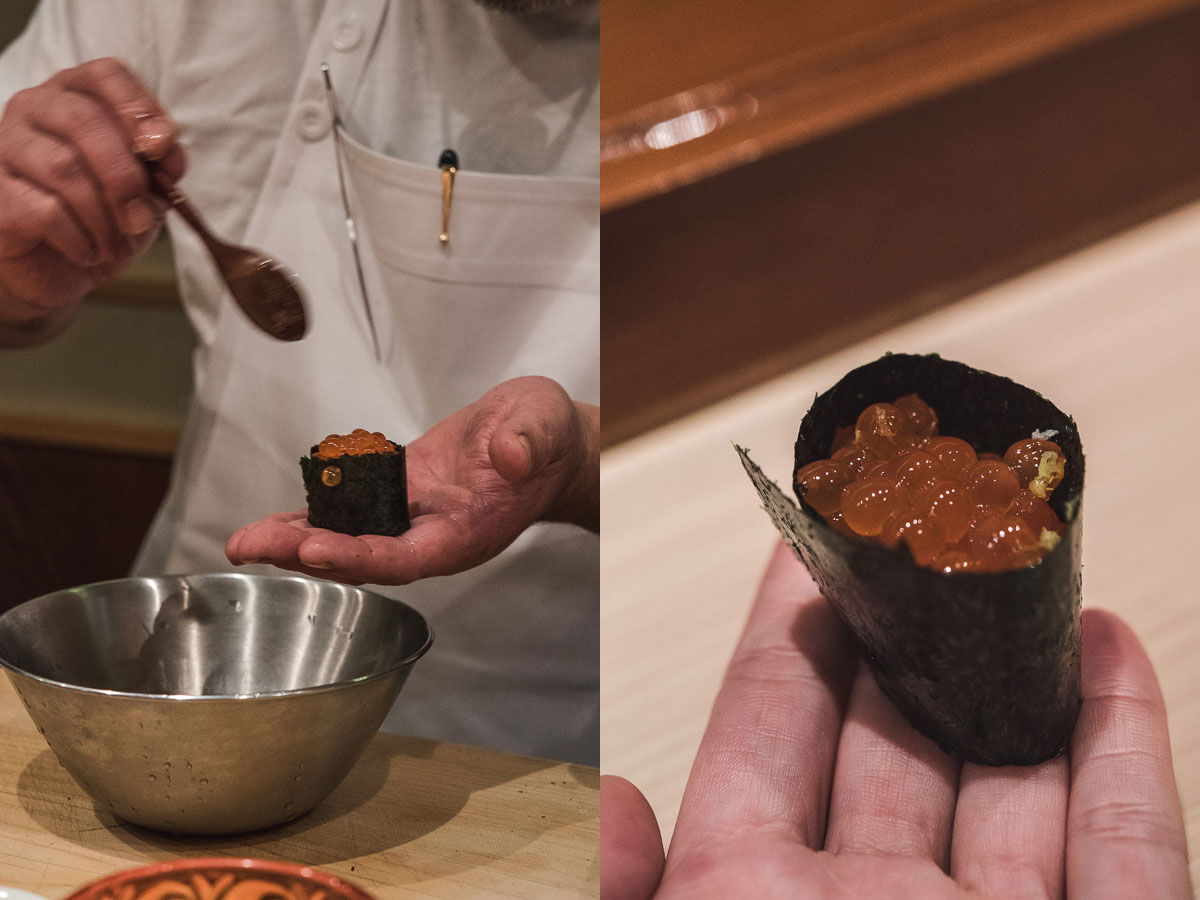 We started our dinner with fresh salmon roe roll, with a toutch of lemon zest.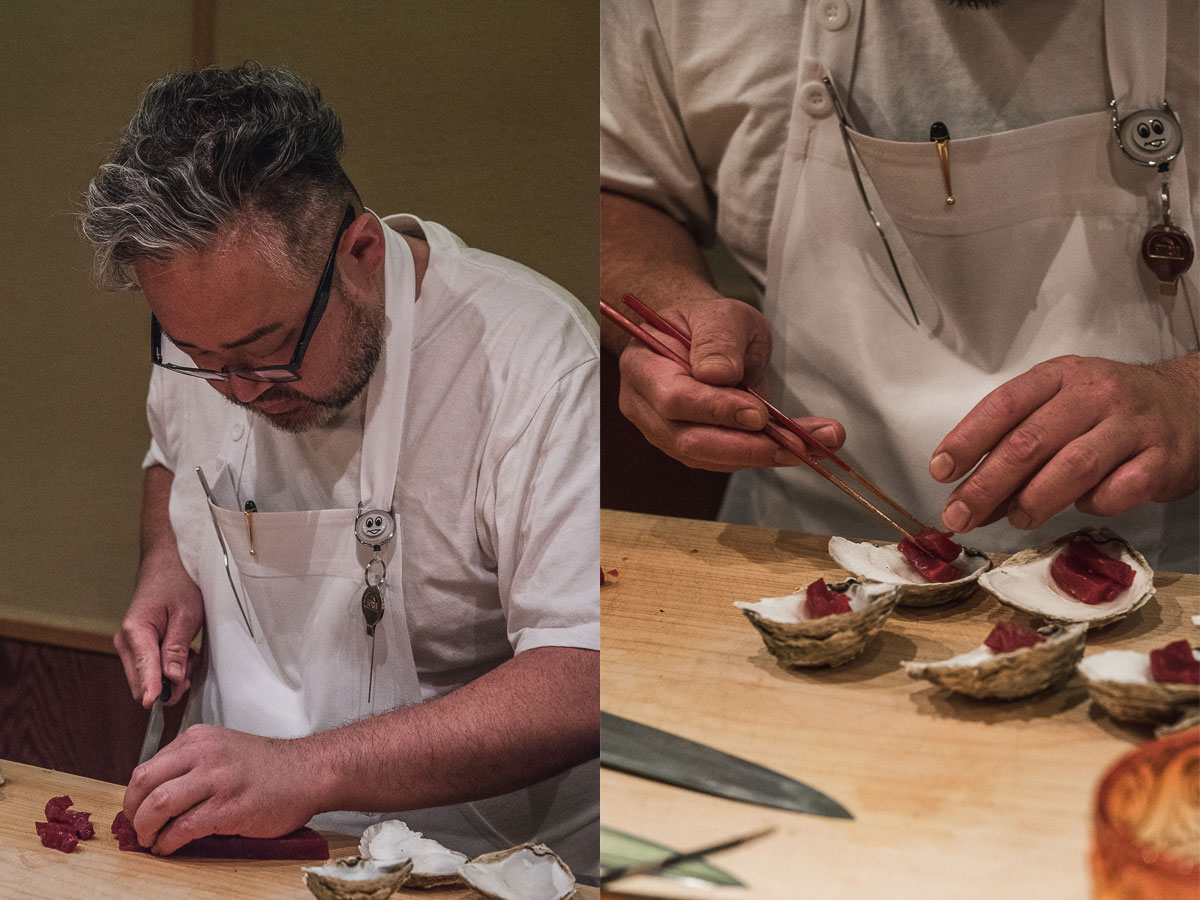 Preparation of the next dish. Oysters??? "Hm...", I though.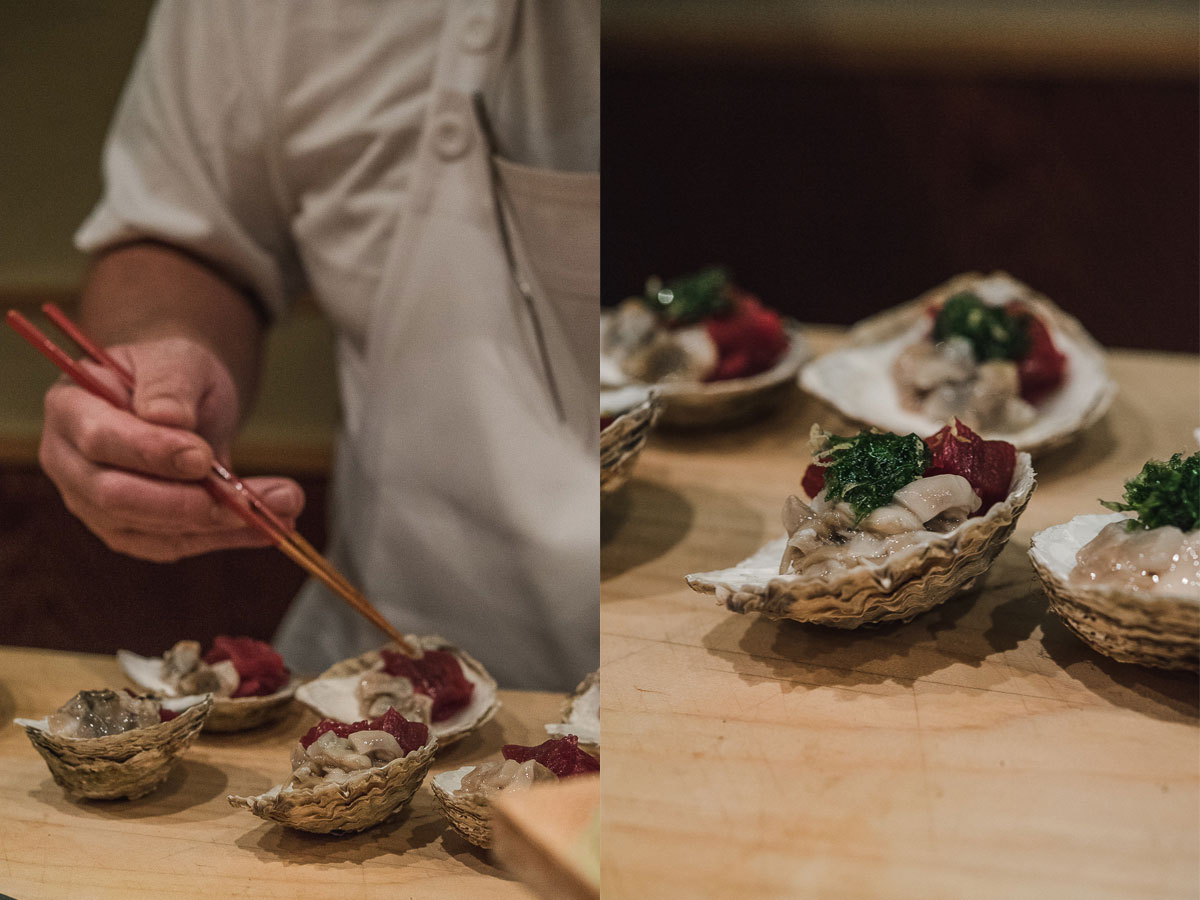 I'm not a huge fan of raw oysters but...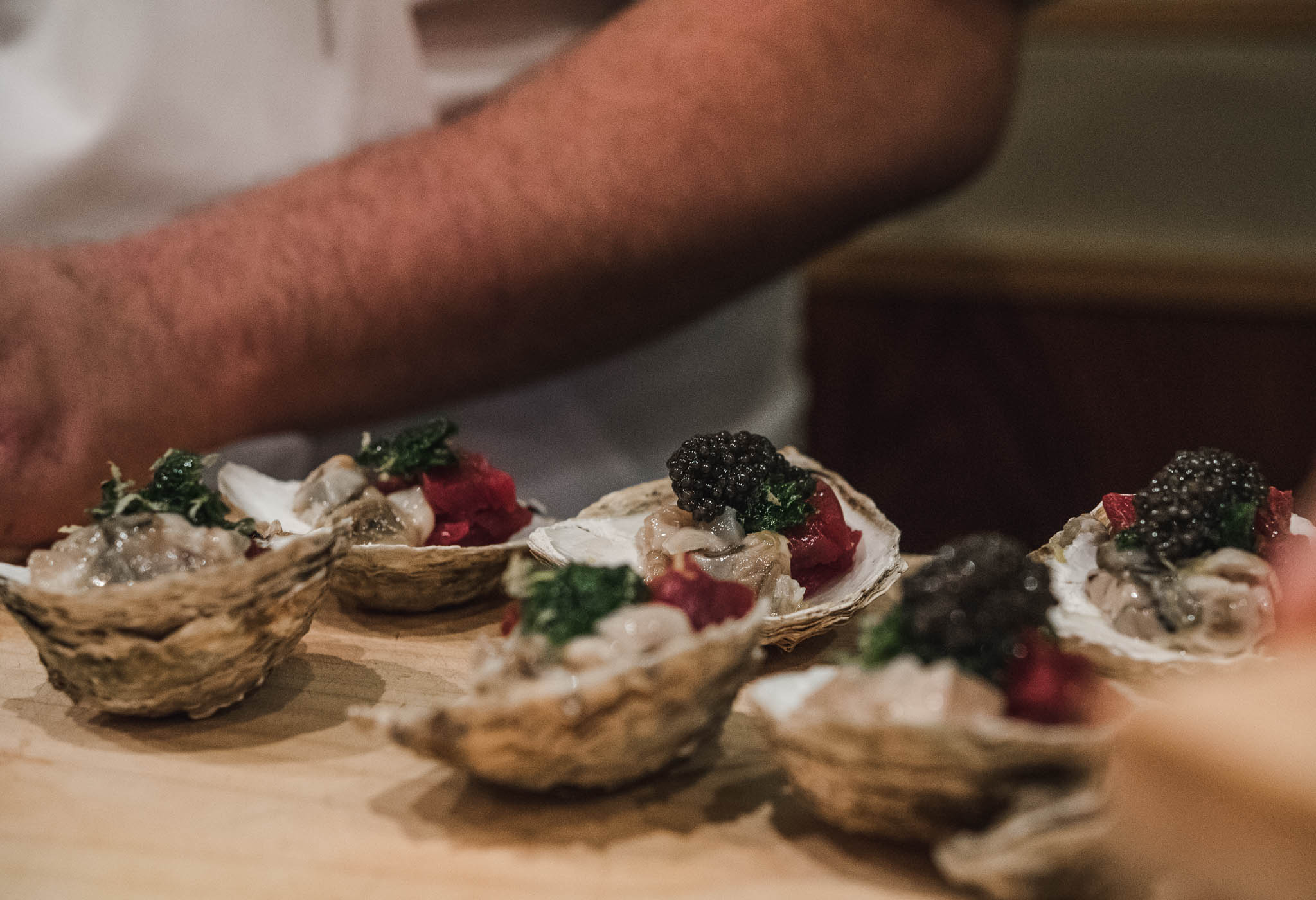 This dish was mind blowingly delicious!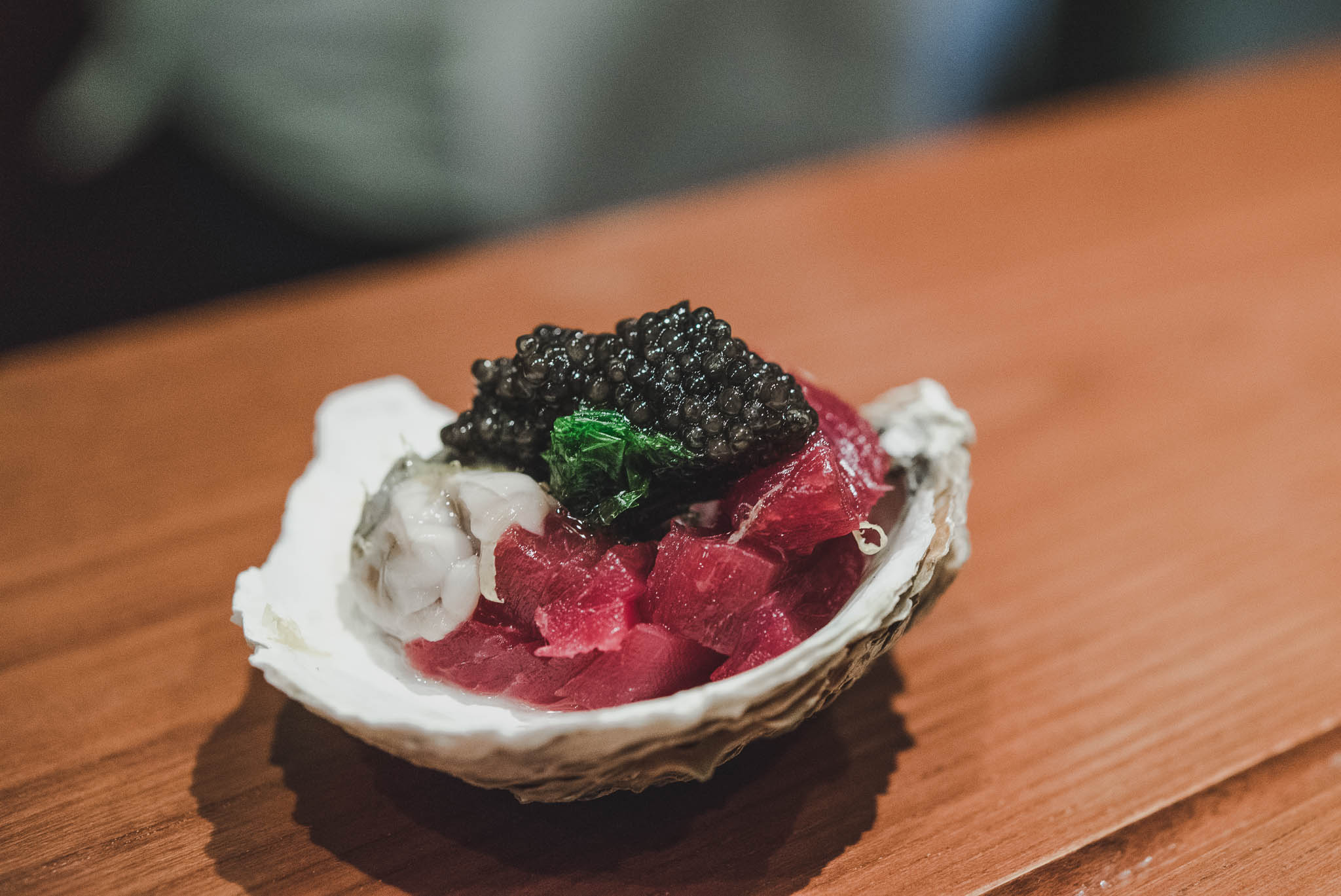 Bretagne oysters, tuna, caviar from Bordeaux and fresh seaweed, topped with sesame oil and lemon zest.
The combination of all the flavors was a match made in sushi heaven.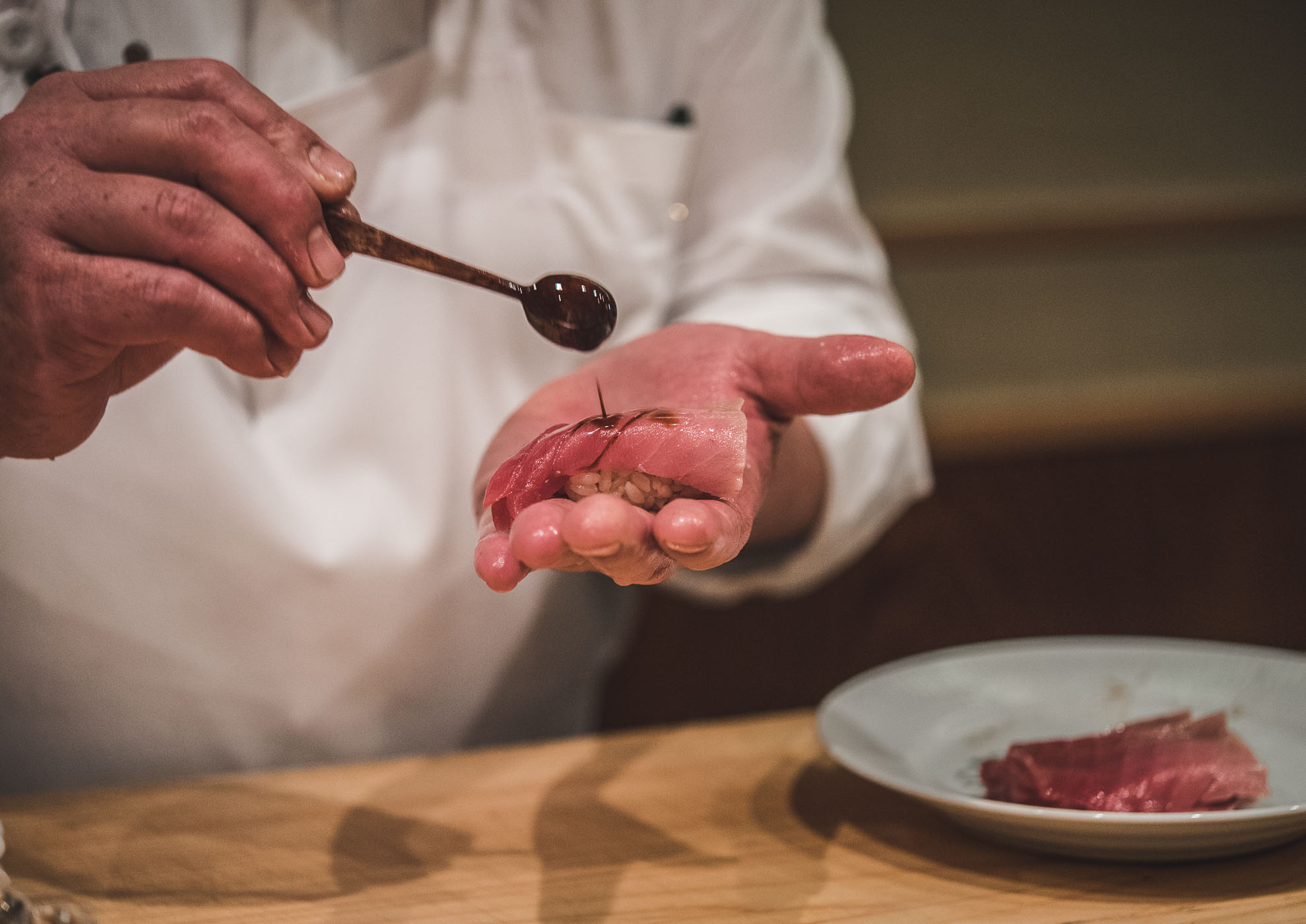 Next was a tuna nigiri.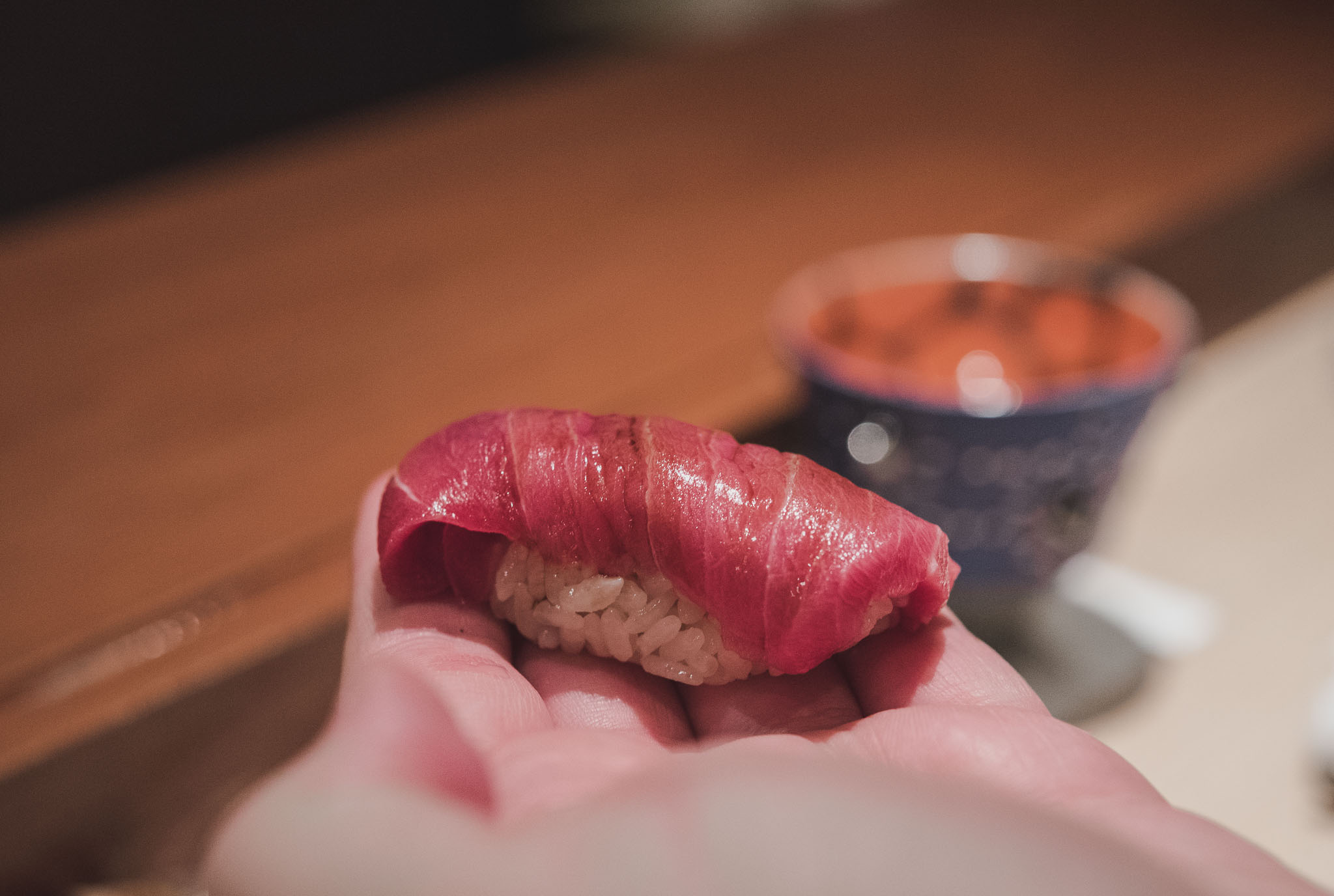 So simple, yet so flavorful.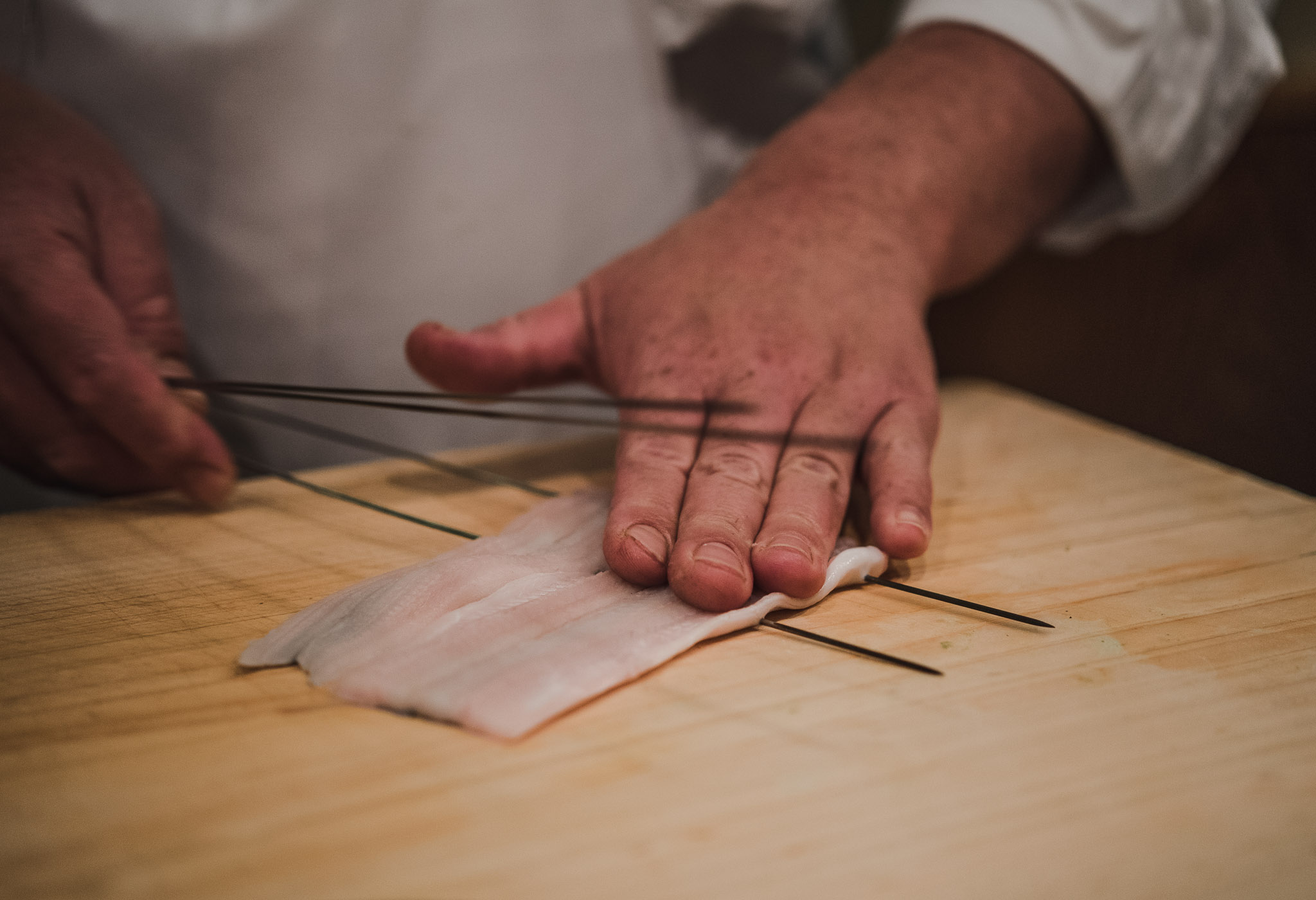 Anago (sea eel) being prepared for grilling.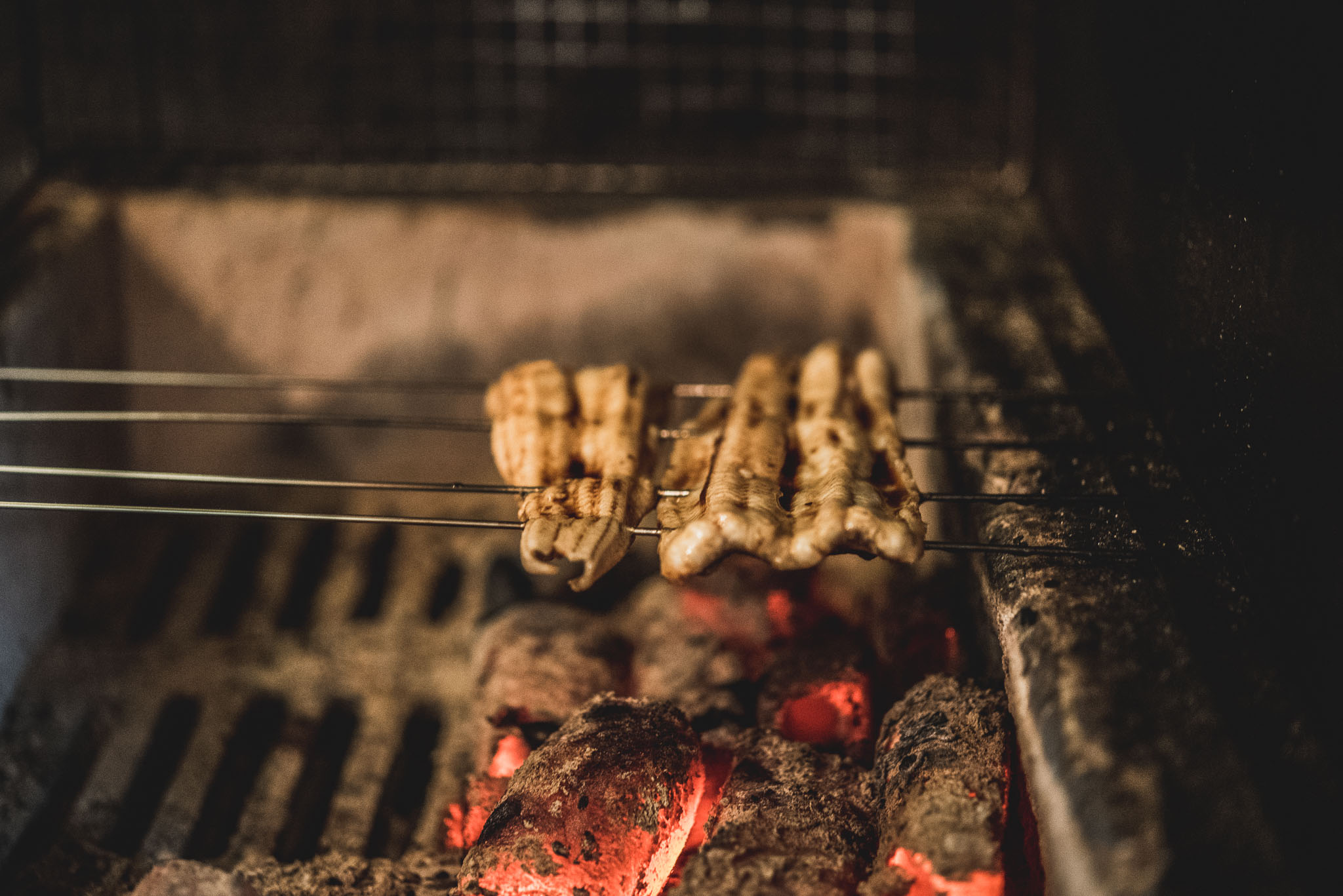 Oh yeah!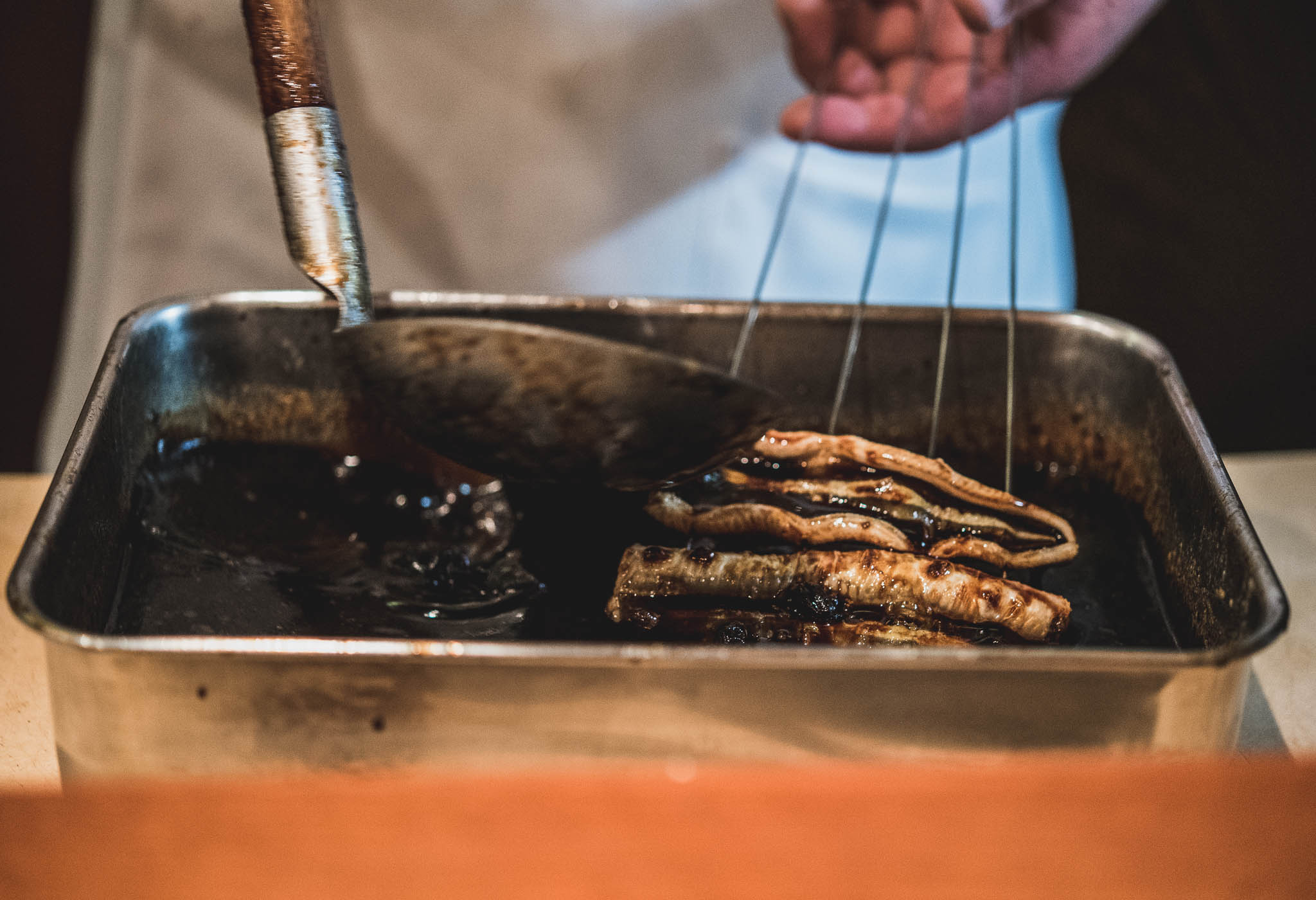 Eel was first grilled for a couple of minutes, then generously covered in sweet and salty marinade, and then grilled again. We asked about the marinade, and the Chef told us that it is simply soy and sake sauce, but he has been using the same batch for many years, simply adding more soy and sake as it is depleted. This is very much alike the Solera vat method used in some distilleries in Scotland!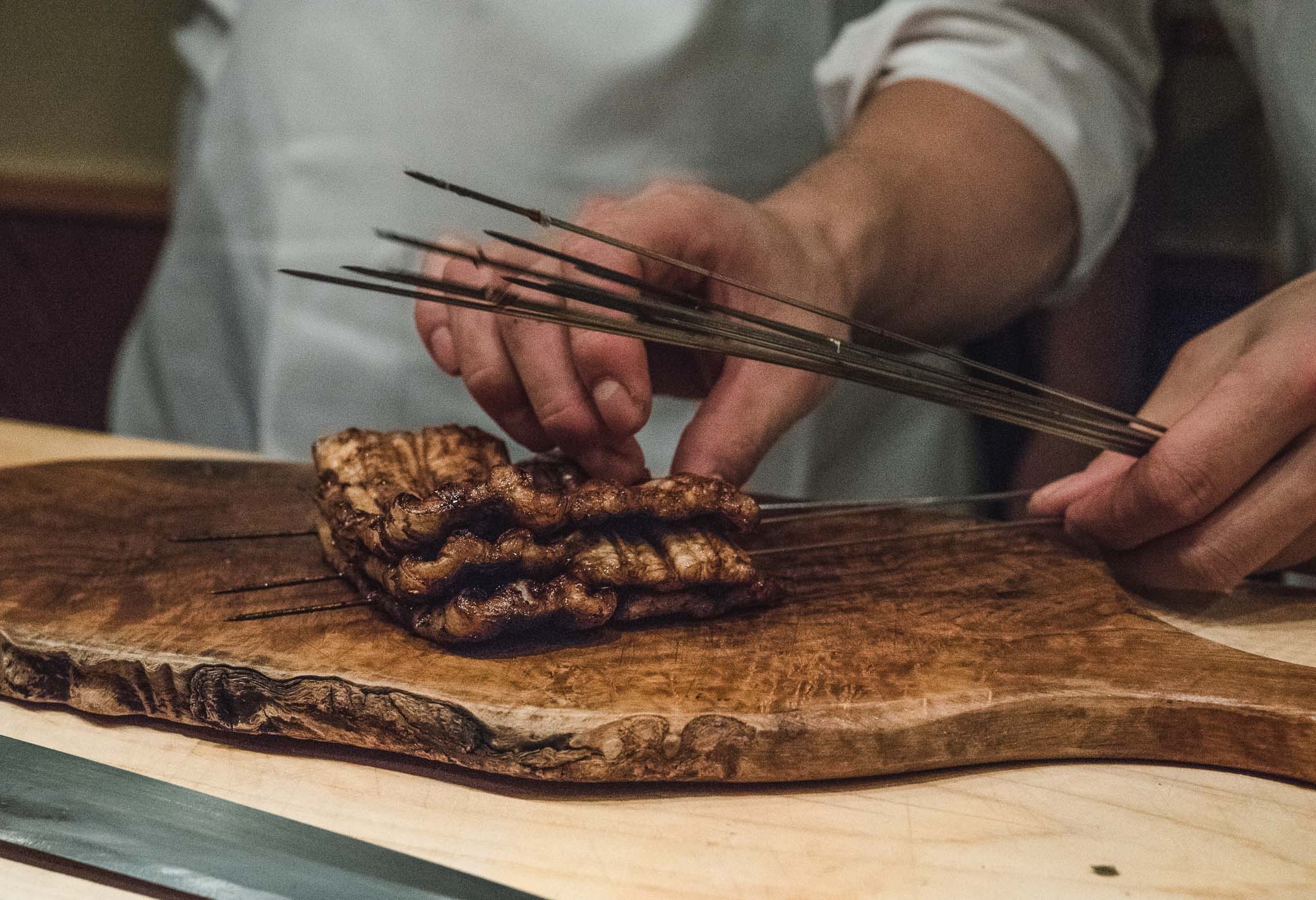 Just look at that! The smell was crazy good!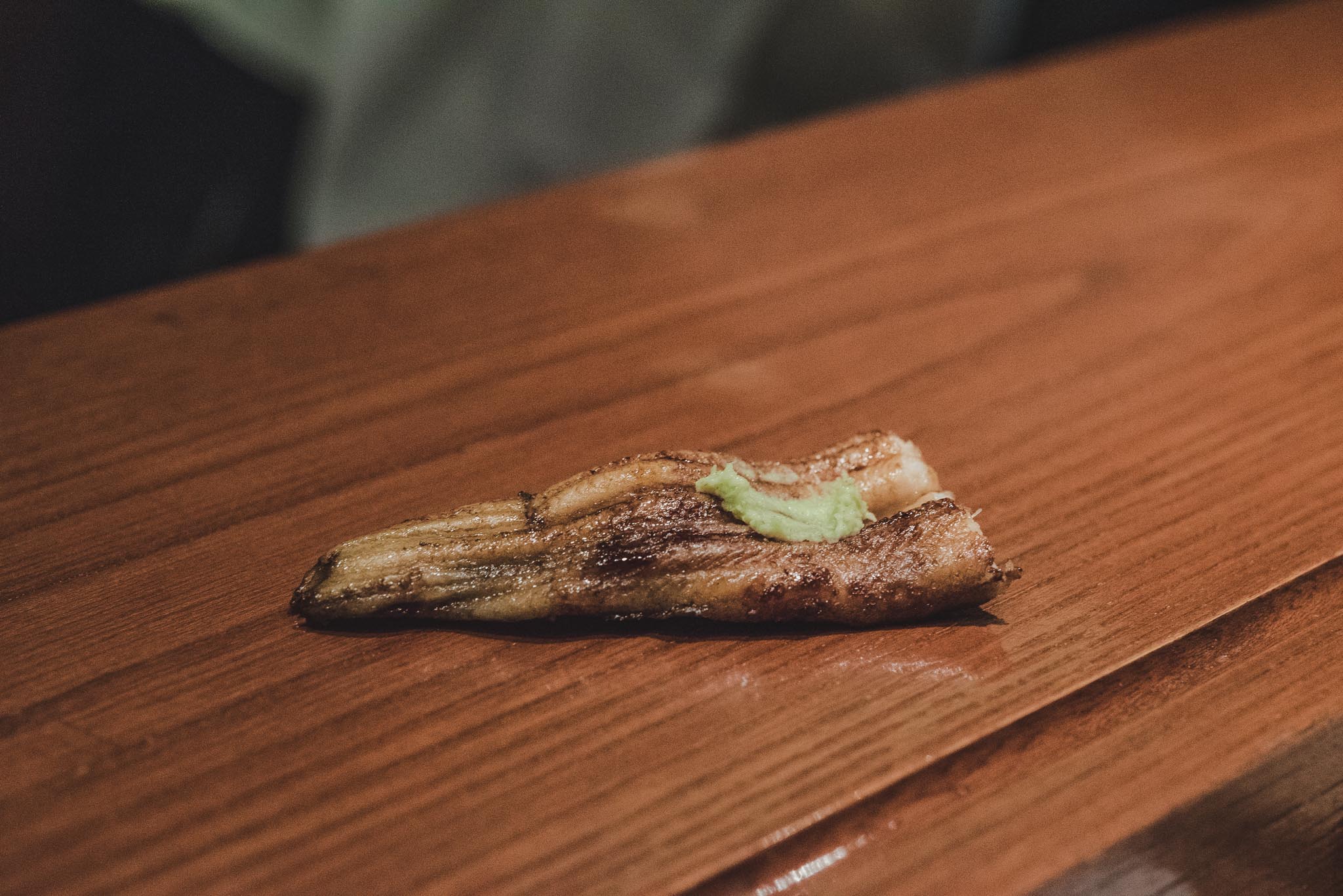 The eel was served as a sashimi, smeared with fresly grated wasabi root...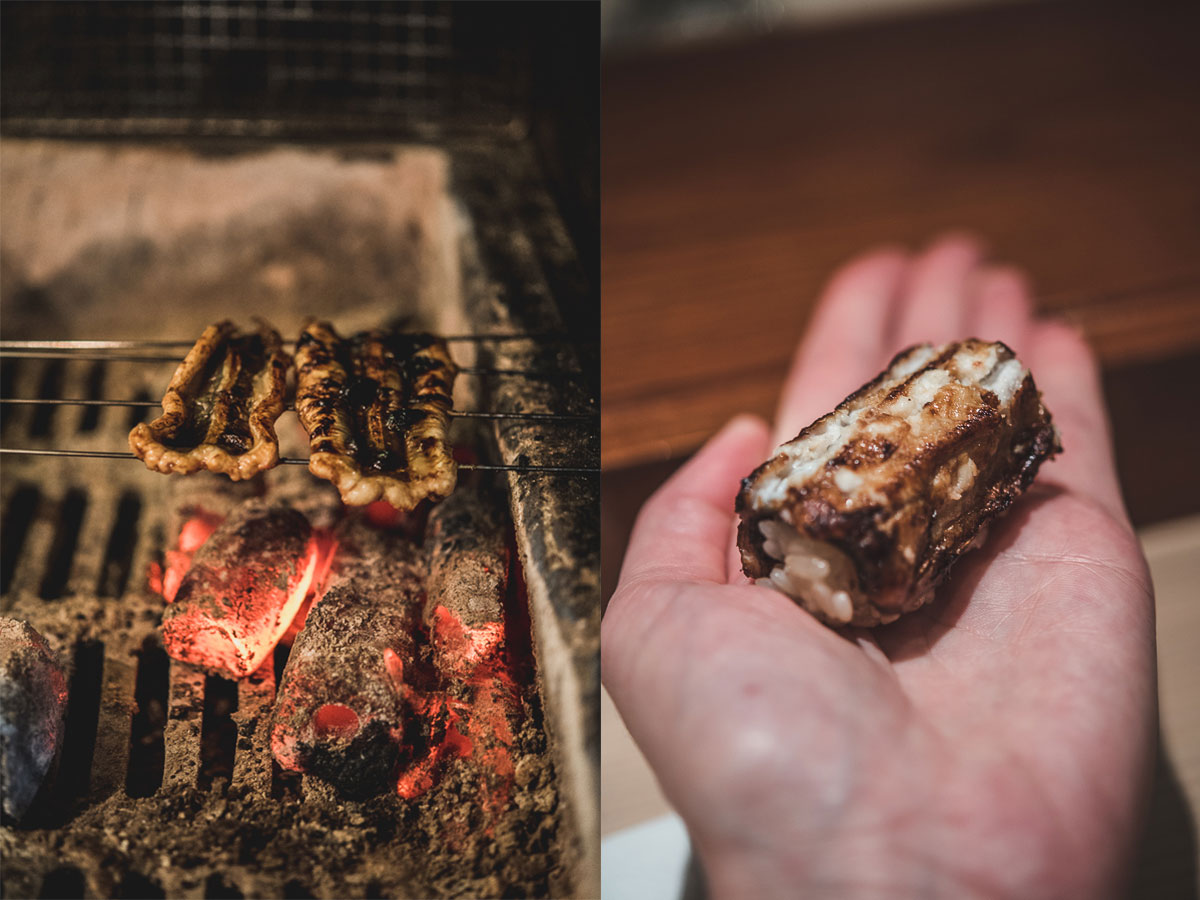 ...and as a nigiri, on top of the most perfectly cooked rice.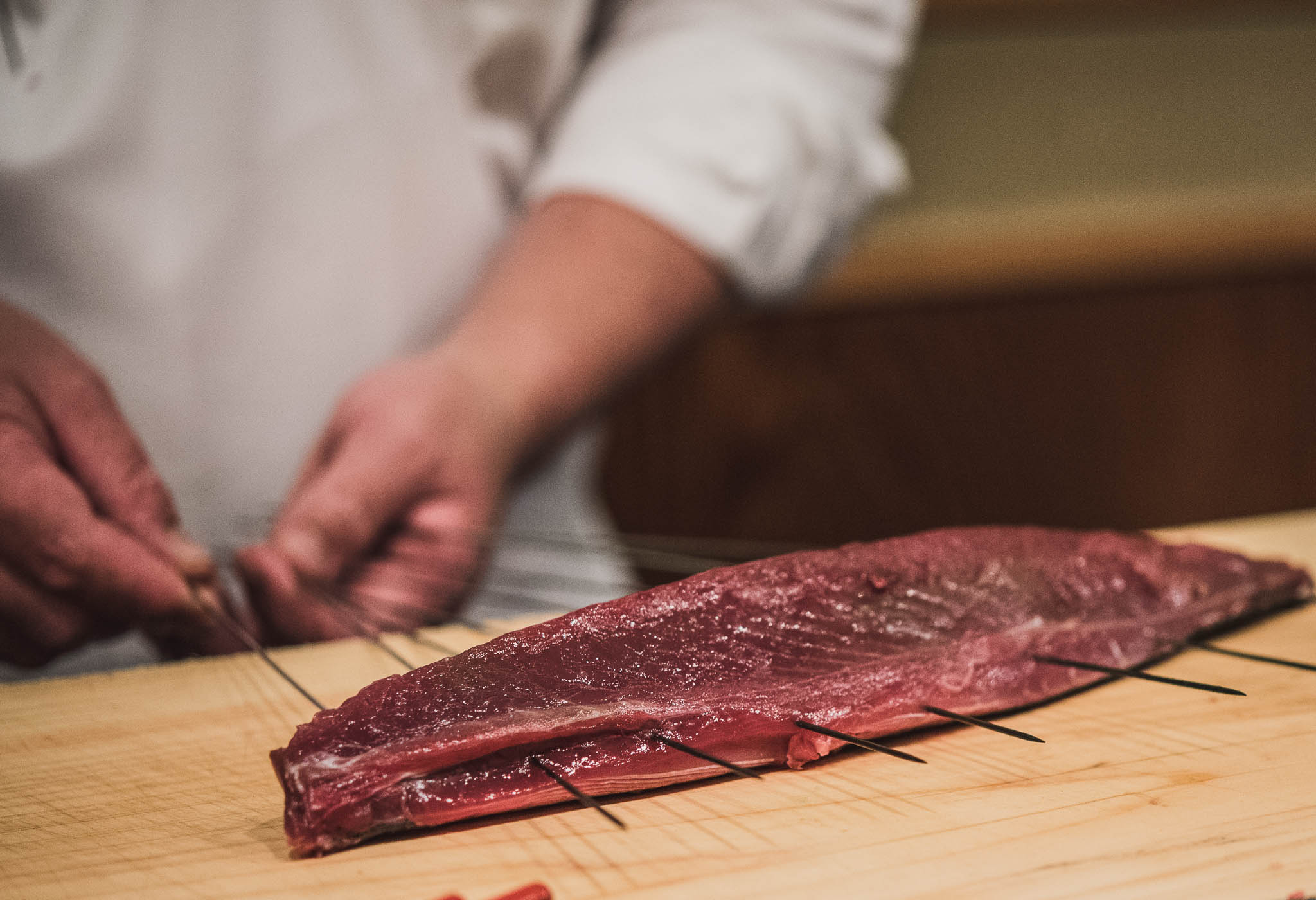 Next, Chef Hiroki took out a gorgeous piece of bonito, and then skewered it. "More charcoal grilled deliciousness!"- wonderful! But no...Each of us was handed 2 marshmallows on skewers and asked to "go outside". What? Outside where???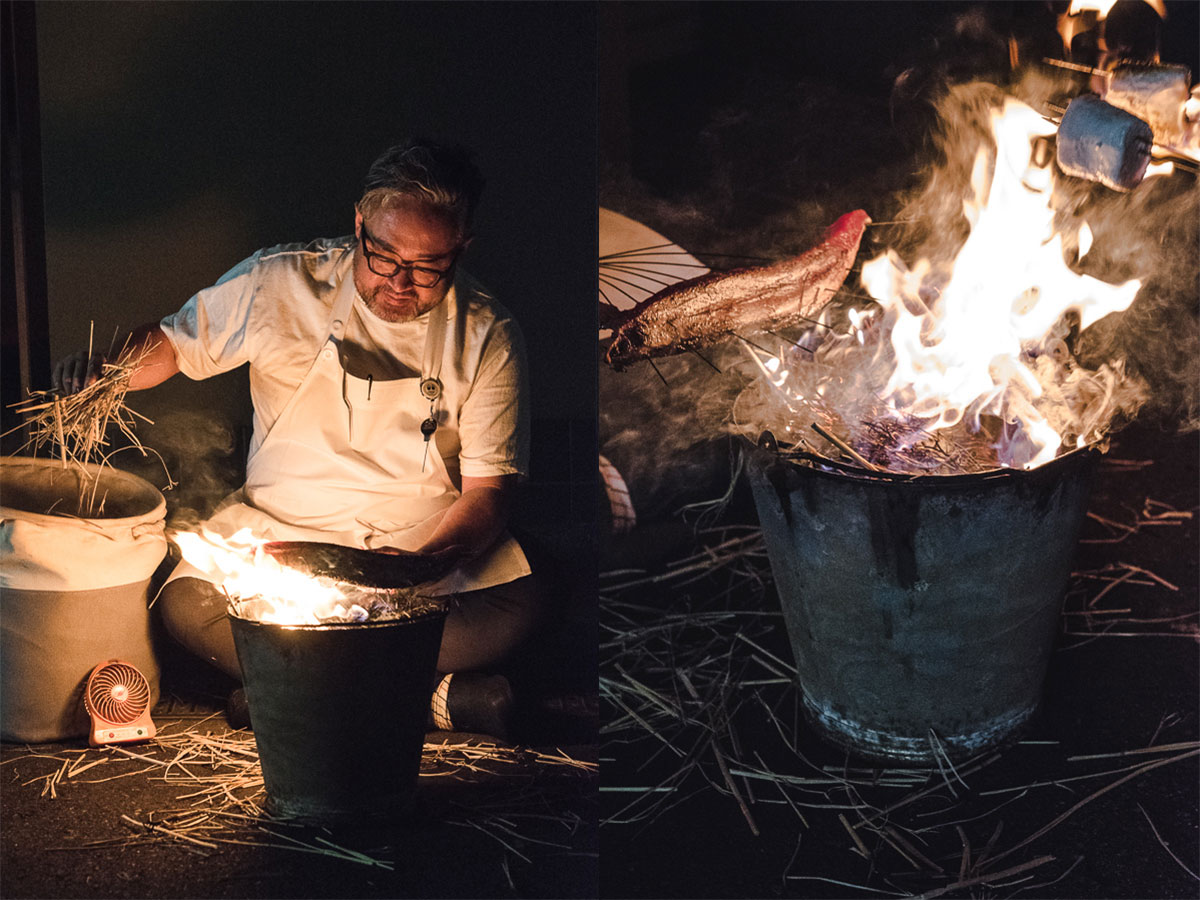 Outside! In front of the restaurant! In the small alley! Where the chef started a fire using some straw, sat down, and started grilling the bonito! While we were asked to grill our marshmallows and eat them...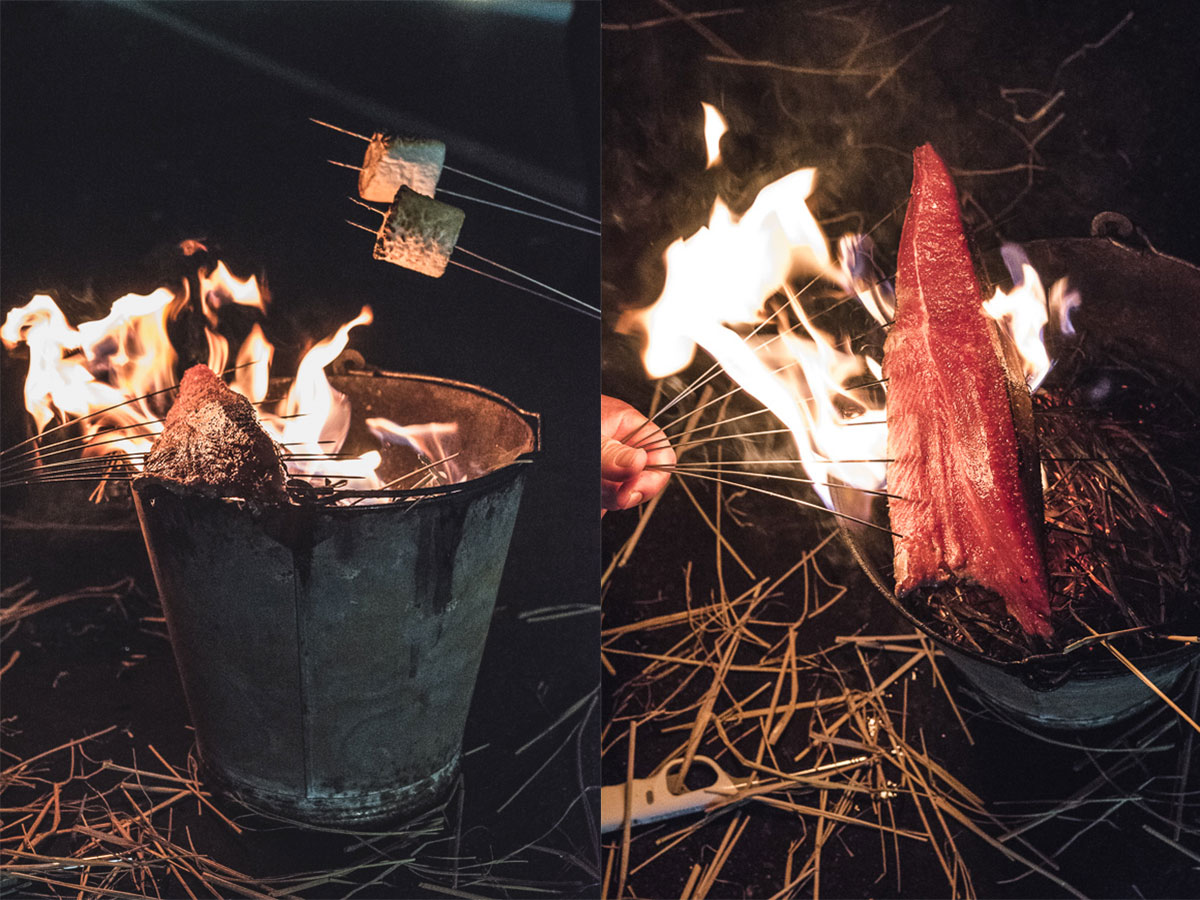 Well, I didn't grill my marshmallows. I was way too busy dancing around the fire and taking photos.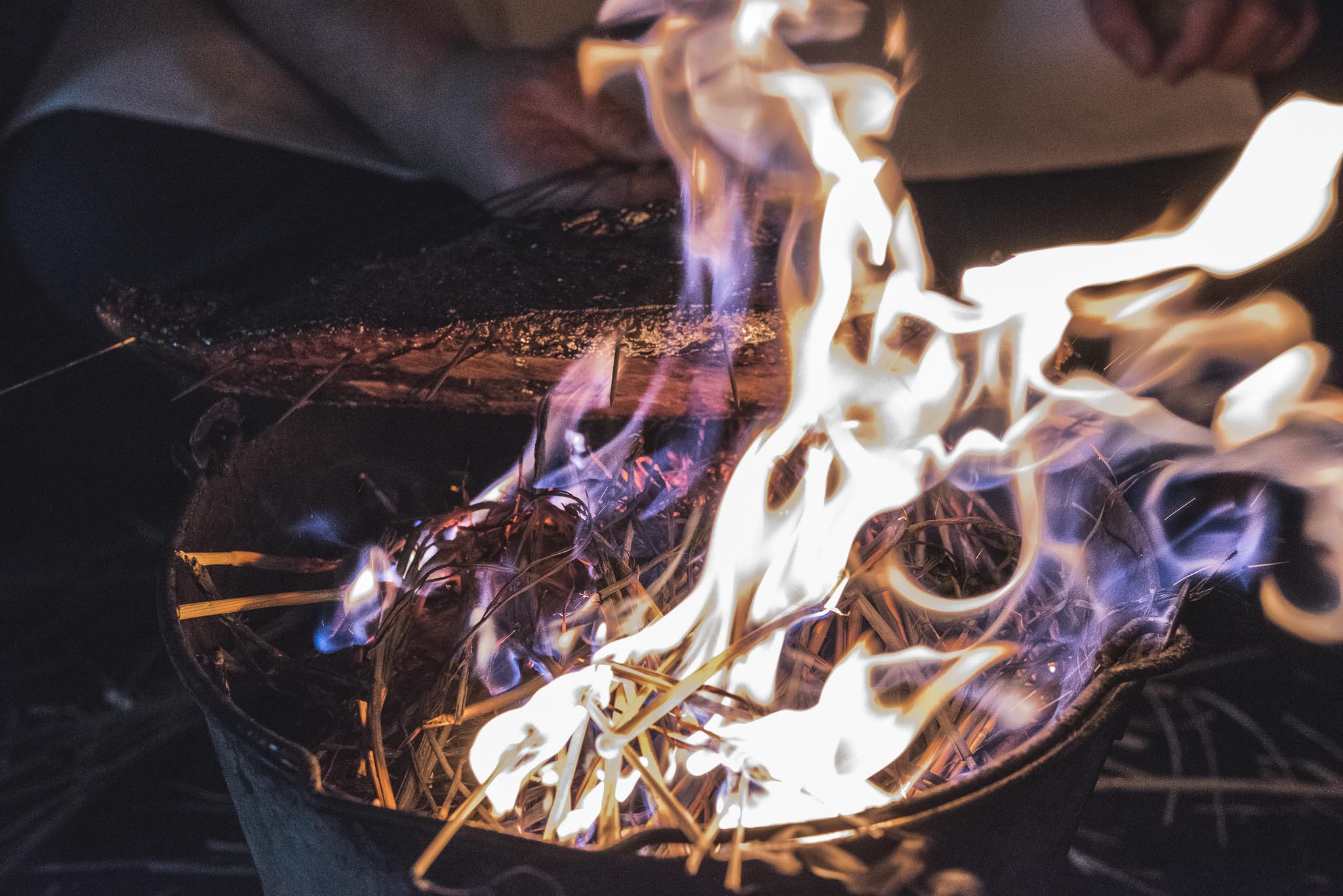 I just couldn't stop snapping! Haha... I think I took about 150 photos. But how often do you experience grilling marshmallows in the company of a Michelin starred chef? Huh?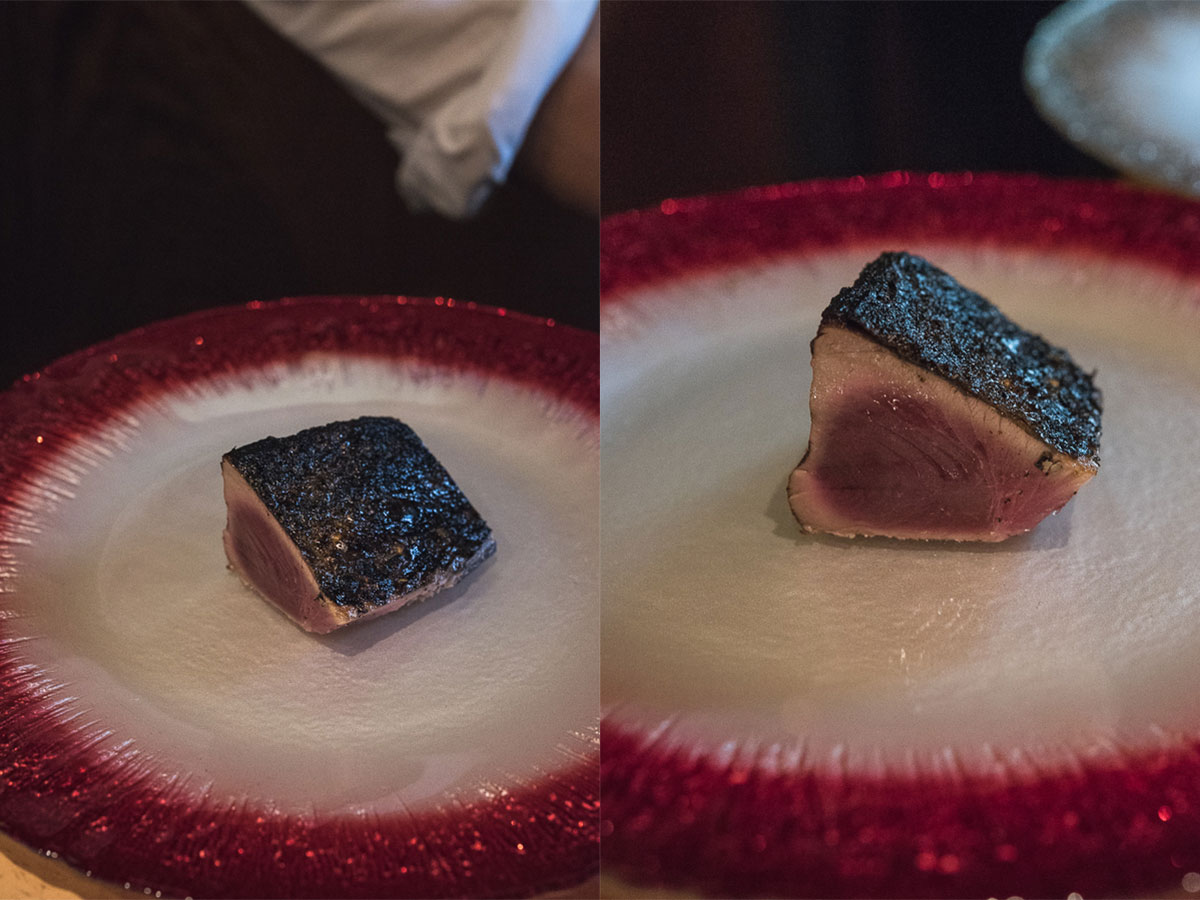 Bonito, grilled to perfection.
We were each served a large piece of bonito with wassabi mousse and baby shiso leaves. Oh, boy...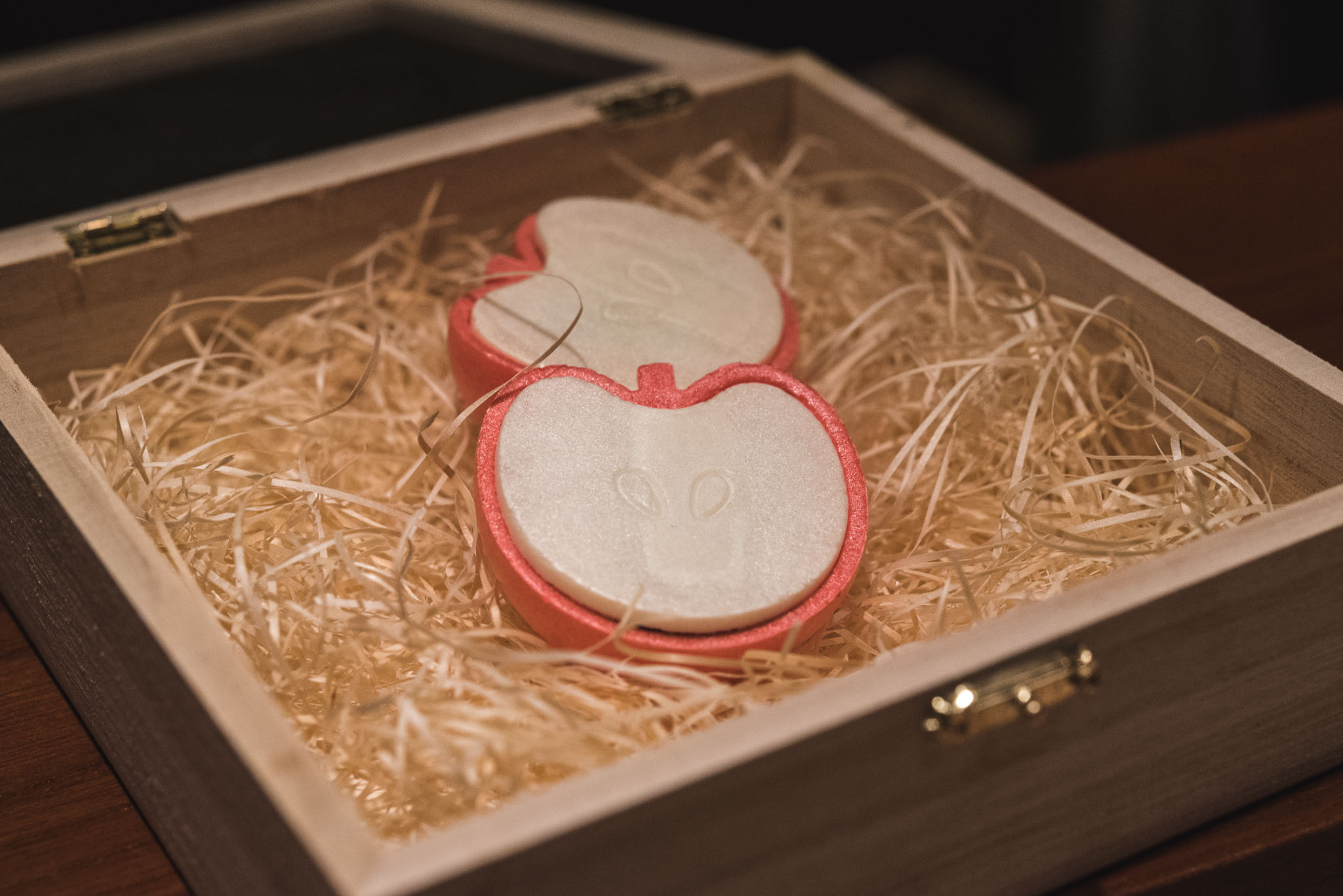 The "Apple", hum??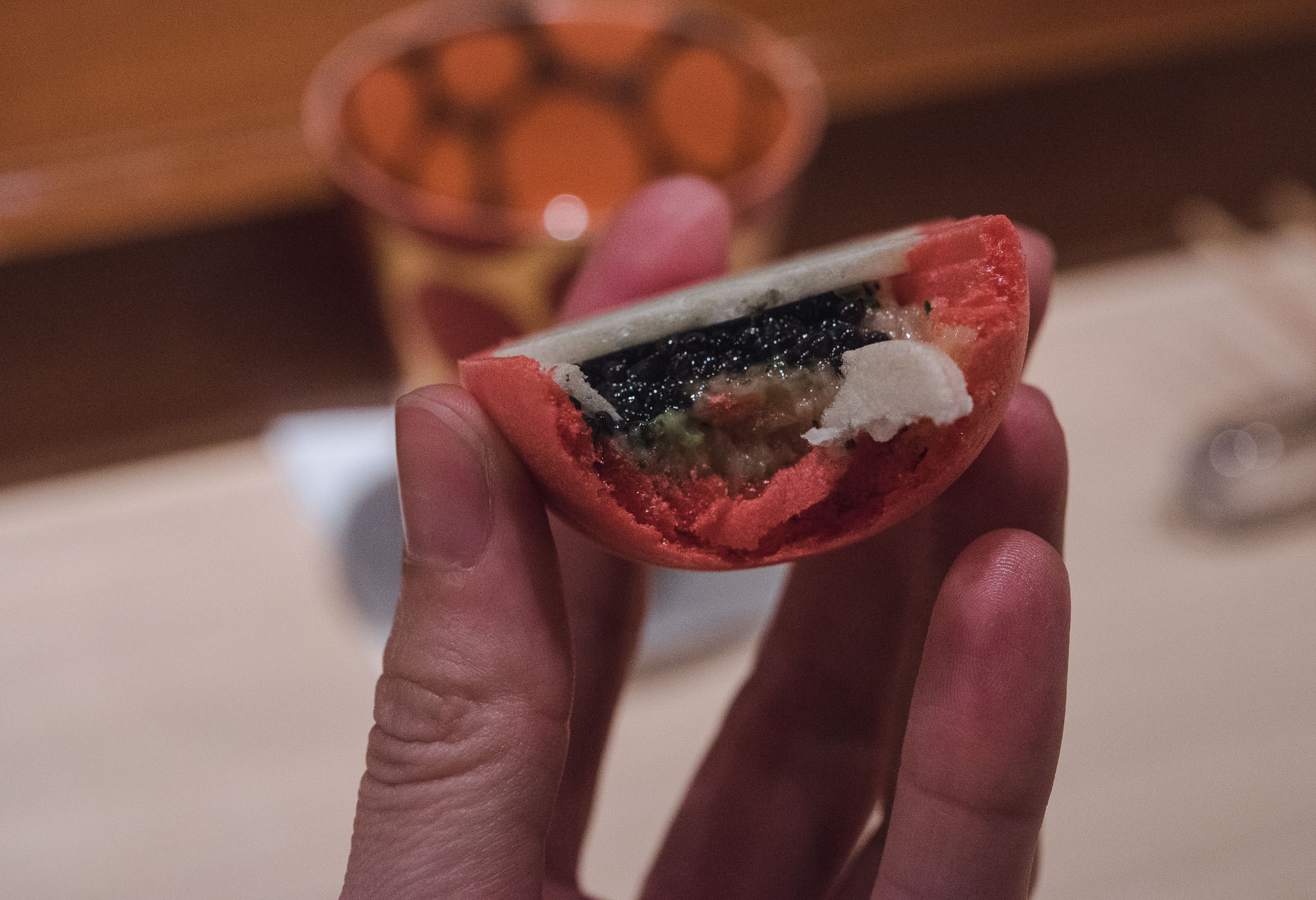 Ooouh...Ok! Apple shapped wafer filled with minced salmon, Bordeaux caviar and finelly diced fresh apple.
Preparation of Seiko-kani, Japanese crab.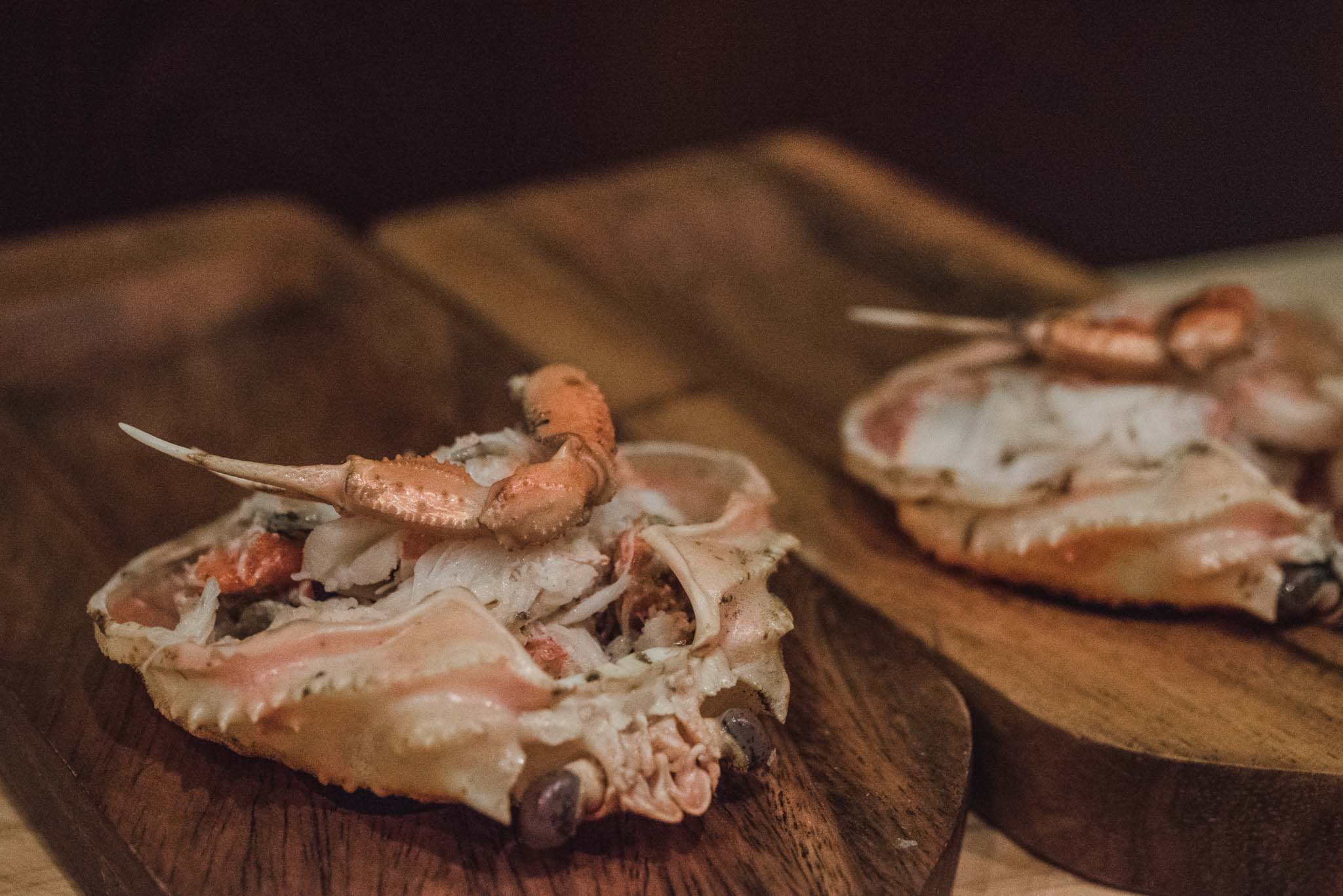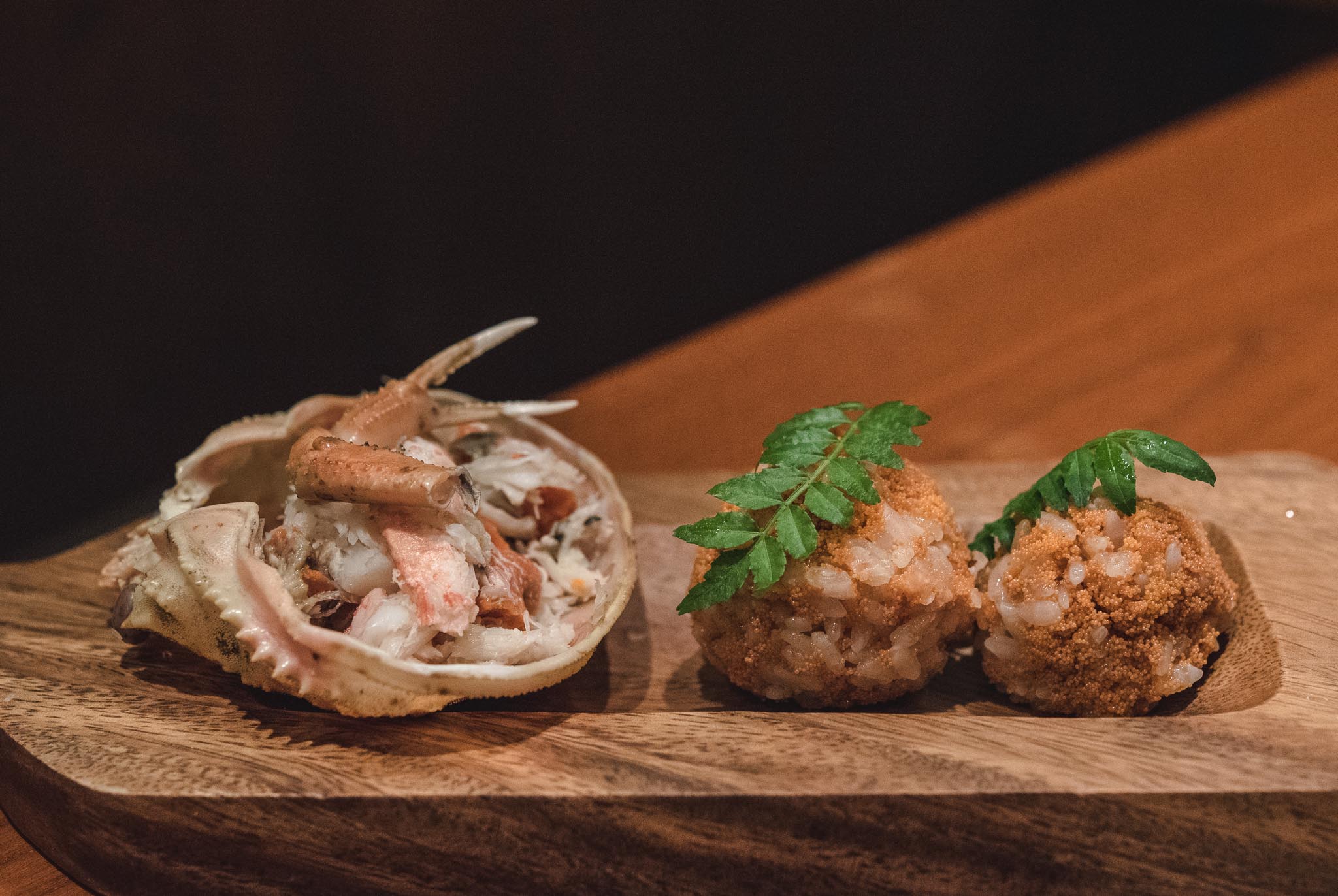 The crab was served with crab egg and rice balls, and baby sansho leaves (Japanese pepper).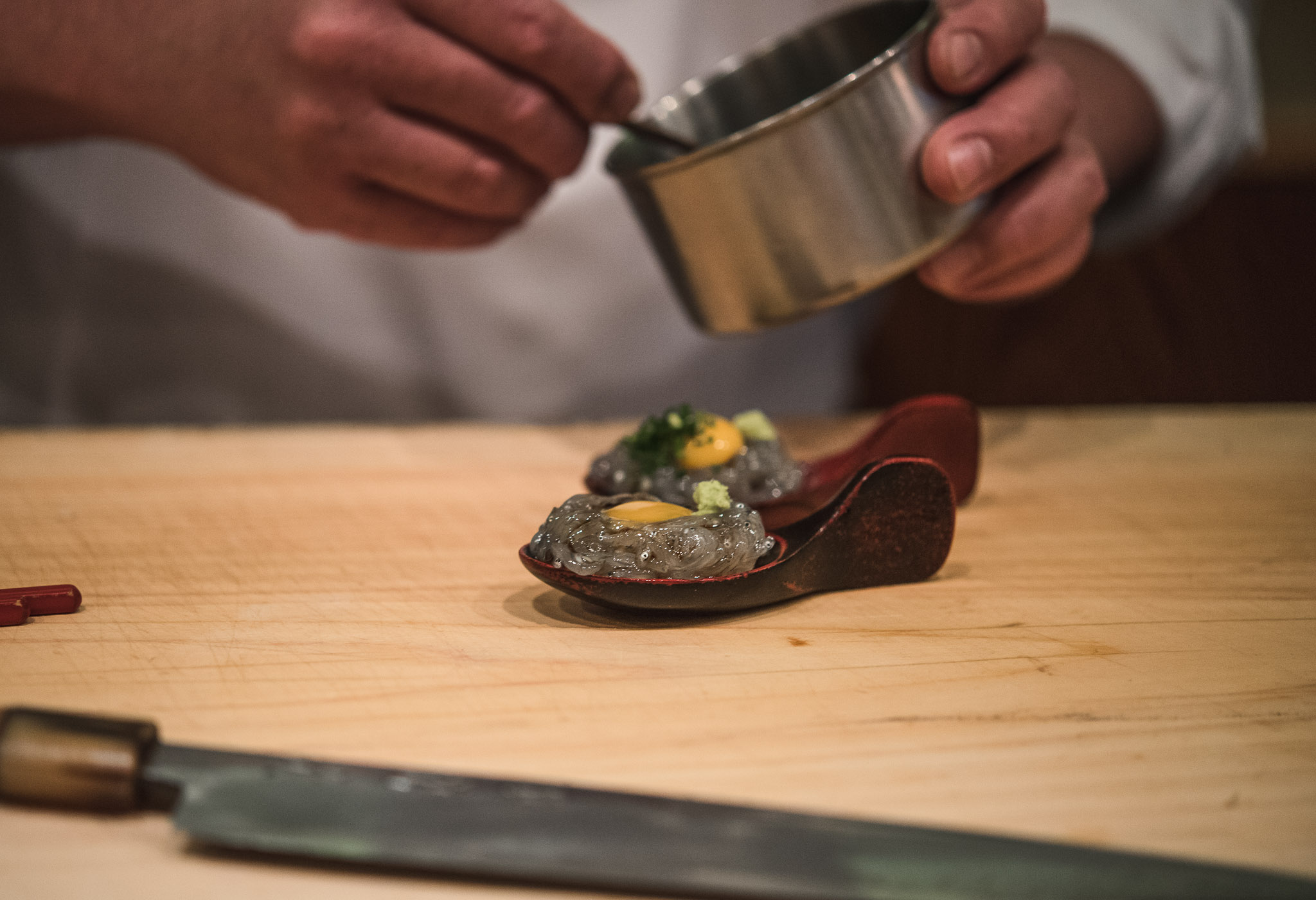 What is this..?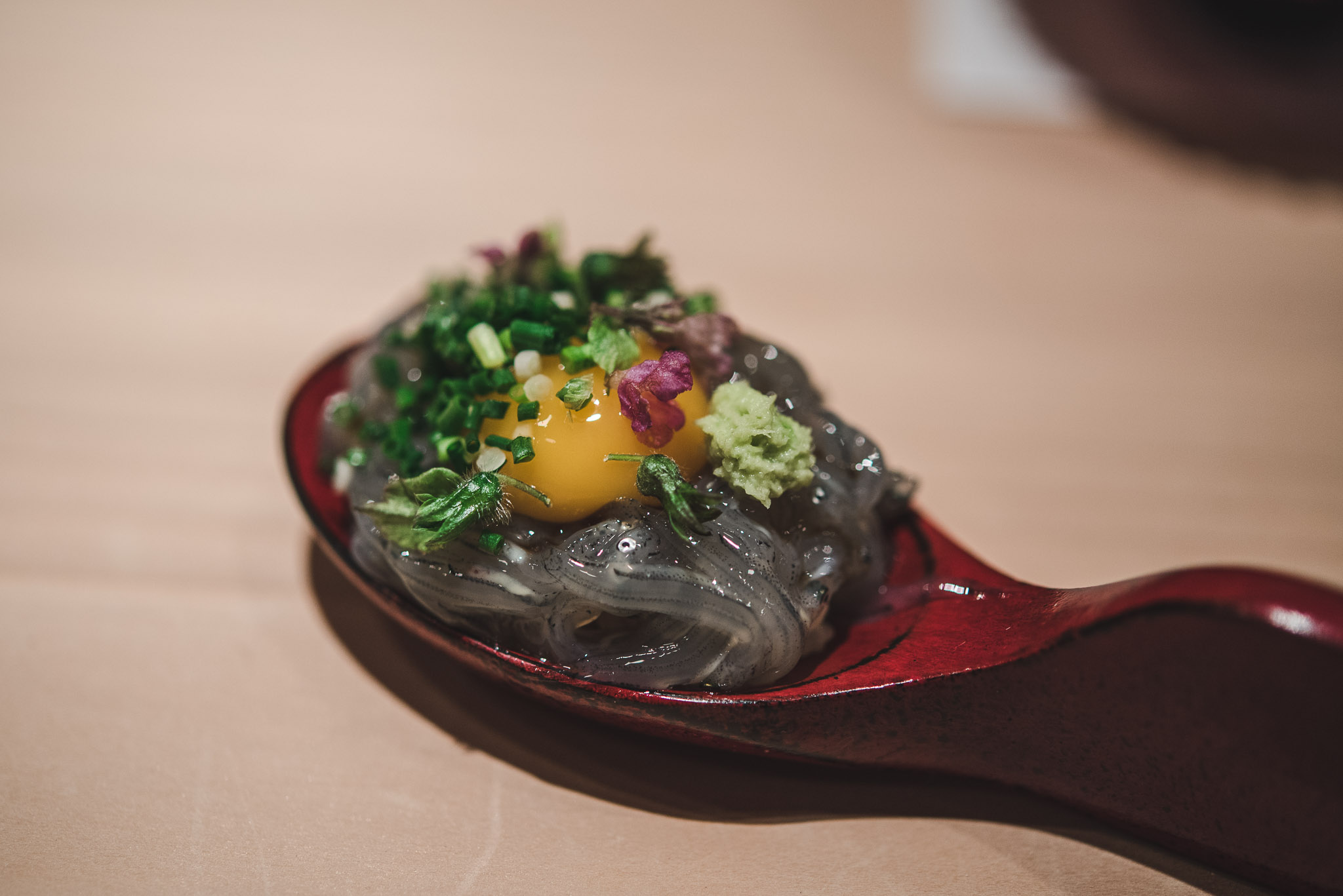 Baby sardines and quail egg with fresh wasabi, chives, and shiso flowers (not my favorite).
Shirako two ways. What is Shirako? Chef Hiroki told us it is a "fish spam", huh? Fish spam?
Shirako is the milt, or sperm sacs, of male cod. It's served in both raw and cooked form in restaurants all over Japan. The word "shirako" means "white children," and it is in season in the winter. It's also called kiku and tachi.
It's kind of funny when I think about it. In my mind, caviar is appetizing, and caviar is the eggs of a female fish. Right? But sperm sacs?? - the eggs of a male fish - doesn't work in my mind. I don't think I would have eaten Shirako if it was presented to me as a sperm sac, but spam seamed adventurous yet edible. Way too adventurous for me to be honest!
Chef Hiroki served Shirako two ways. In a cup with sesame mustard, red mustard leaves, chives, nasturtium leaves and citrus caviar (finger lime). And as a roll, with rice.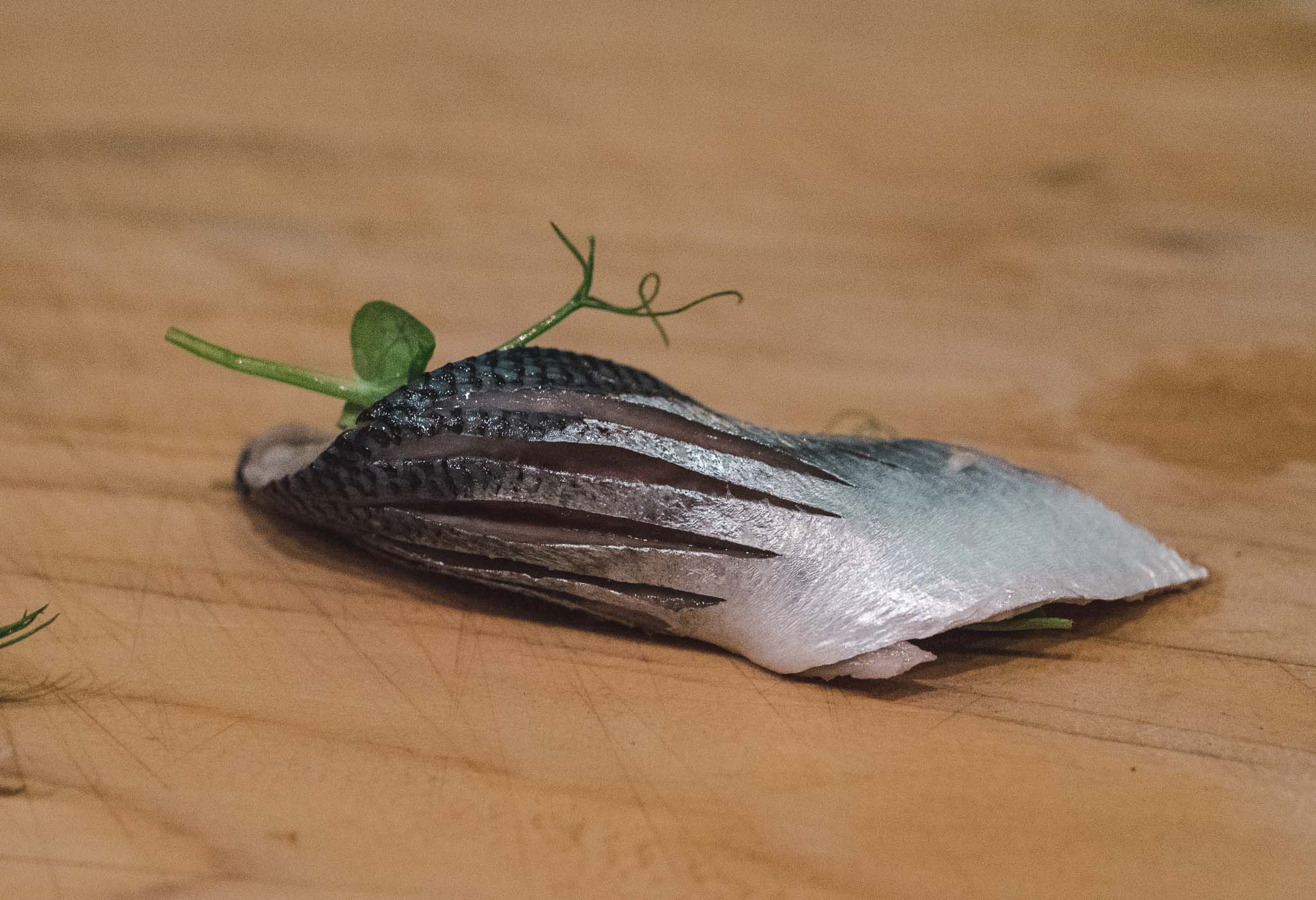 Sanma (Pacific Saury) fish sashimi.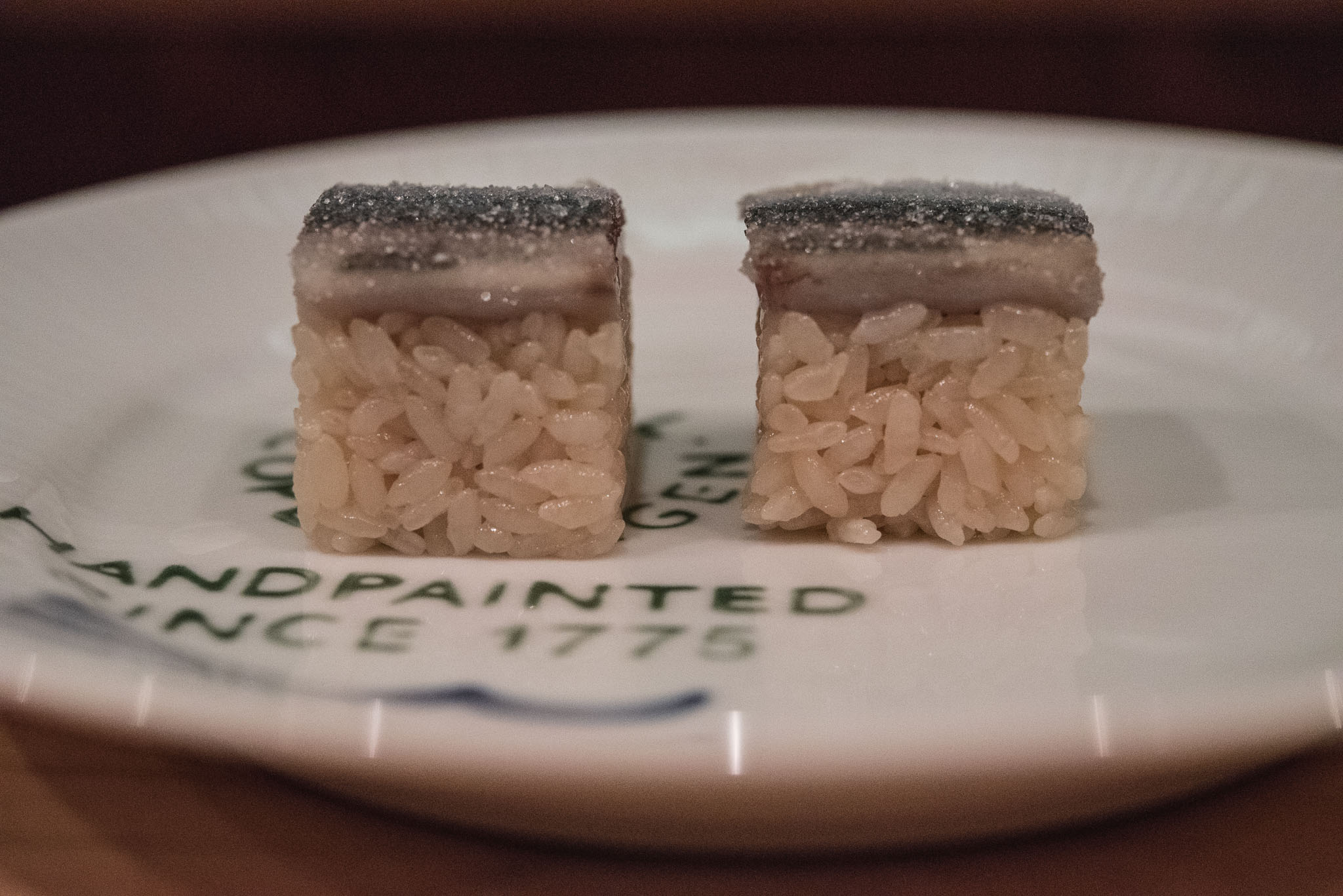 Perfectly squared Sanma nigiri.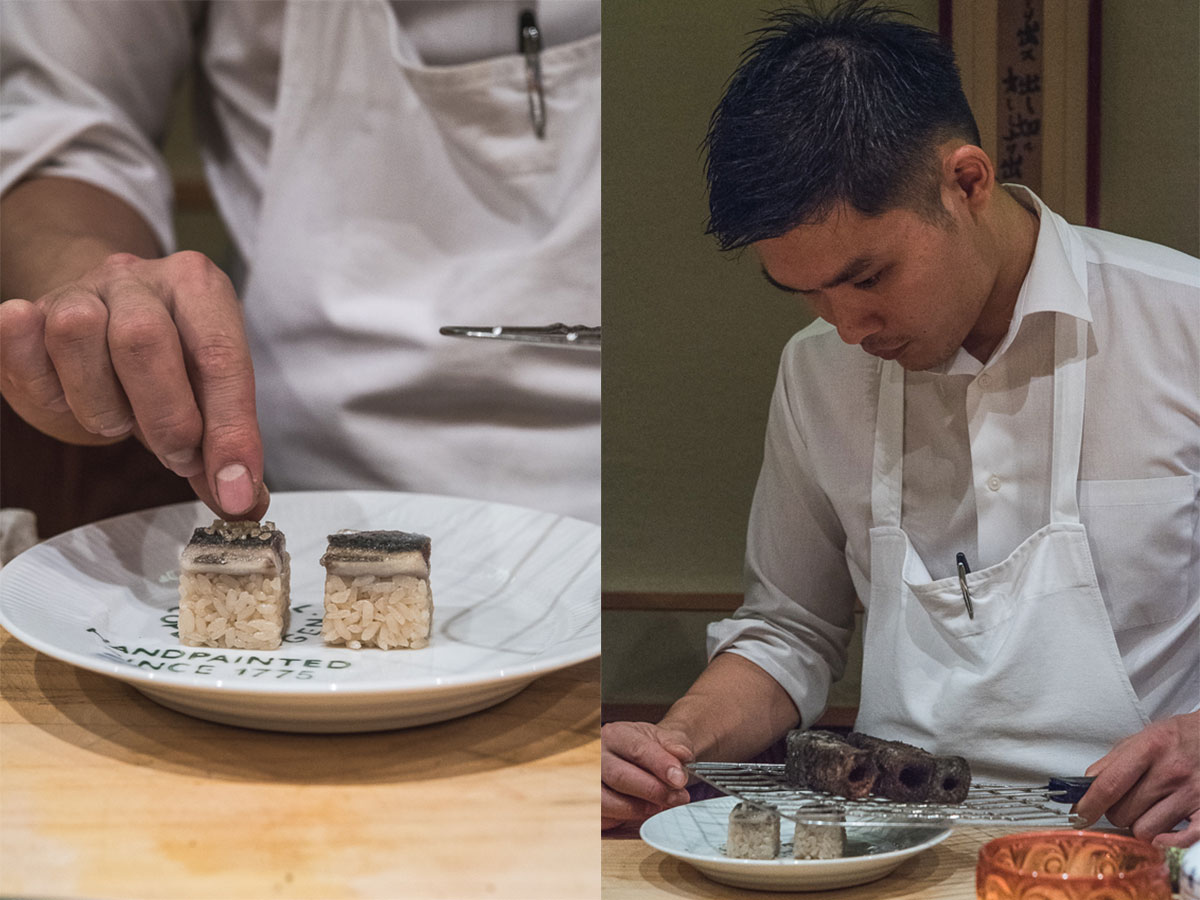 It was sprinkled with sugar and toasted using real charcoal, for a more smoky flavor.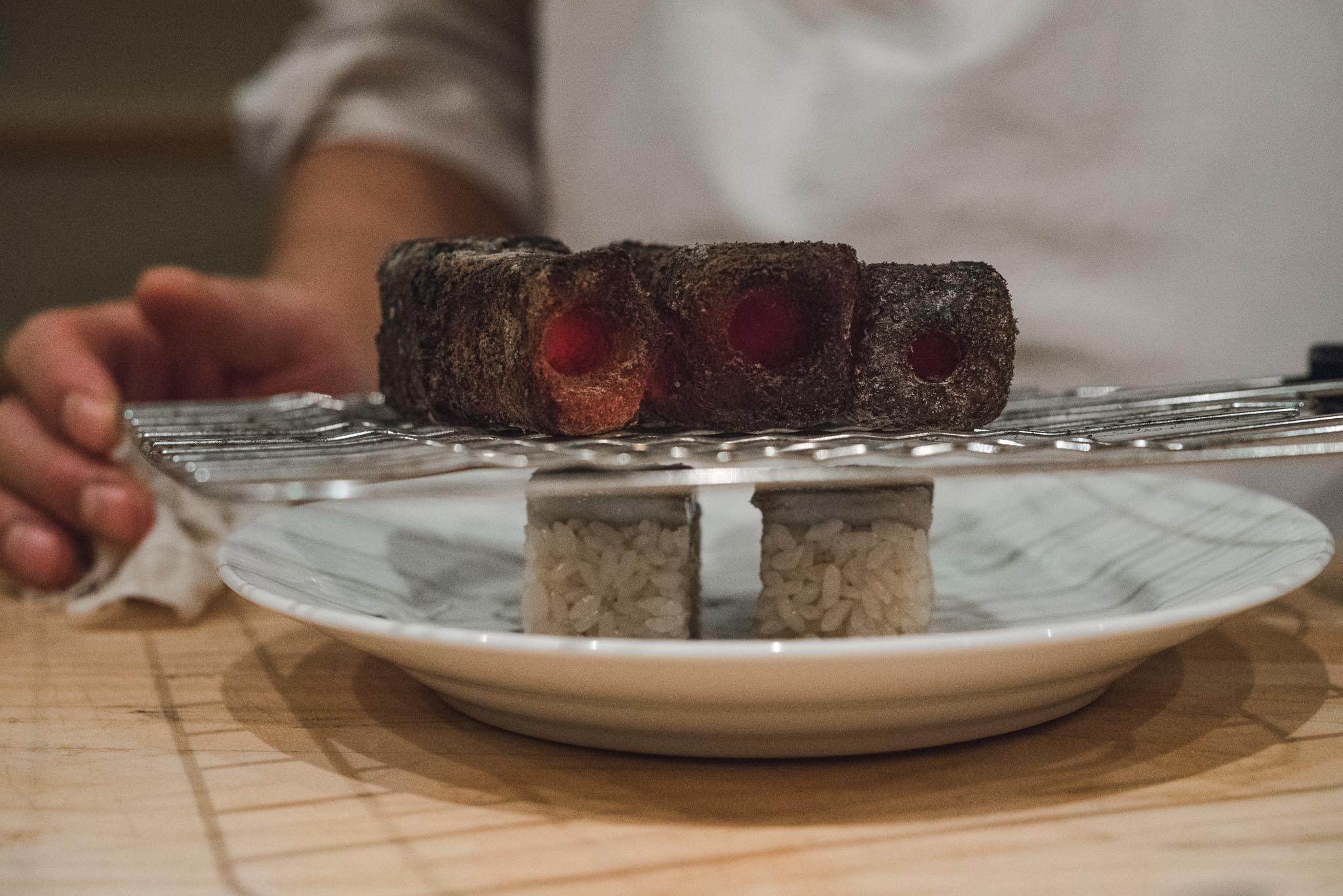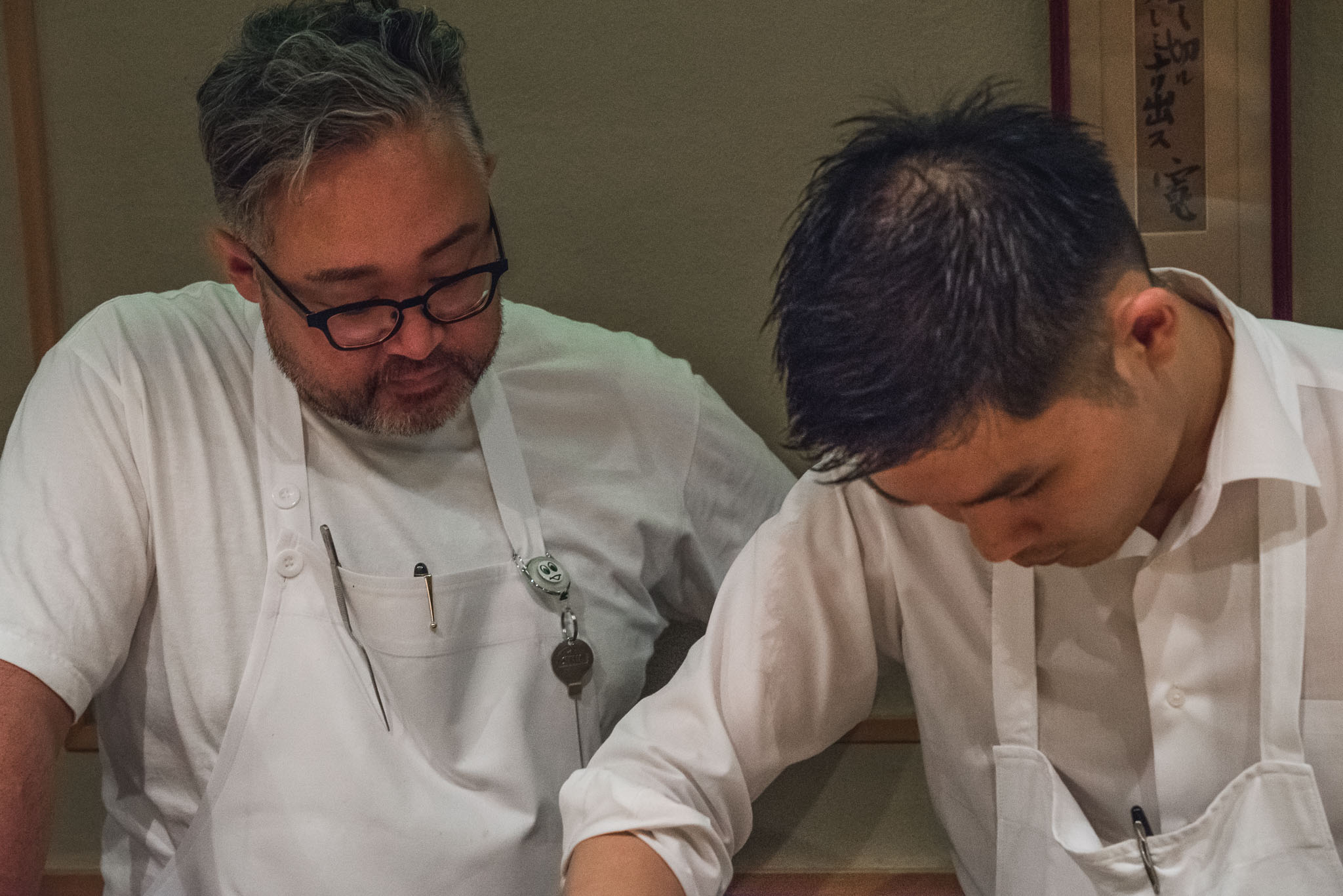 Chef Hiroki and his sous-chef, student, assistant ?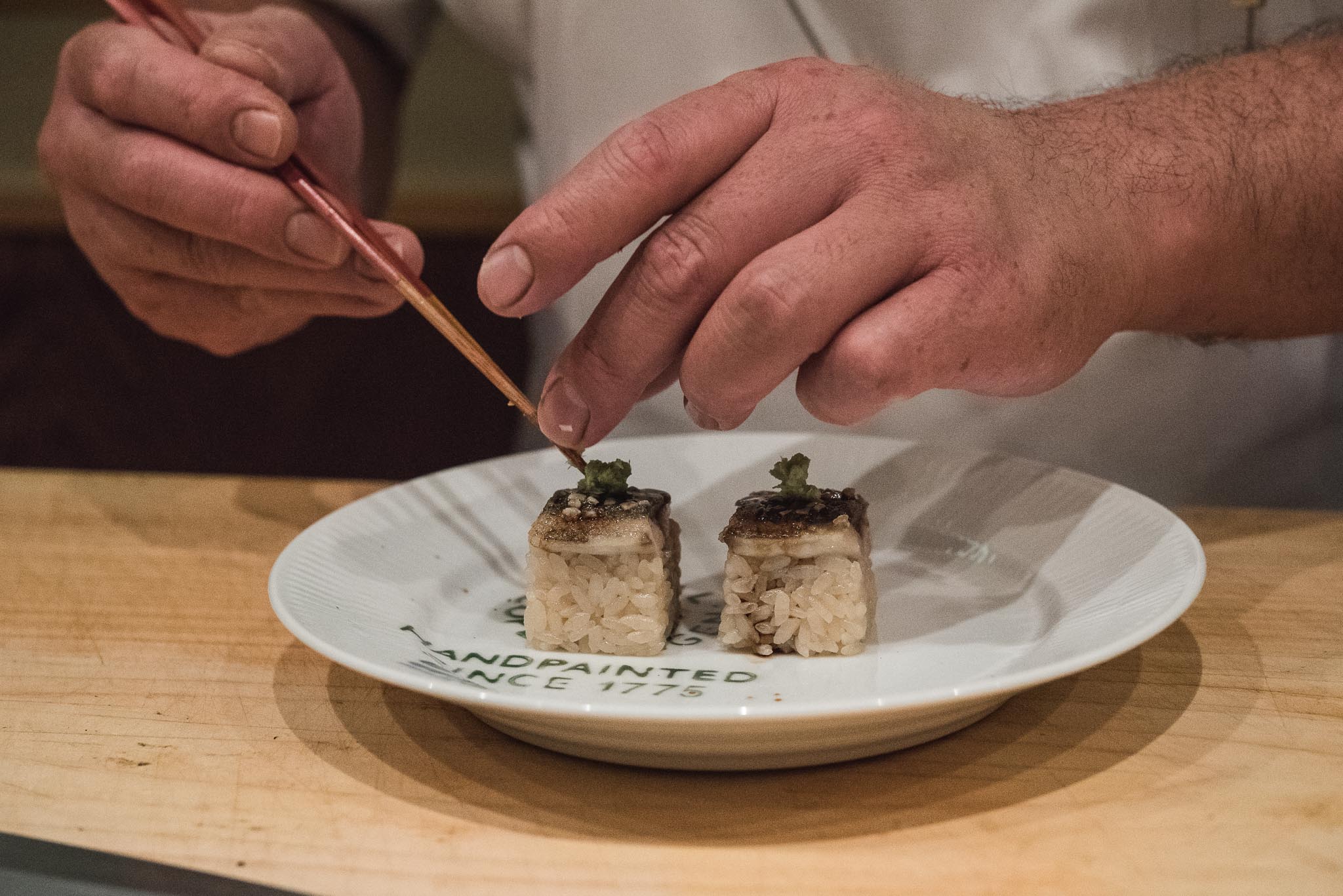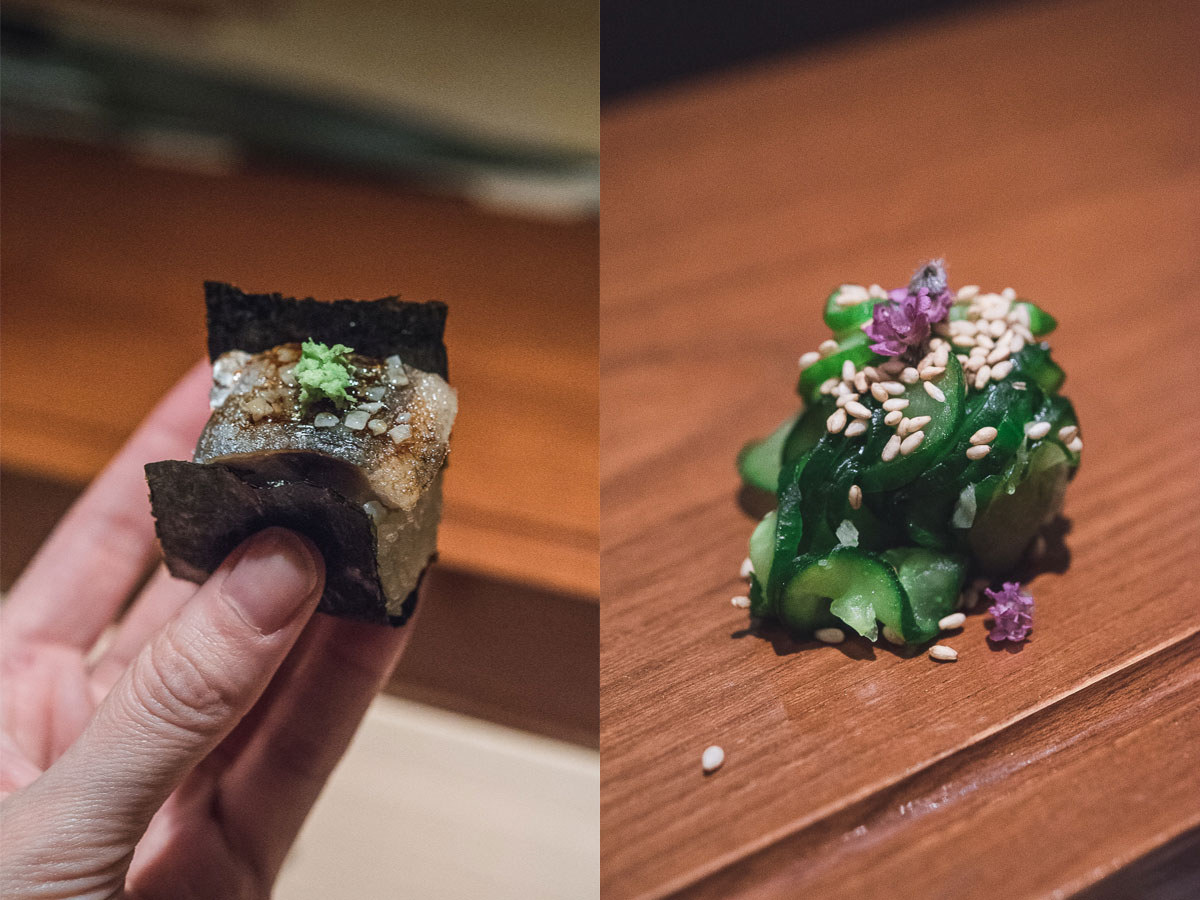 After toasting, the Sanma nigiri was topped with fresh wassabi, wrapped in nori sheet and handed to each of us. On the right photo: cucumber ginger pickles, topped with sesame seeds and shiso flowers.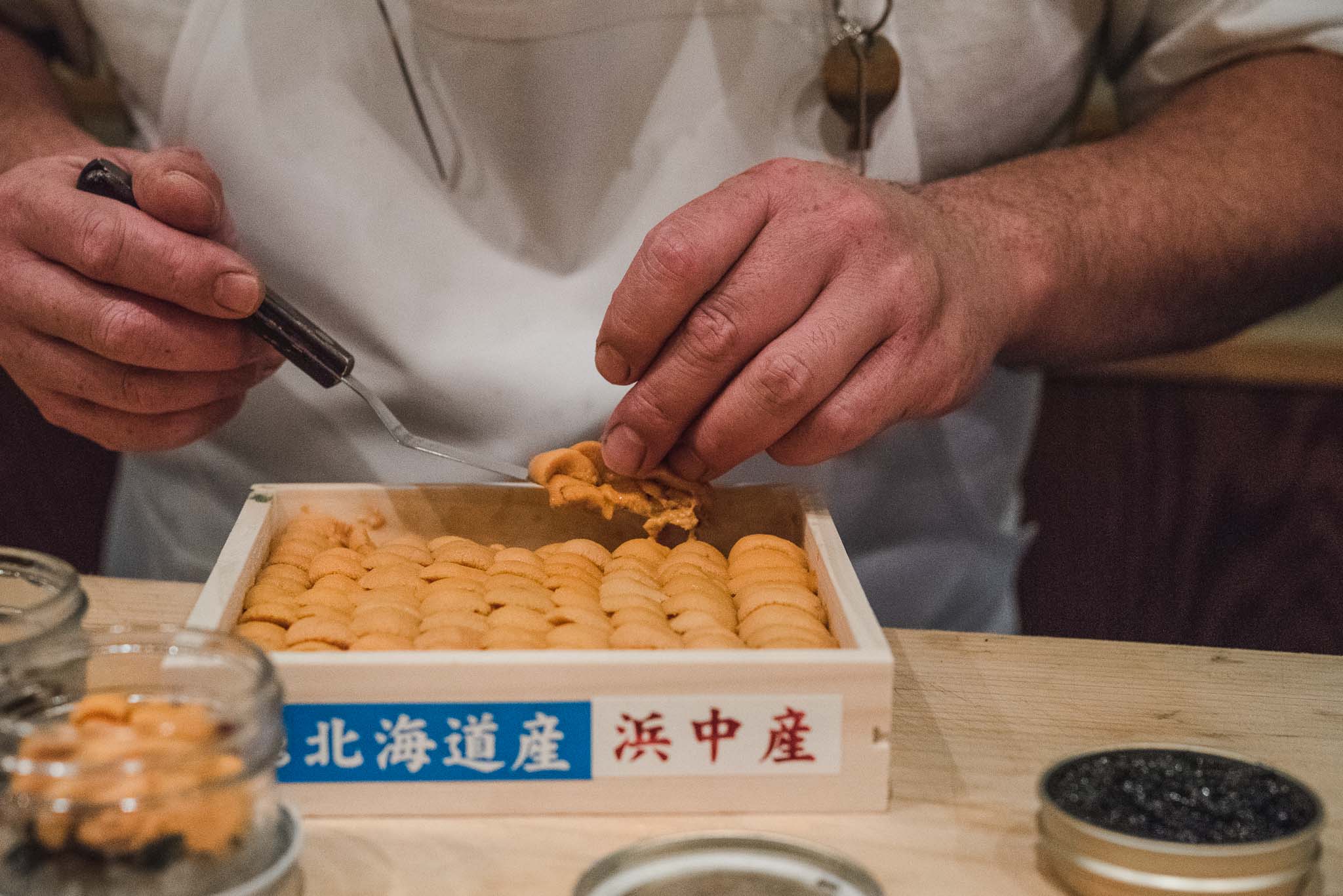 Next up, a box of Hokkaido Uni (sea urchin) appeared.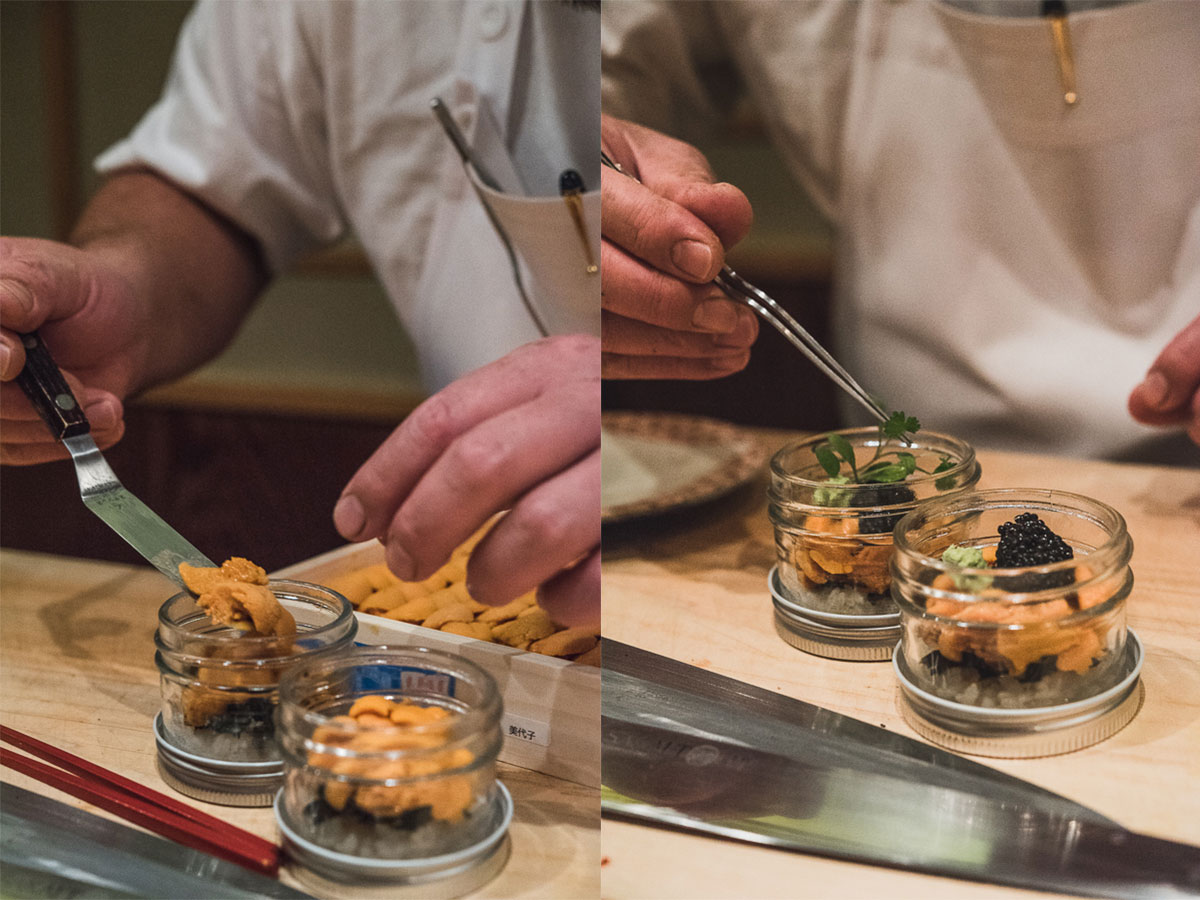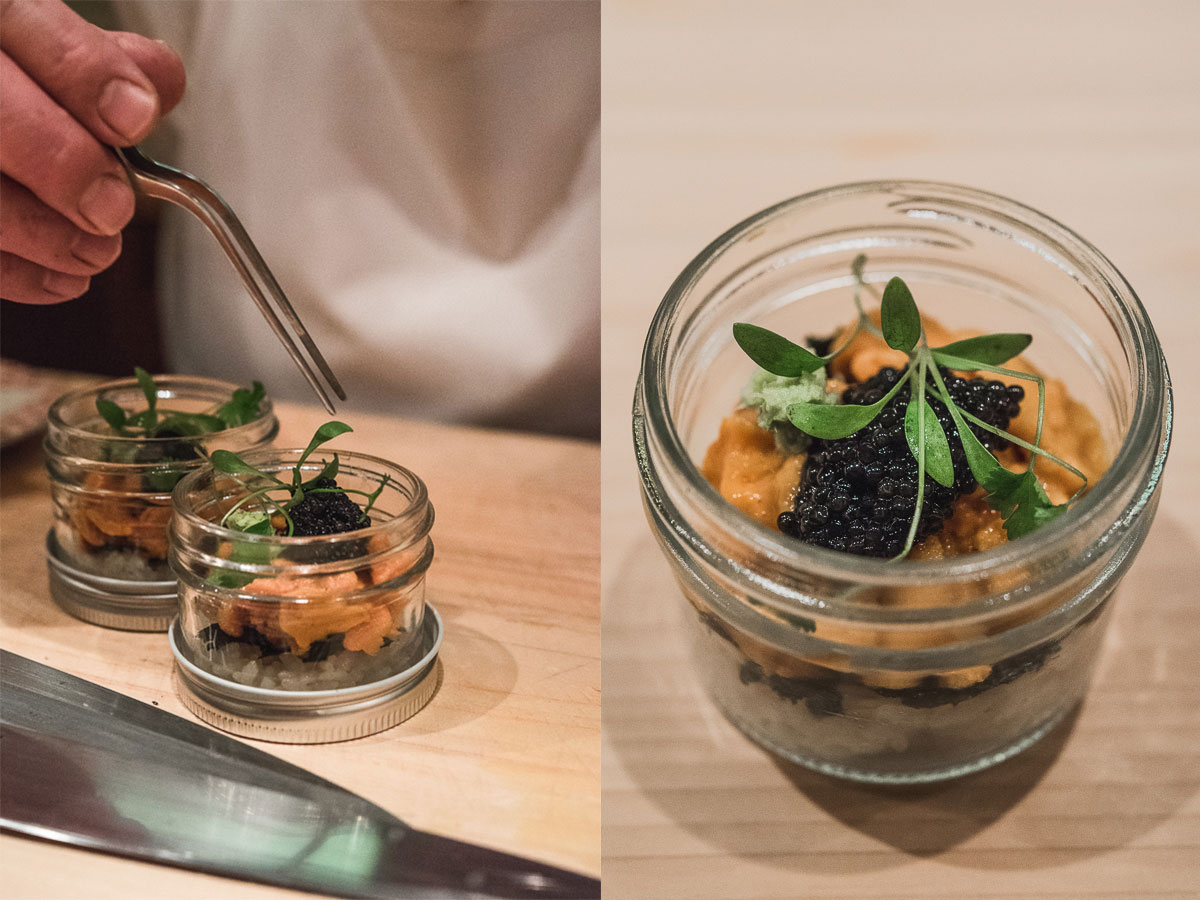 Uni was served over rice with dried seaweed and Bordeaux caviar, topped with fresh wassabi and micro coriander leaves.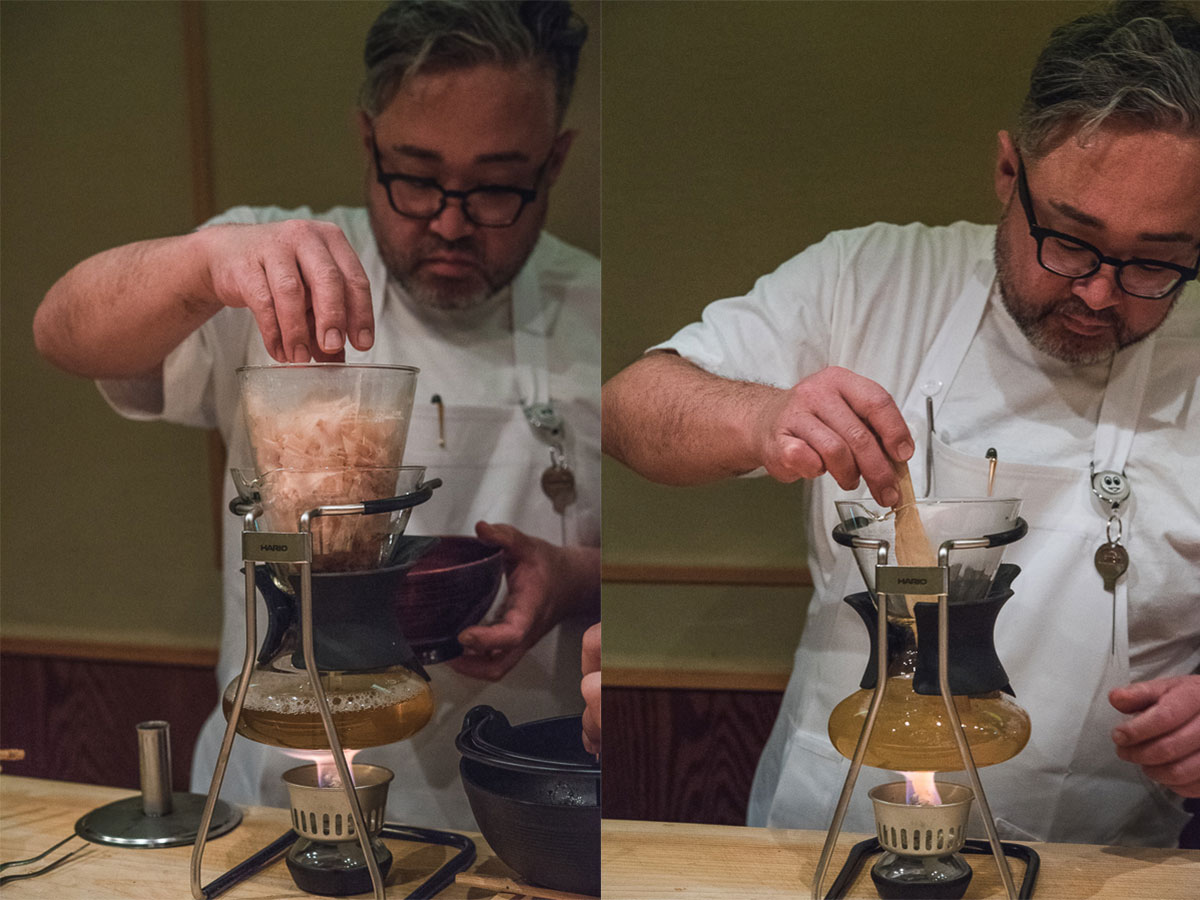 Next chef Hiroki put up a little magic show, by cooking bonito flakes flavored dashi broth in front of us.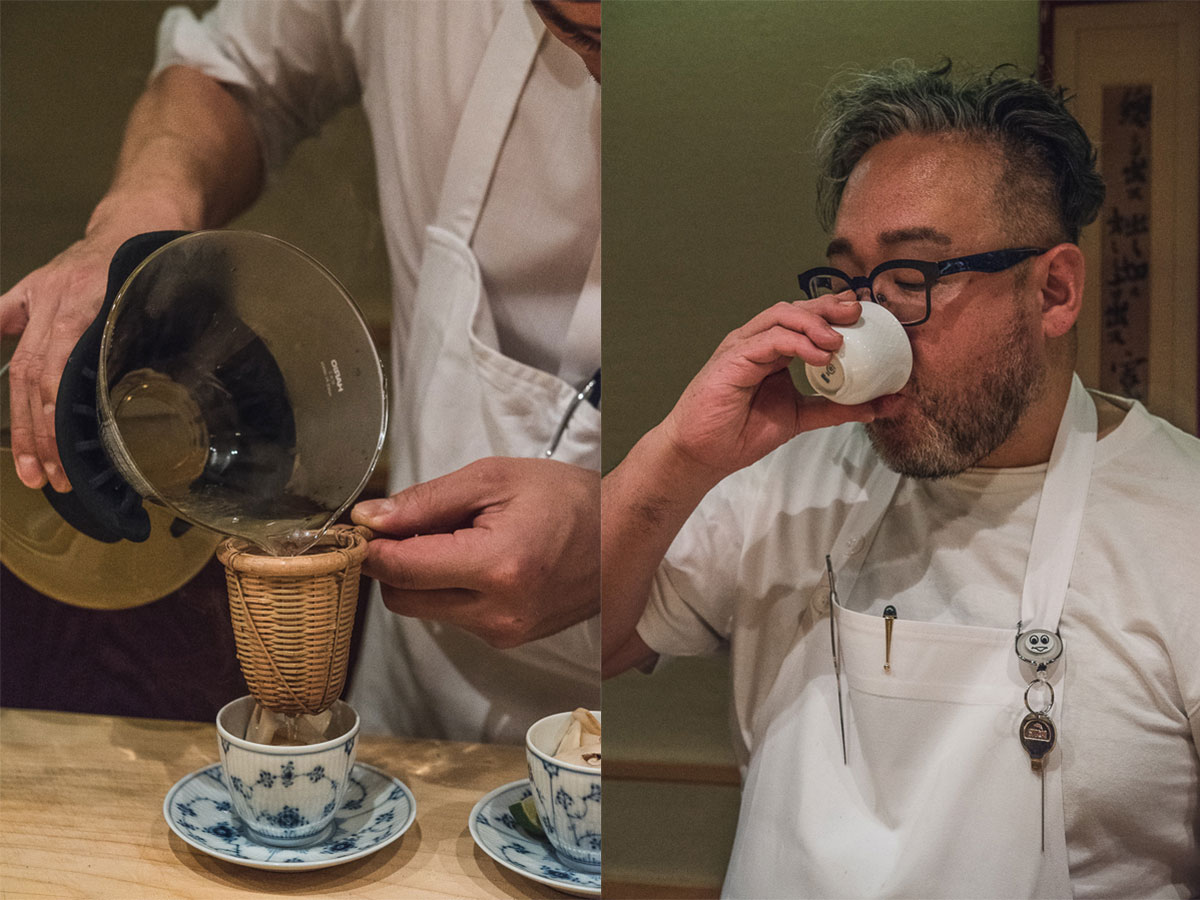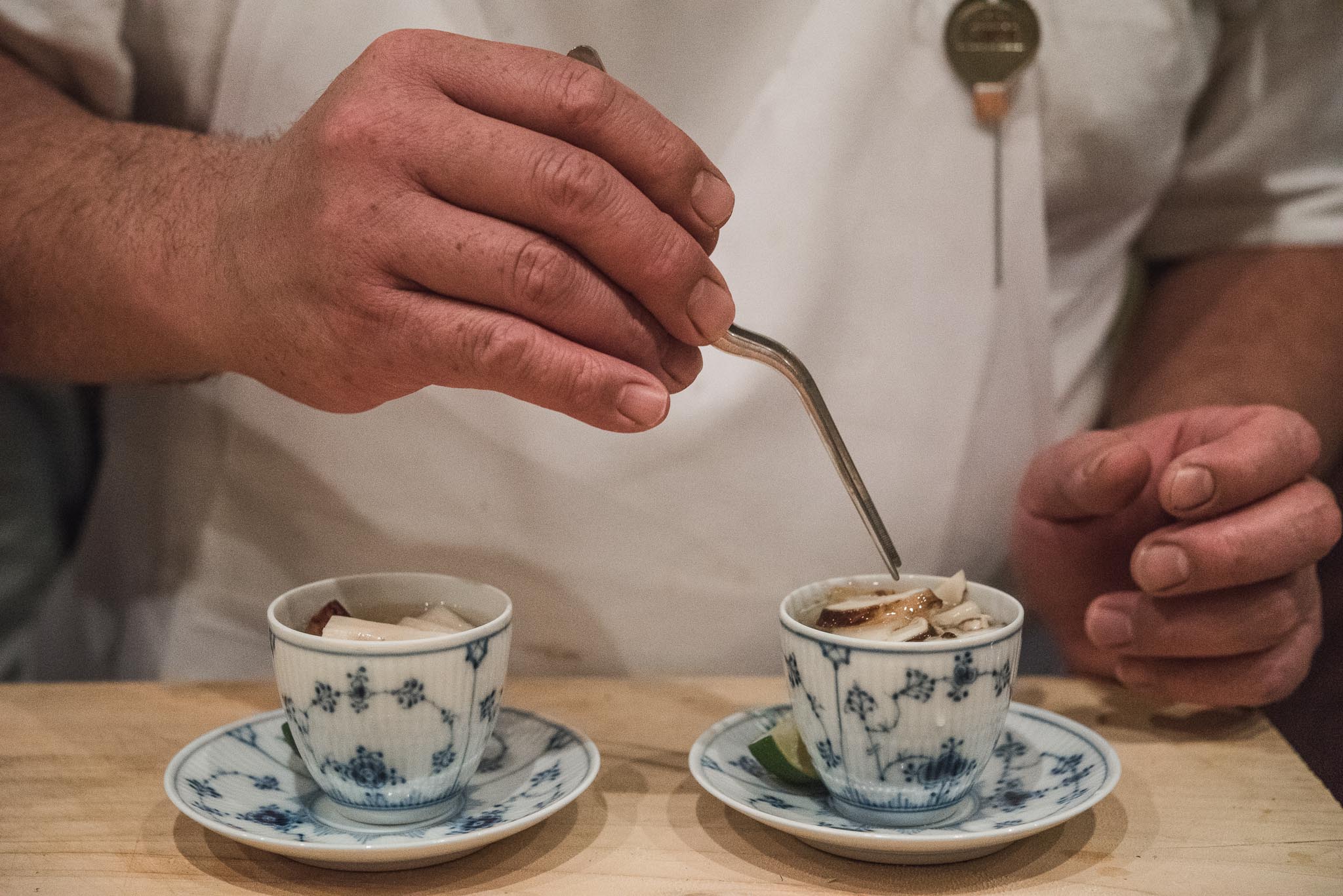 The dashi broth was served with seasonal, matsutake mushrooms.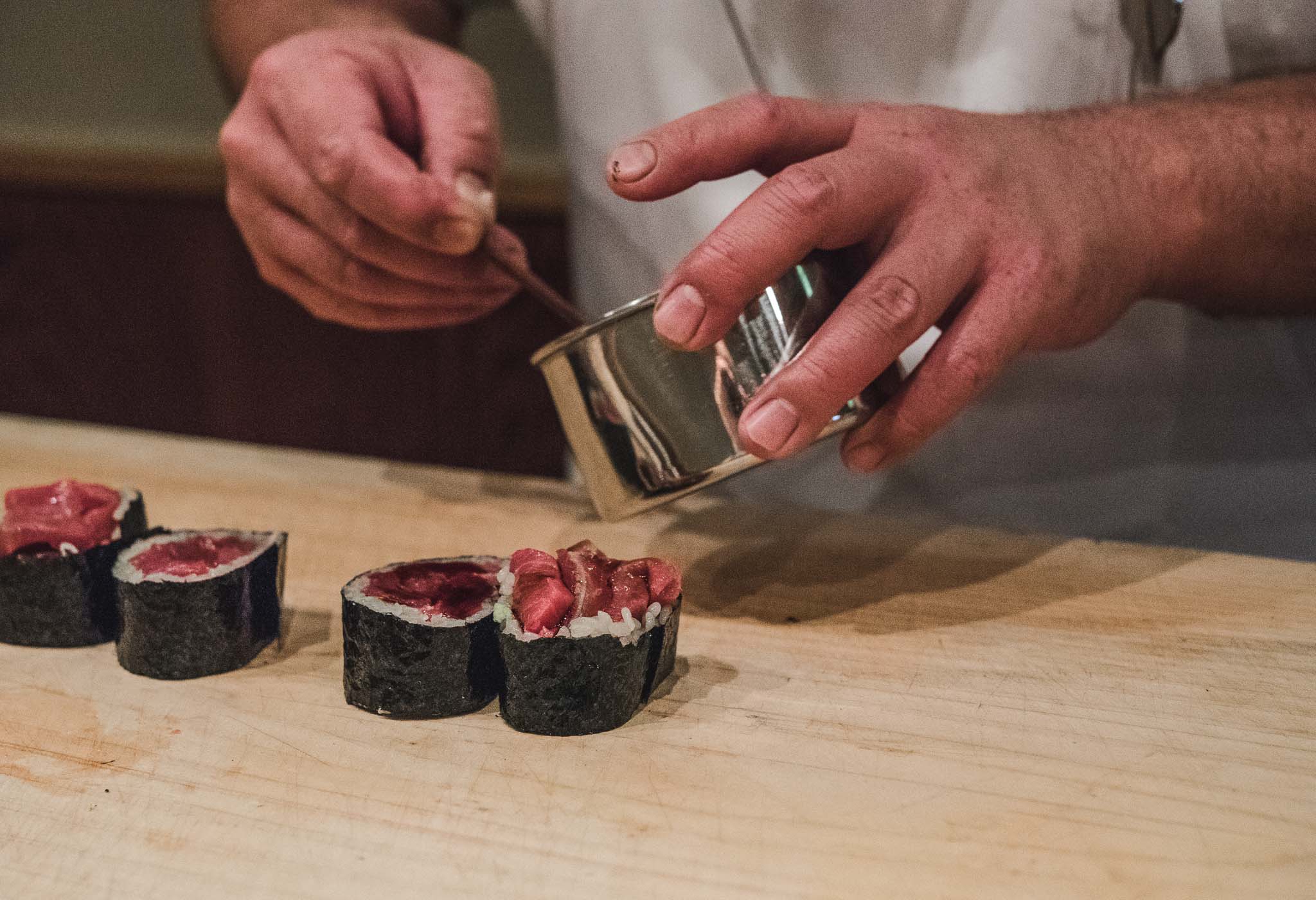 By the end of the dinner the chef asked us if we would like MORE food. "Yes, just one more", we said.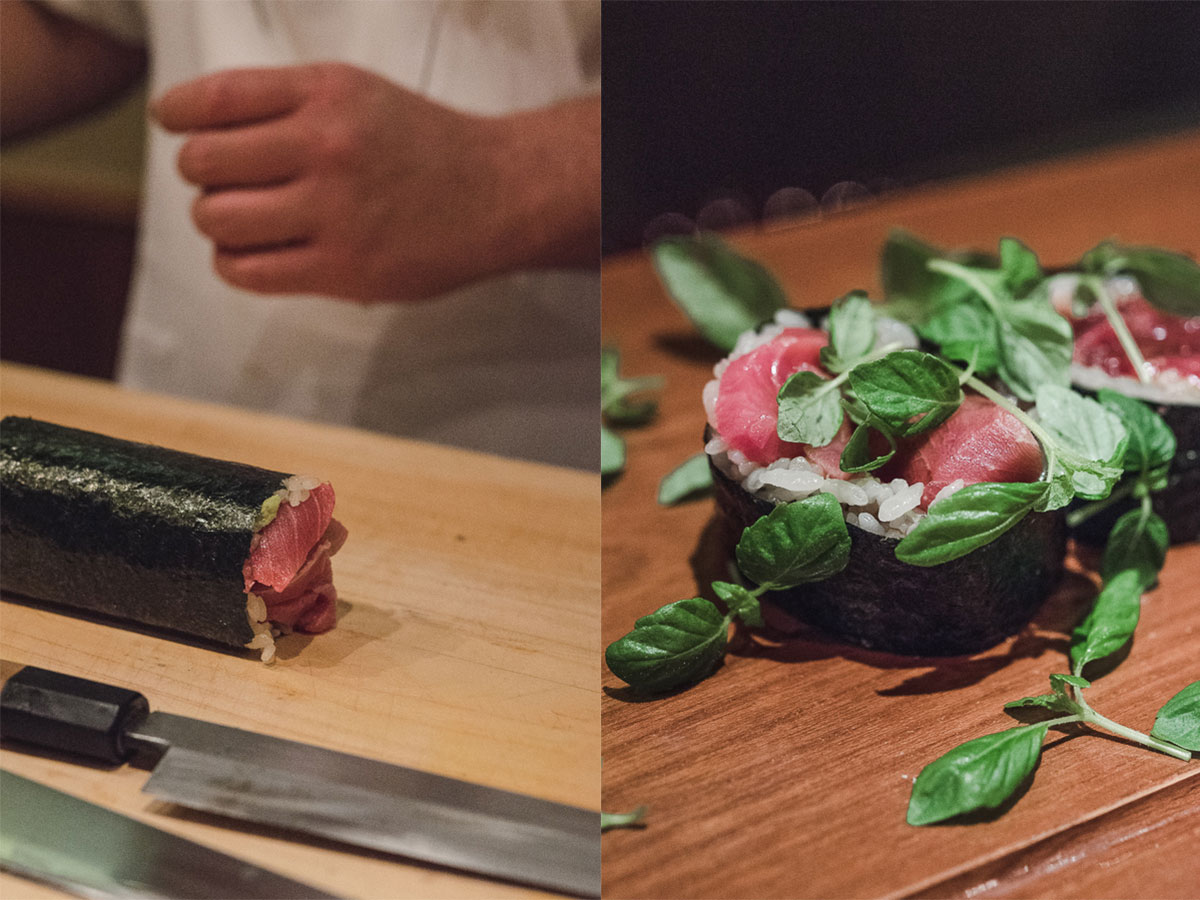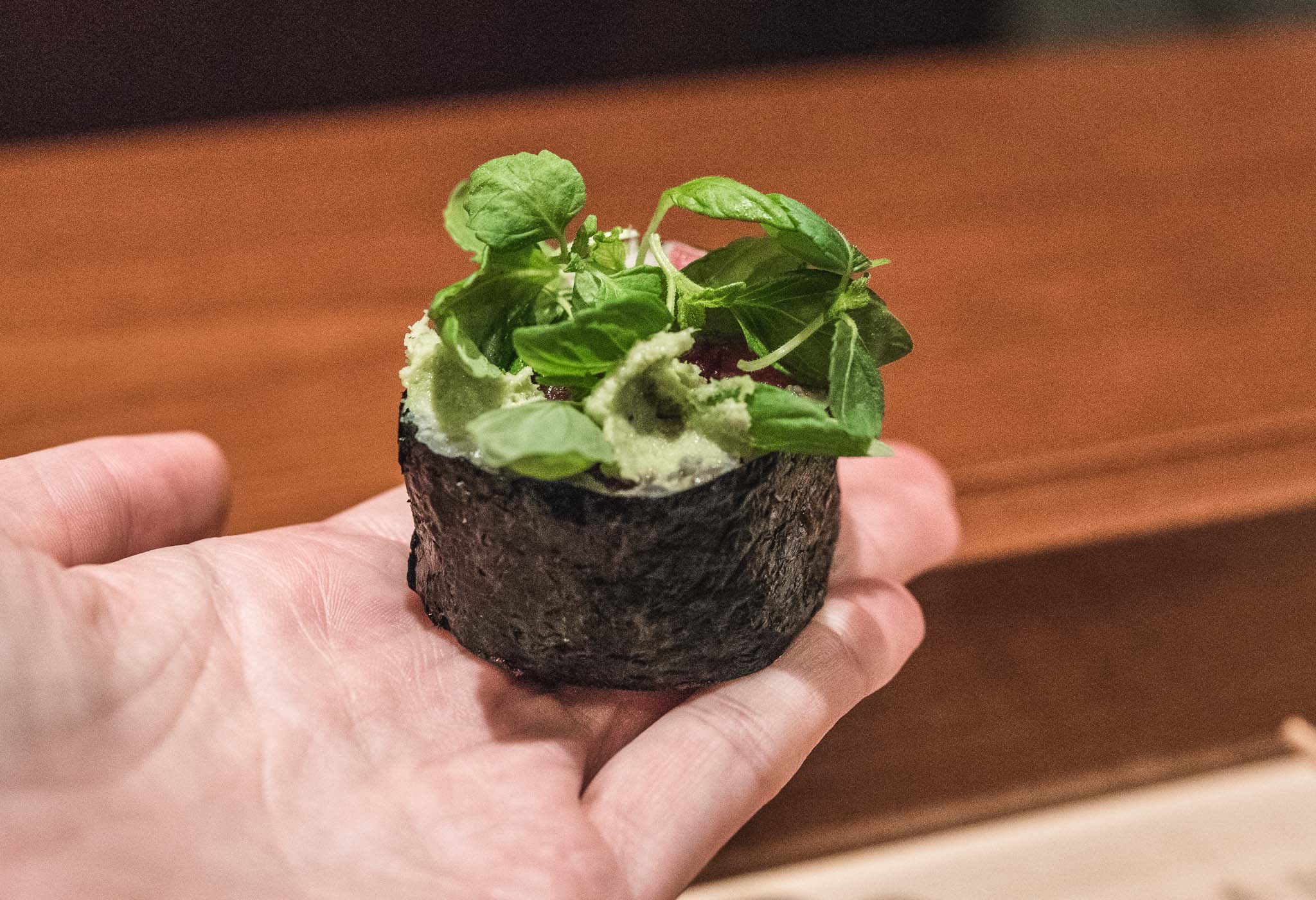 We were served two very large tuna rolls, topped with wassabi of course, and baby shiso leaves.
For dessert we had coriander sorbet, mango mousse, and roasted tea. Sorry, but I didn't manage to take any photos.
Throw back to May 2017
Couple of dishes from our first time at Sushi Yoshi back in May. I never had a chance to post them.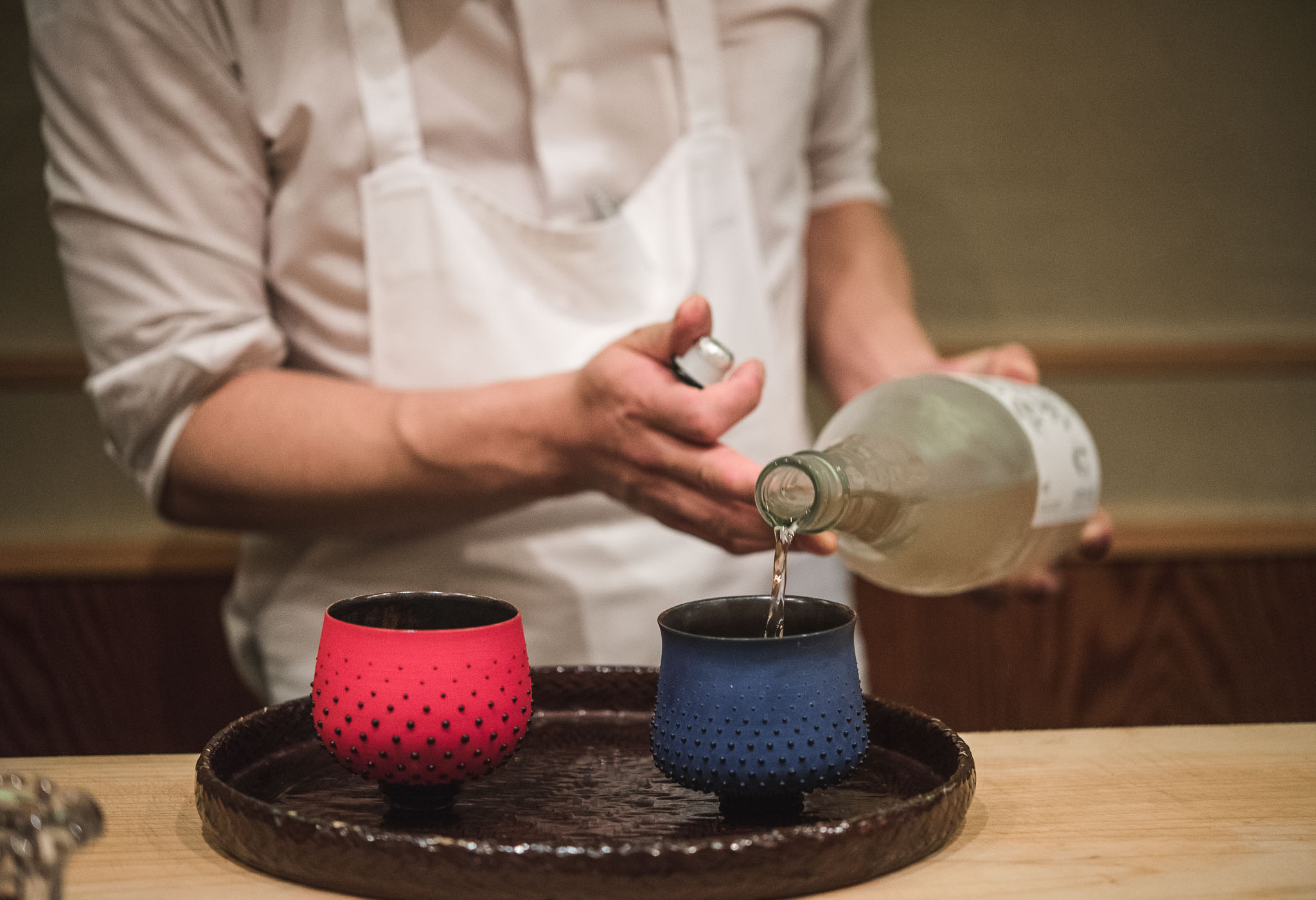 We stared the evening with a glass of refreshing cold sake.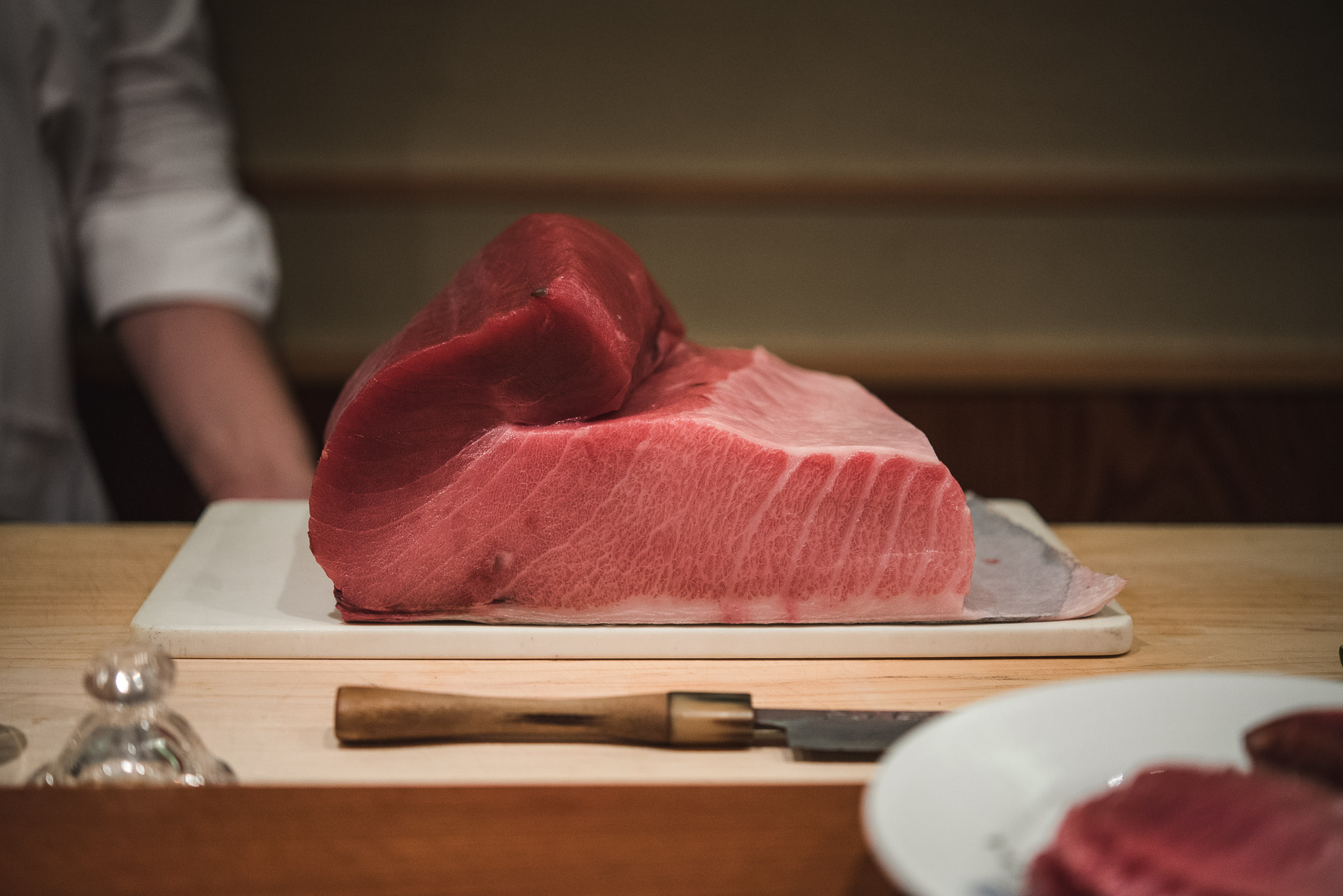 Woohoo! Look at this huge piece of Toro (Tuna)!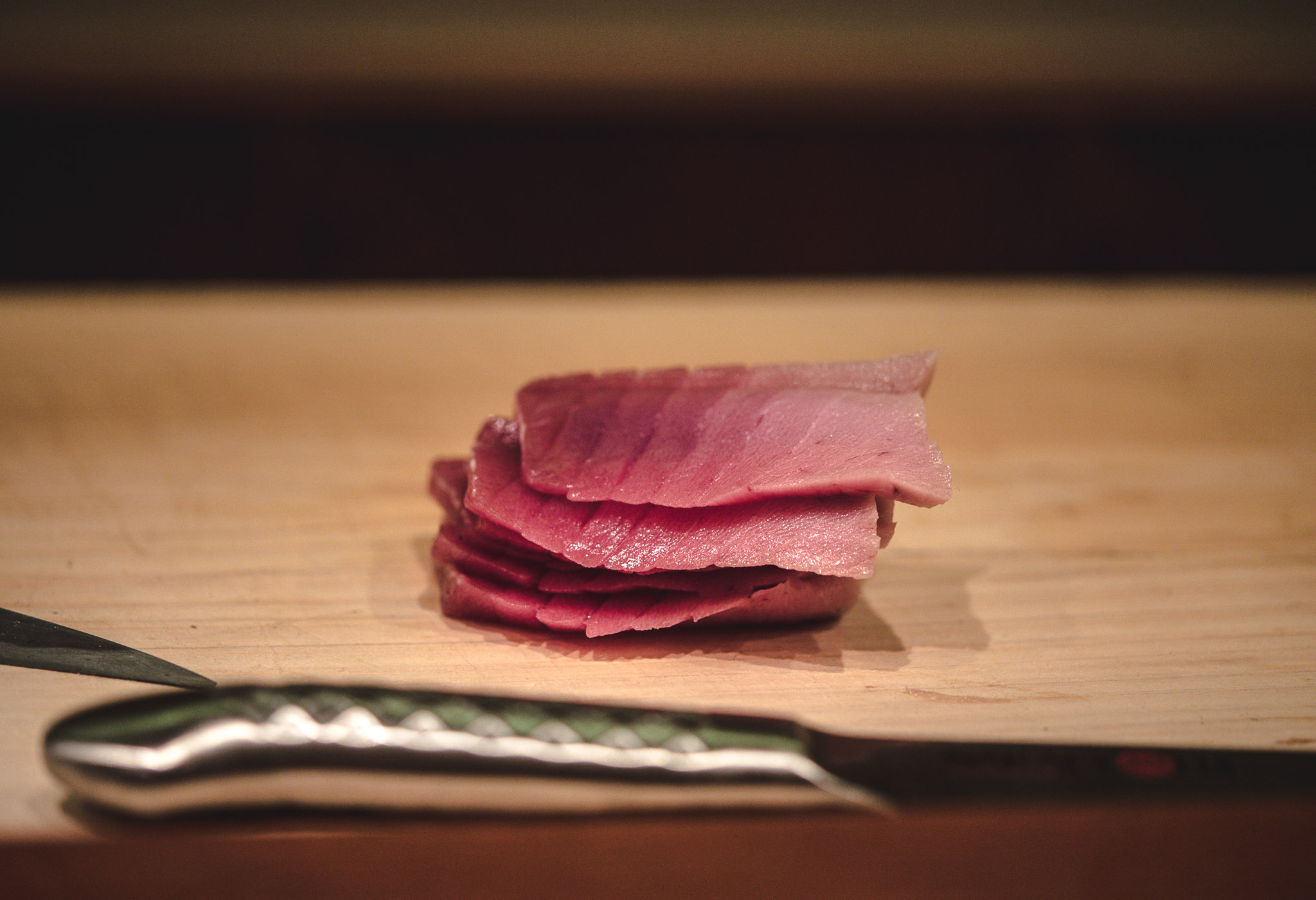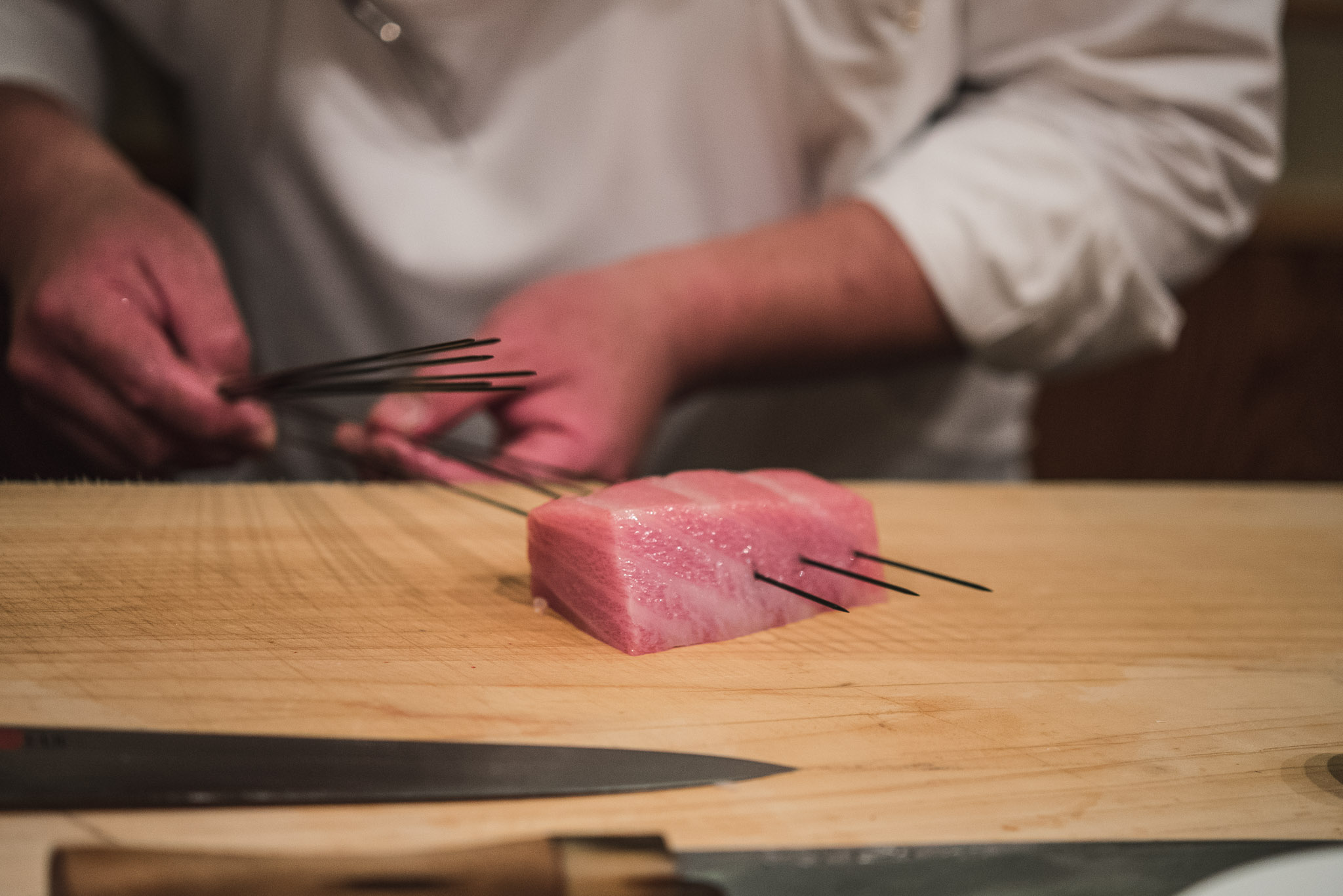 A chunky piece of the fatty part of the Tuna was pierced with metal skewers...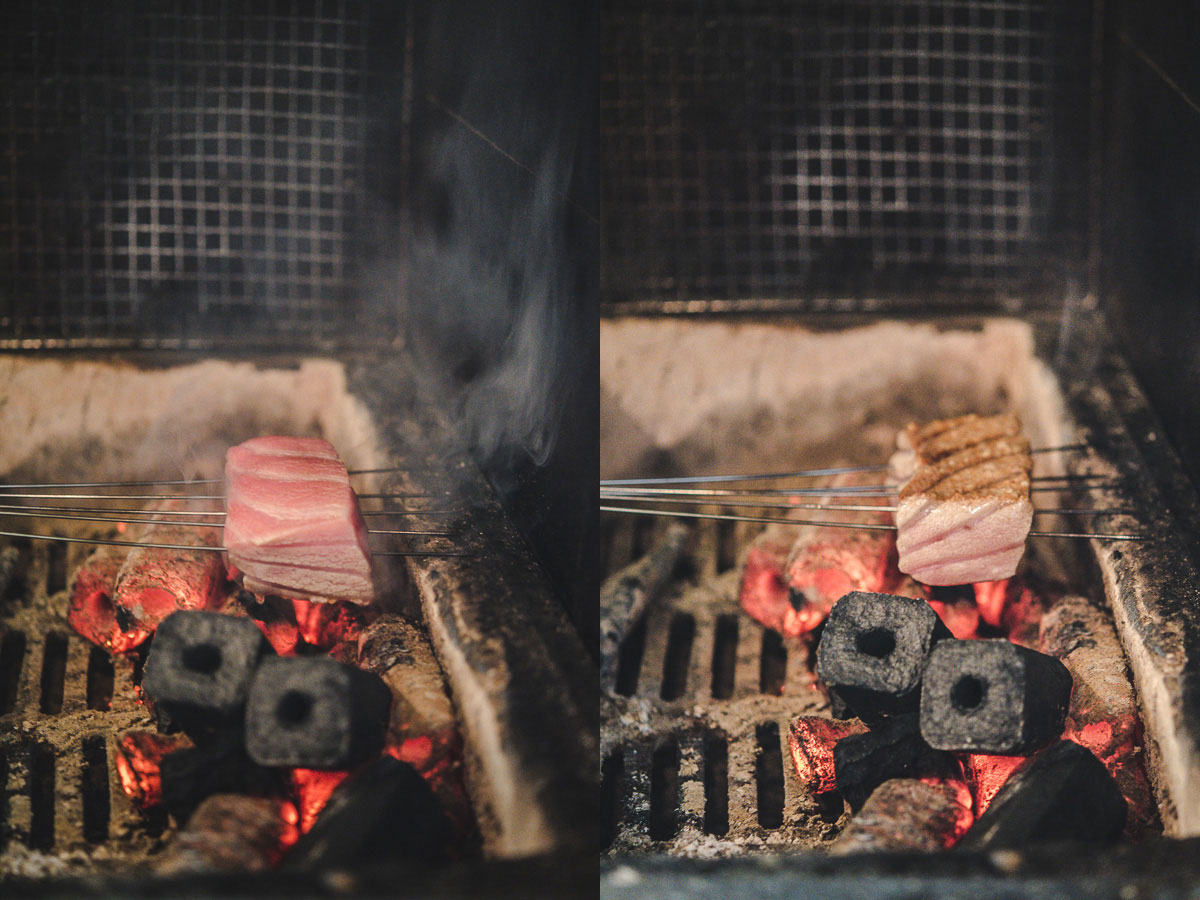 ...and then grilled over charcoal. Bits of the fat started to drip onto the charcoal, filling the room with a heavenly smell!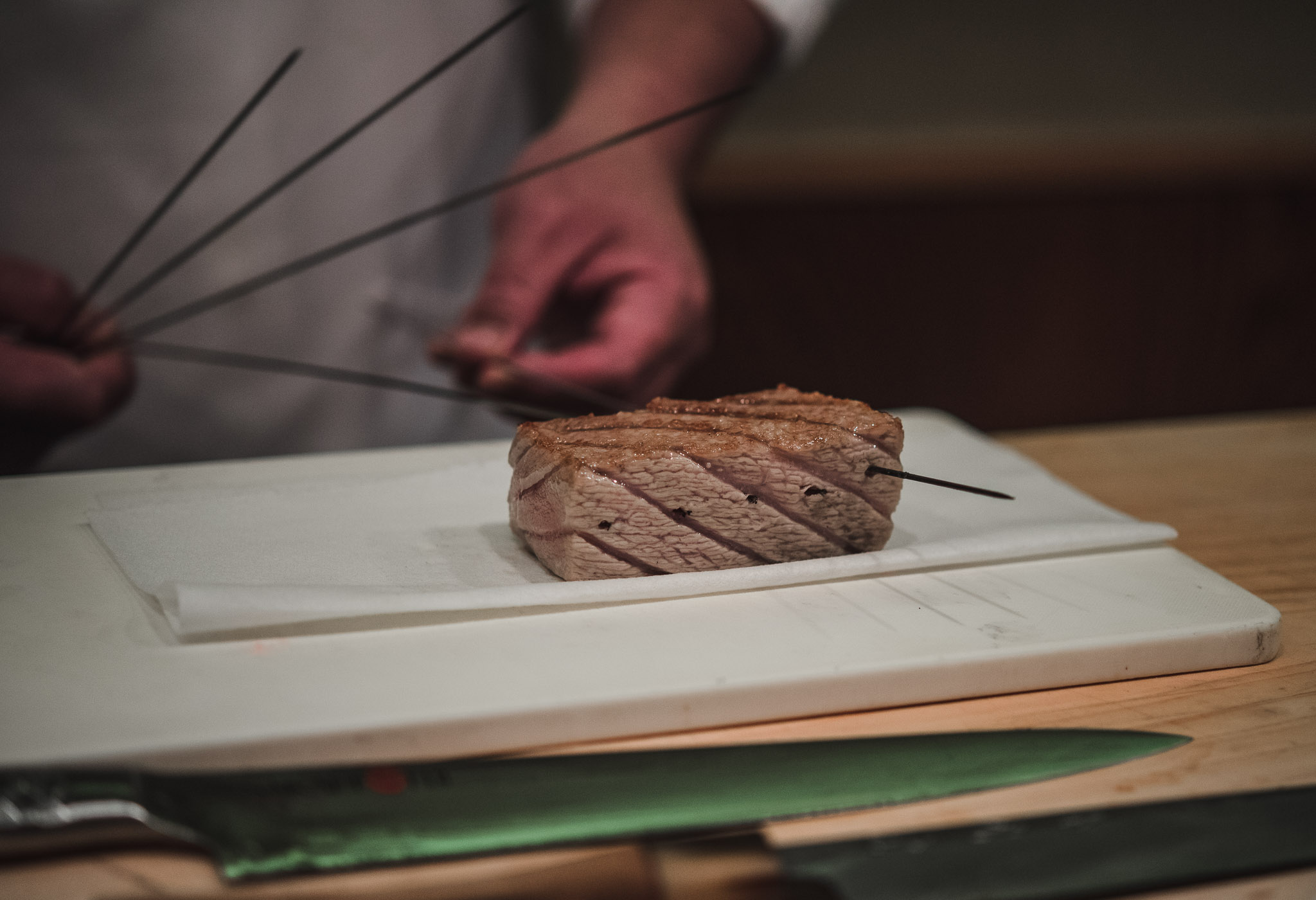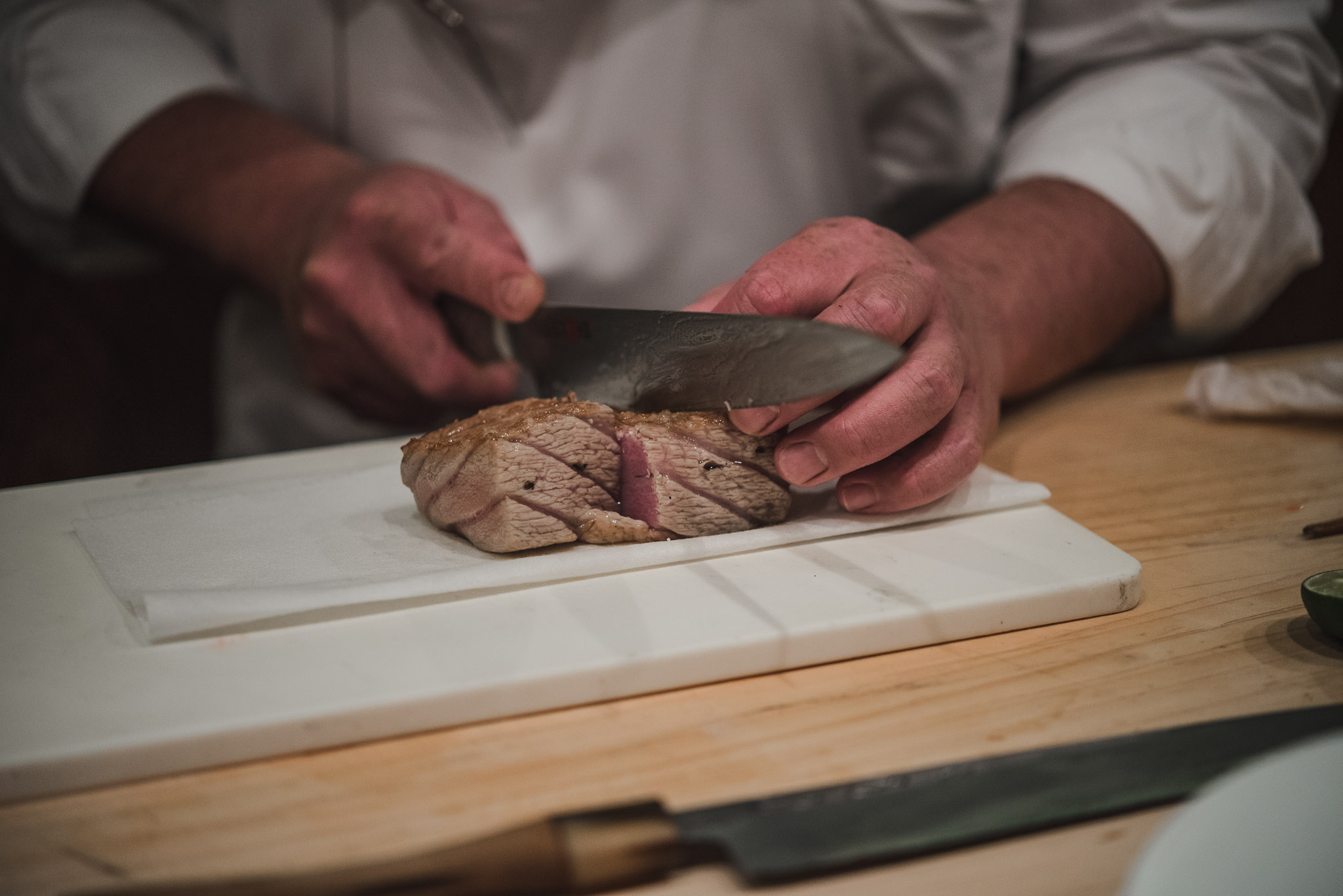 (slurp...)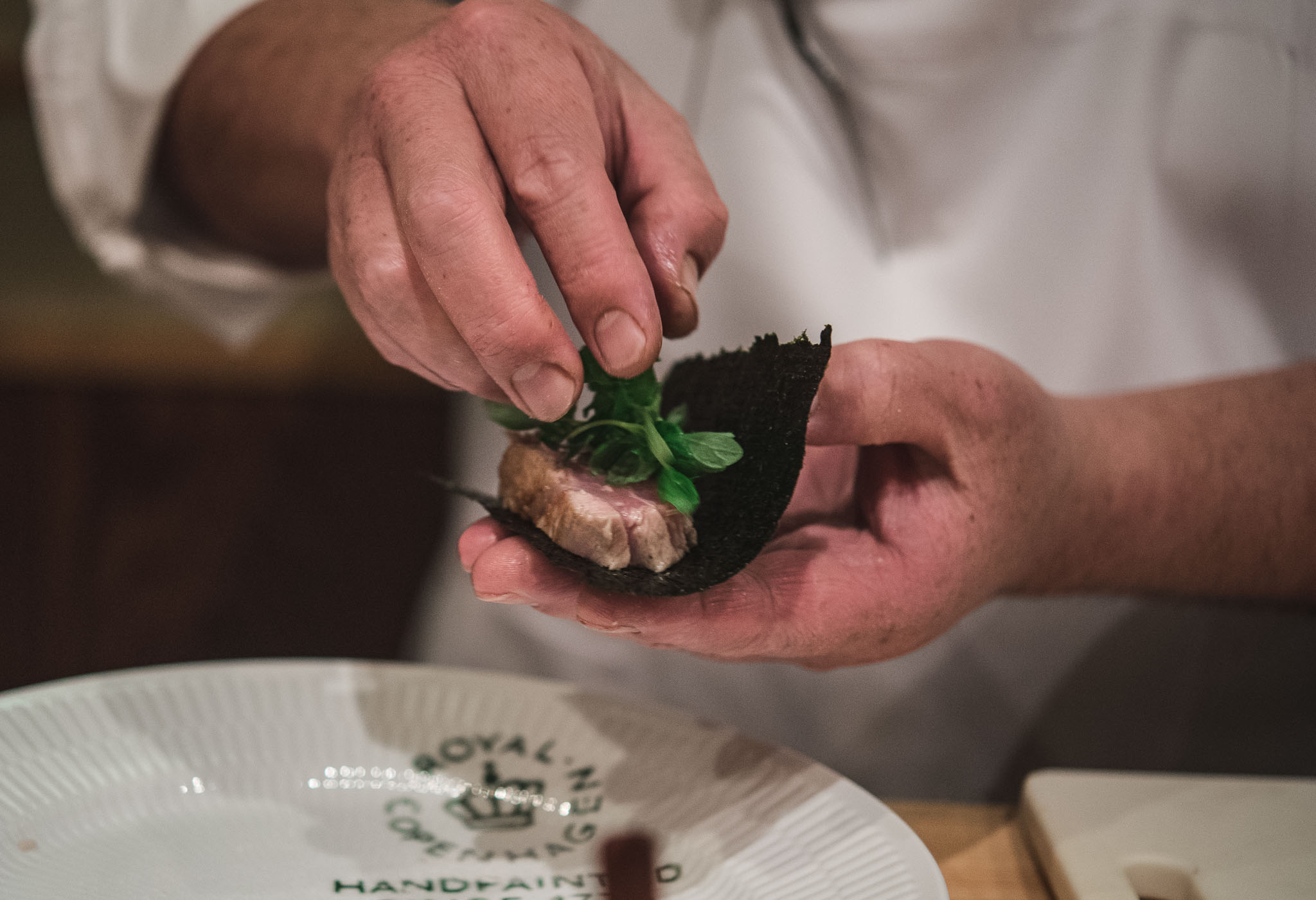 The tuna was thickly sliced, topped with shiso leaves, wrapped in a nori, and handed to us. The flavor of the fatty tuna was amazing!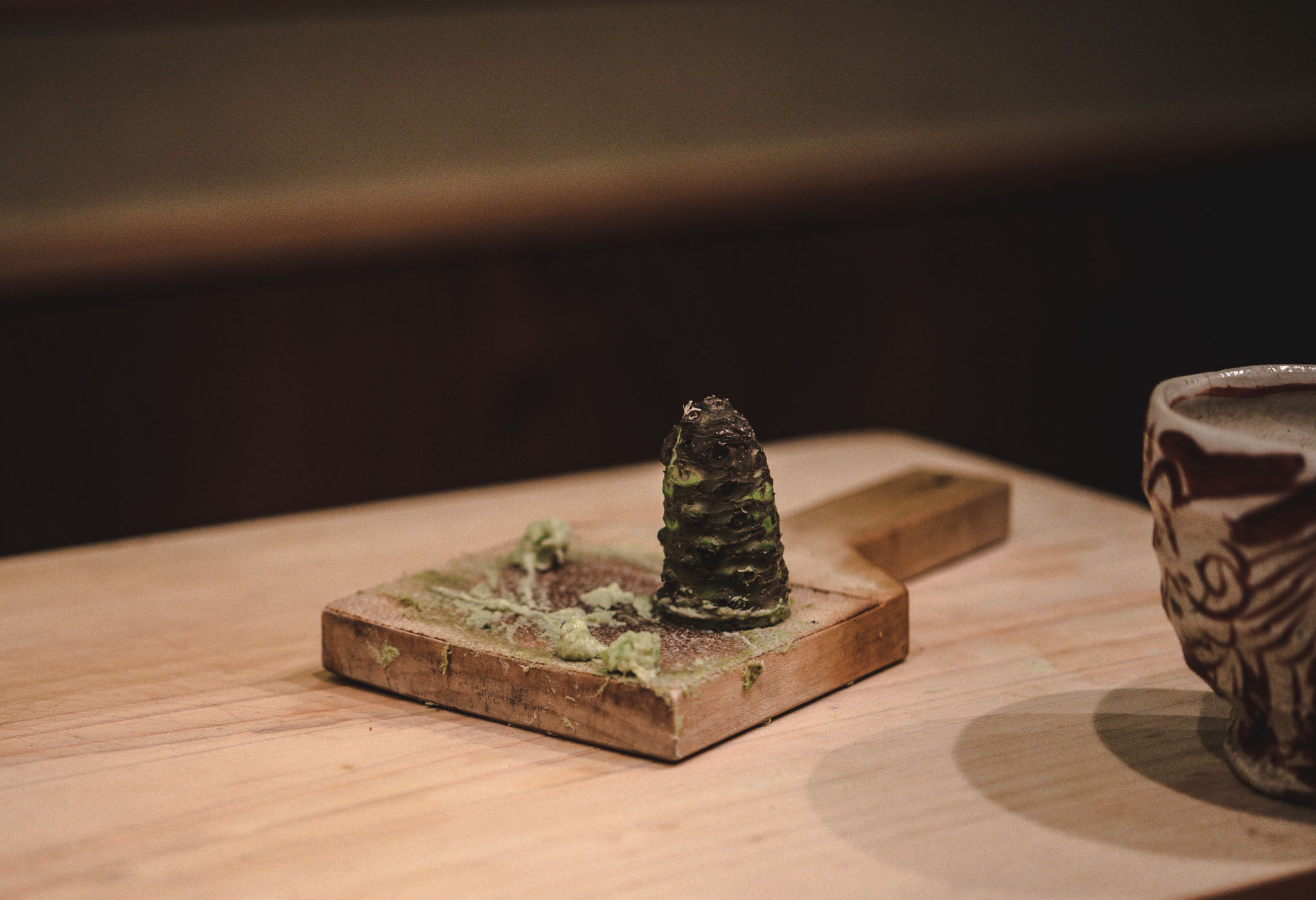 Fresh wassabi root.
Next we were served sashimi of sweet prawn with shiso leaves and flowers!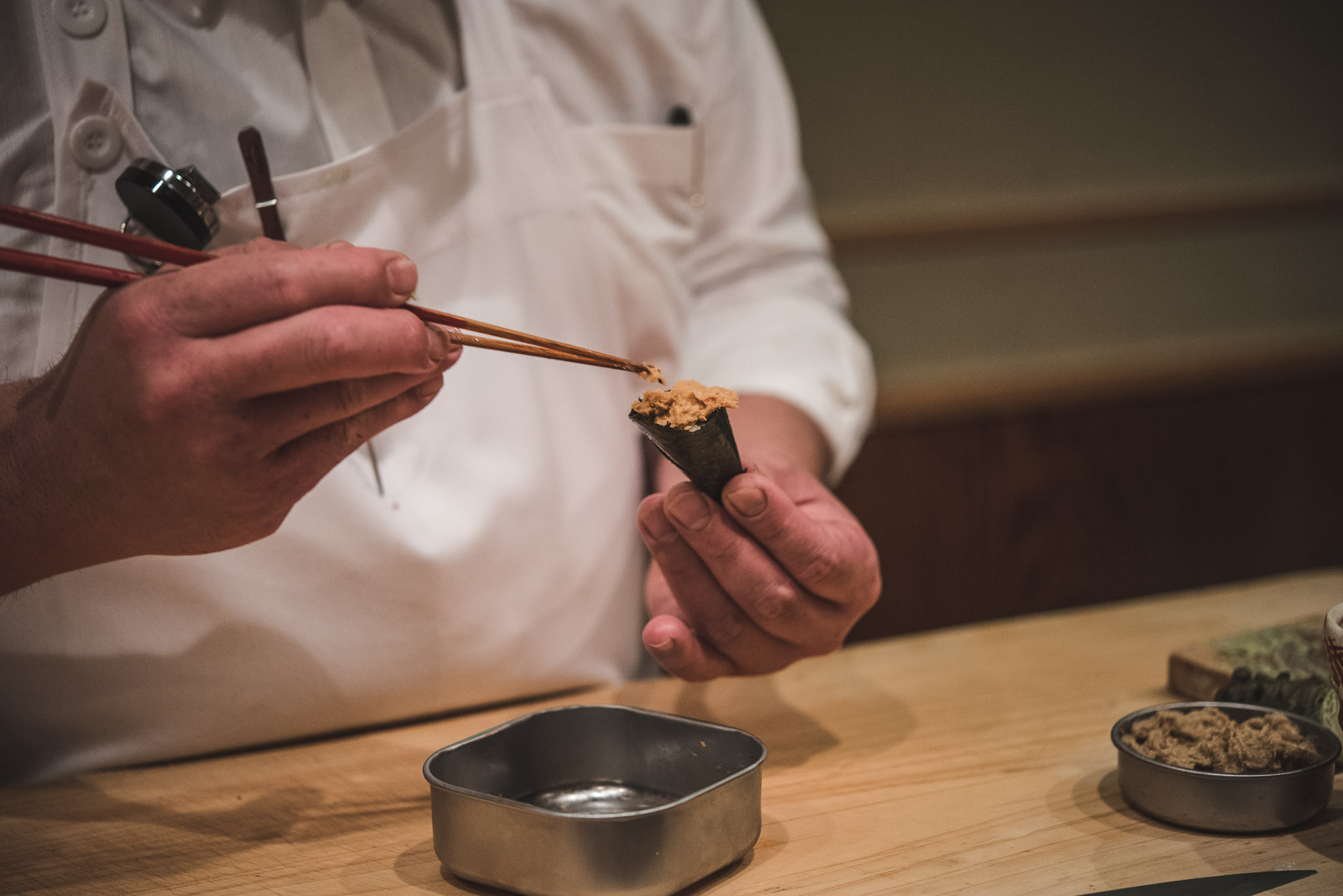 Then, the chef rolled some cones made of nori, stuffed each one with rice, added wasabi and then placed a dollop of shrimp brains (!?) on top!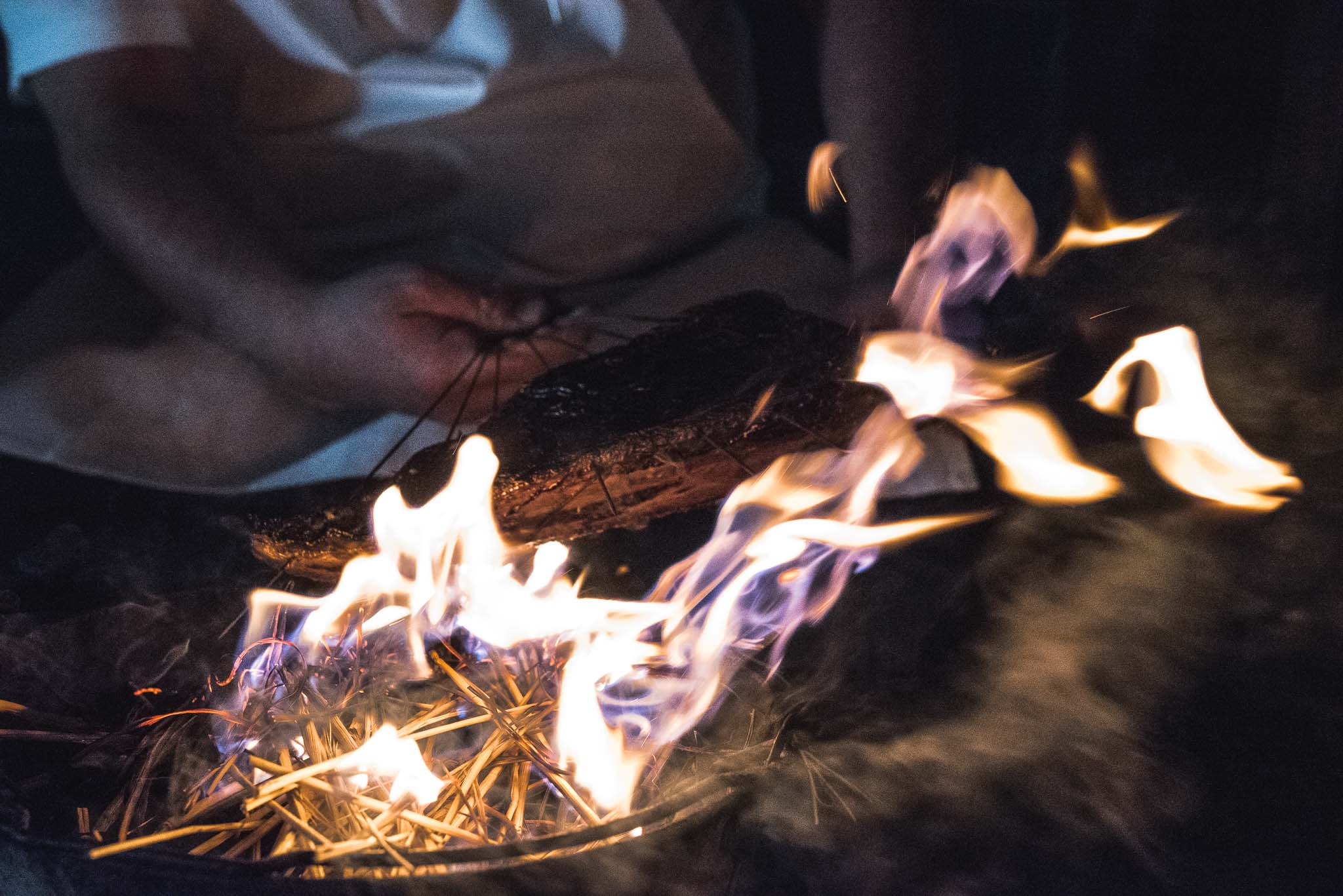 We also grilled bonito that night.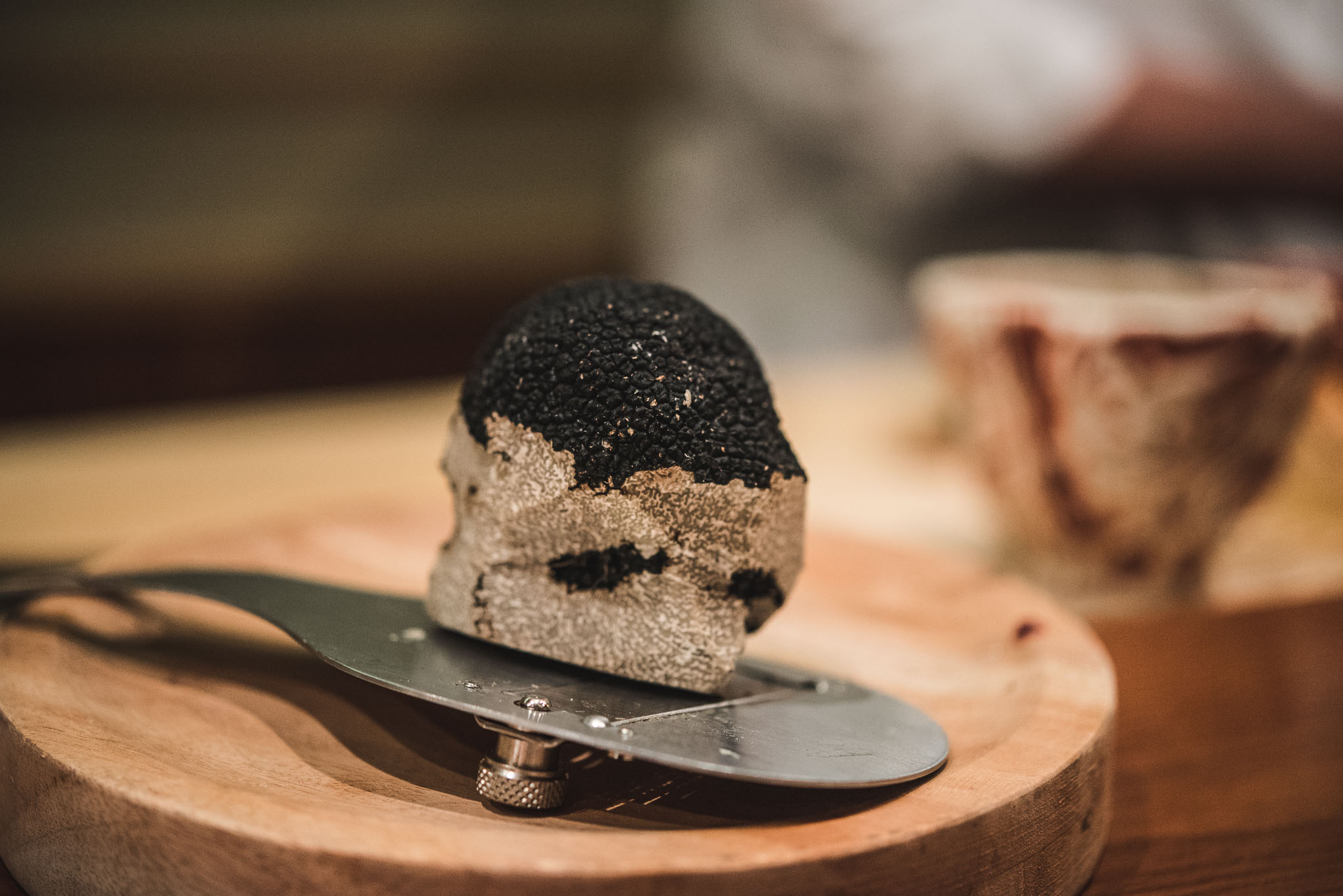 Large Italian truffle. Beautiful!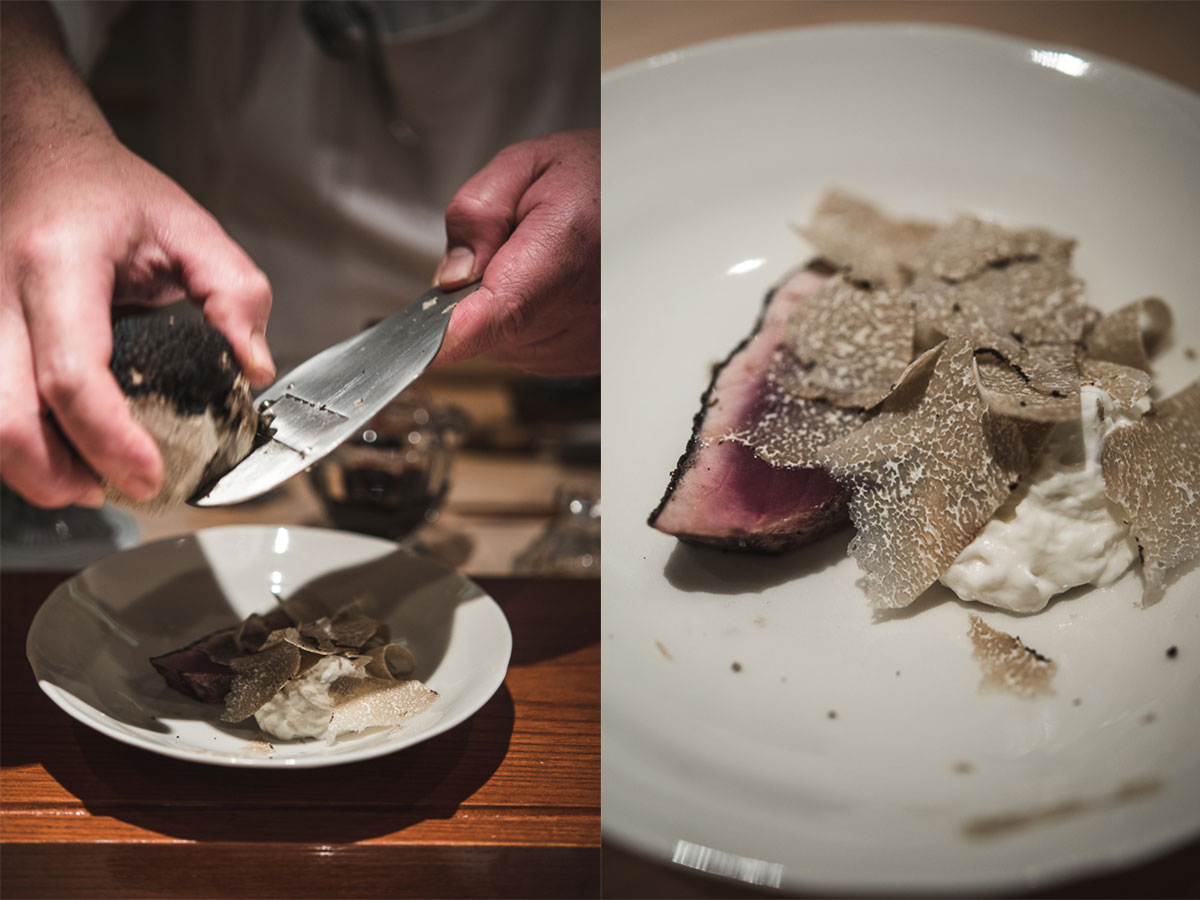 Grilled bonito was served two ways that night. With wasabi cream, and a generous portion of the Italian truffle on top!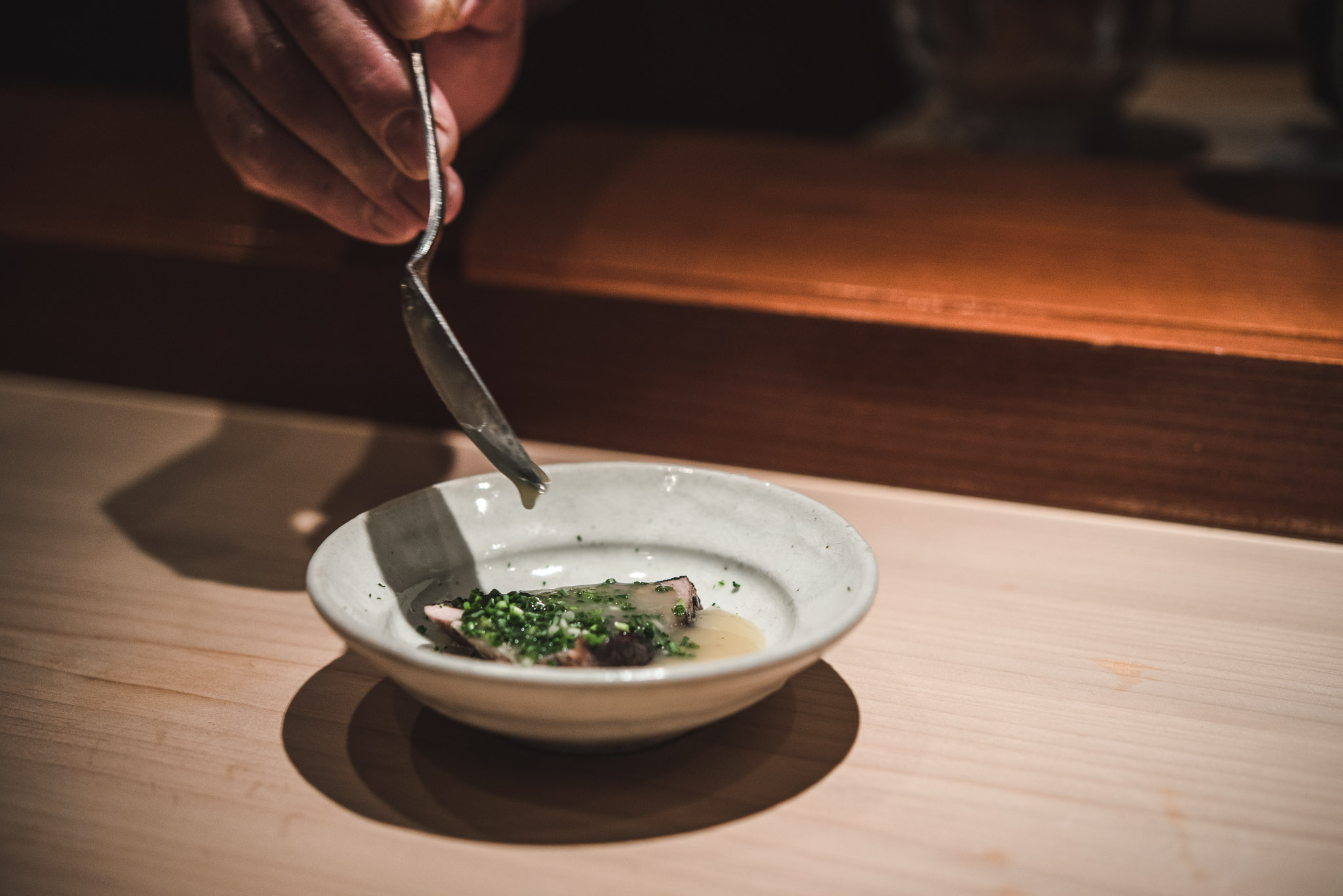 And with miso sauce, yuzu peel and plenty of chives.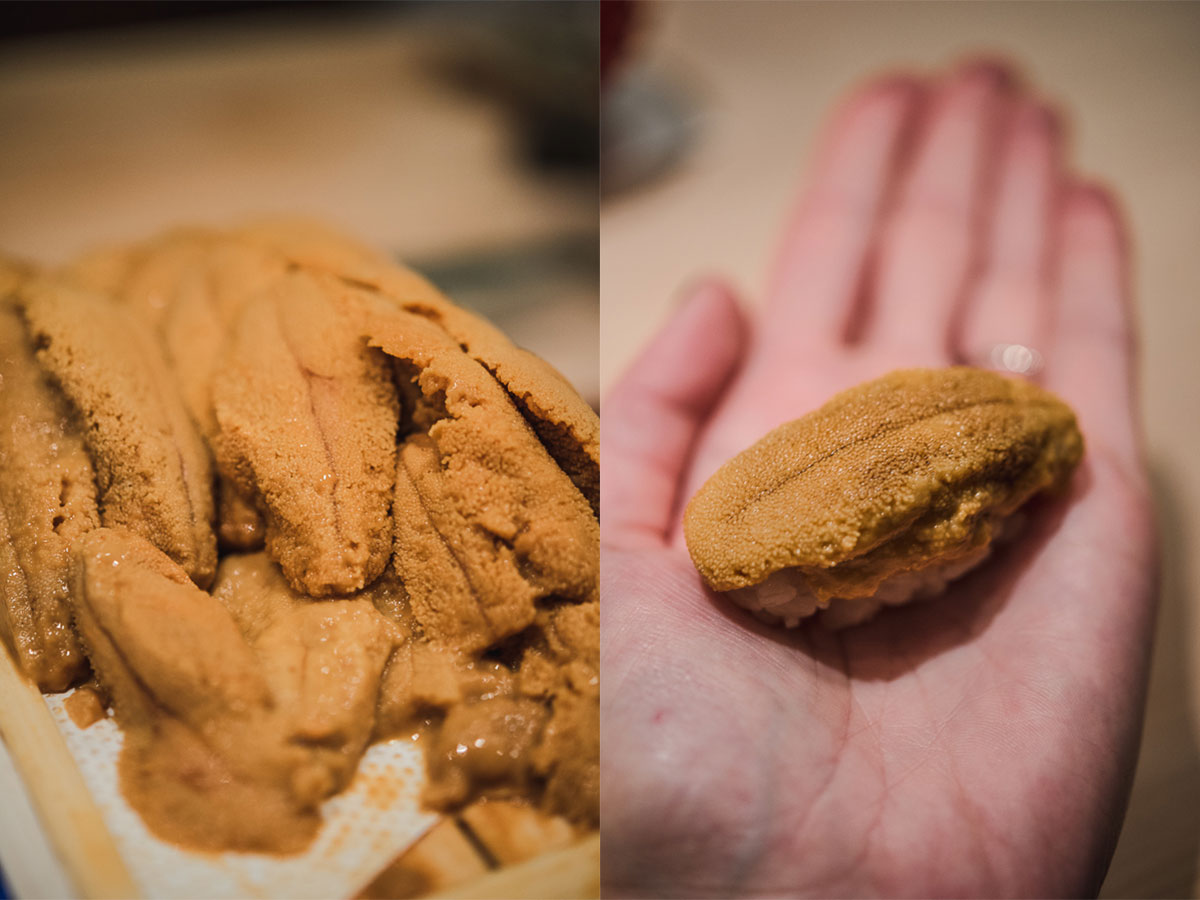 We had two types of uni that night. First uni from Nagasaki, served as Nigiri!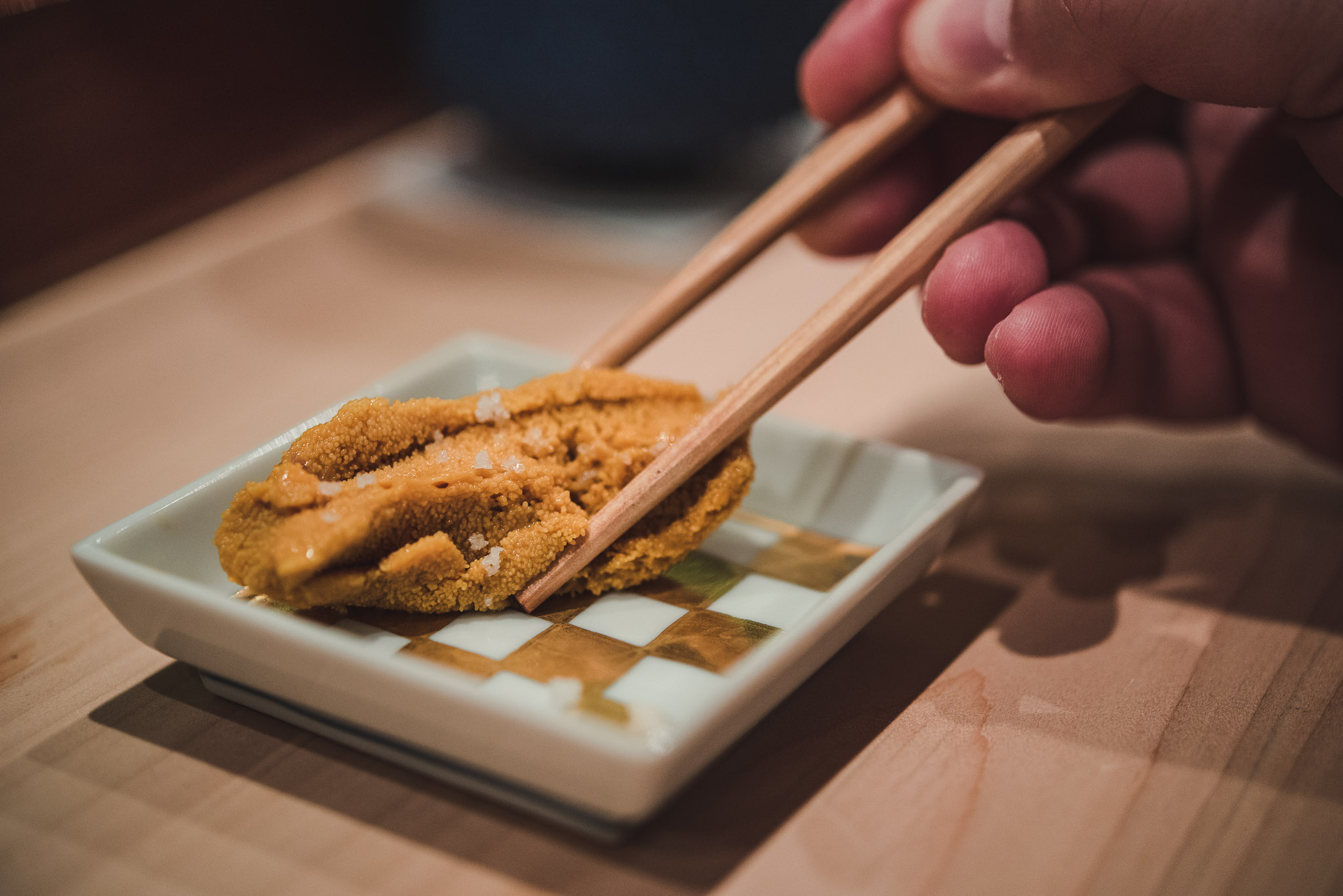 And then uni from Hokkaido, served as a sashimi, topped with a tiny bit of salt.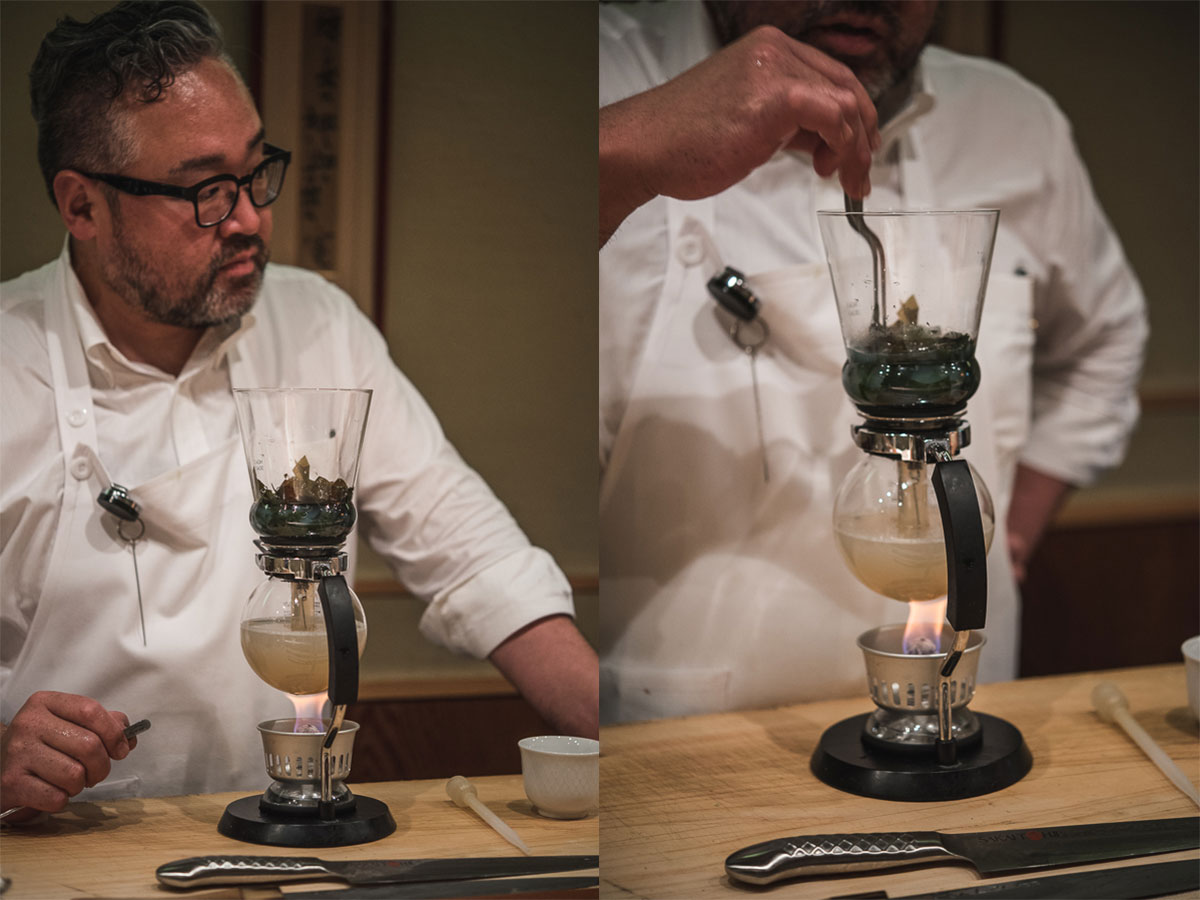 Seaweed and clam broth in the making.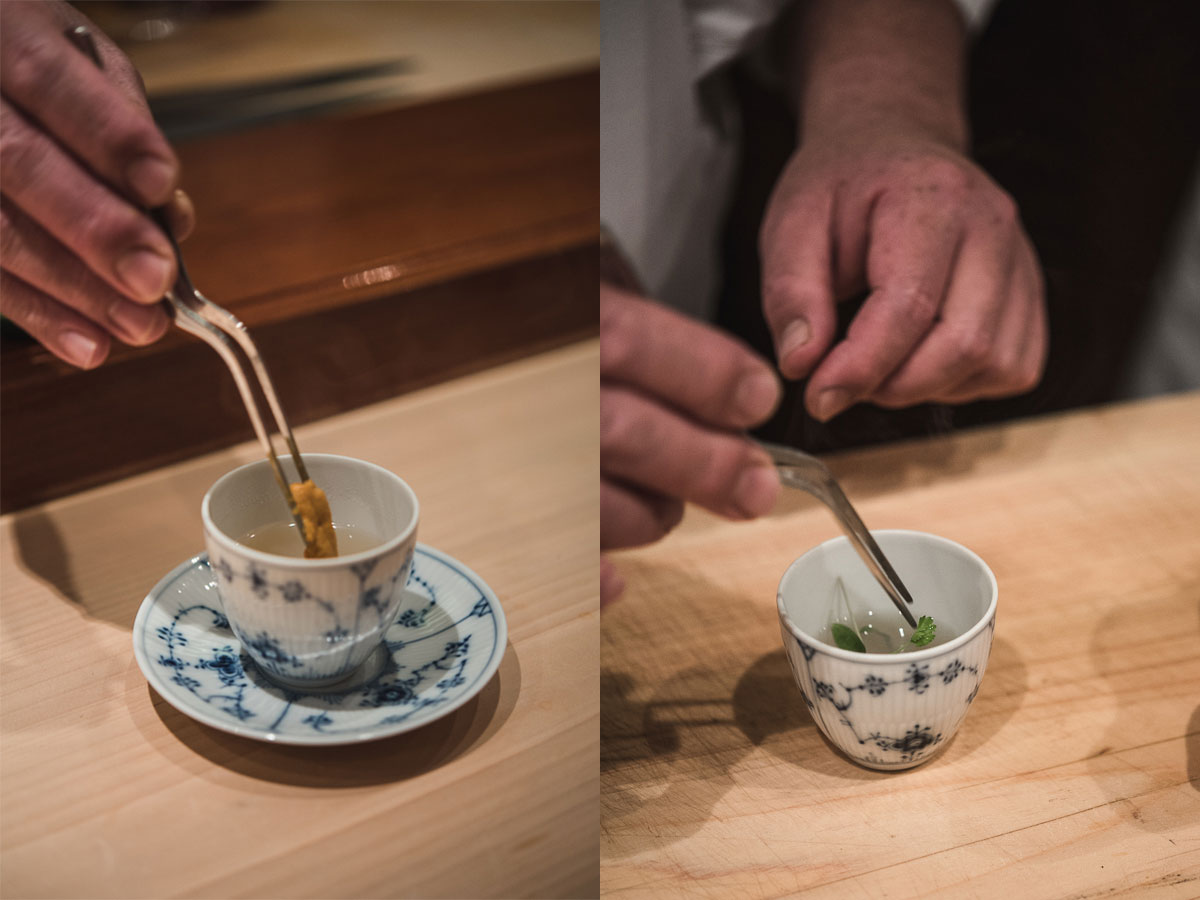 It was served two ways.
Left: with sea urchin. Right: with baby coriander leaves. Both very delicious.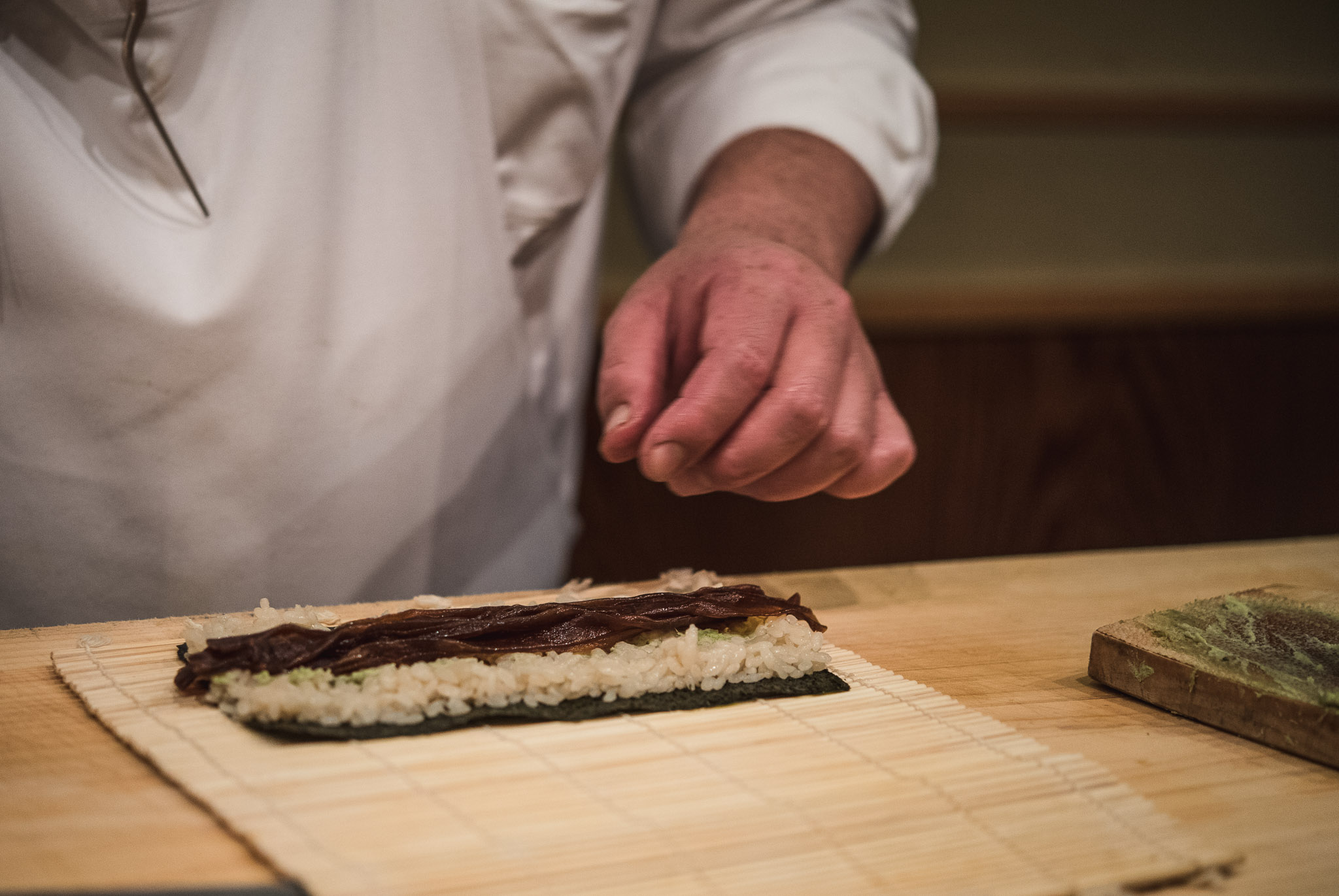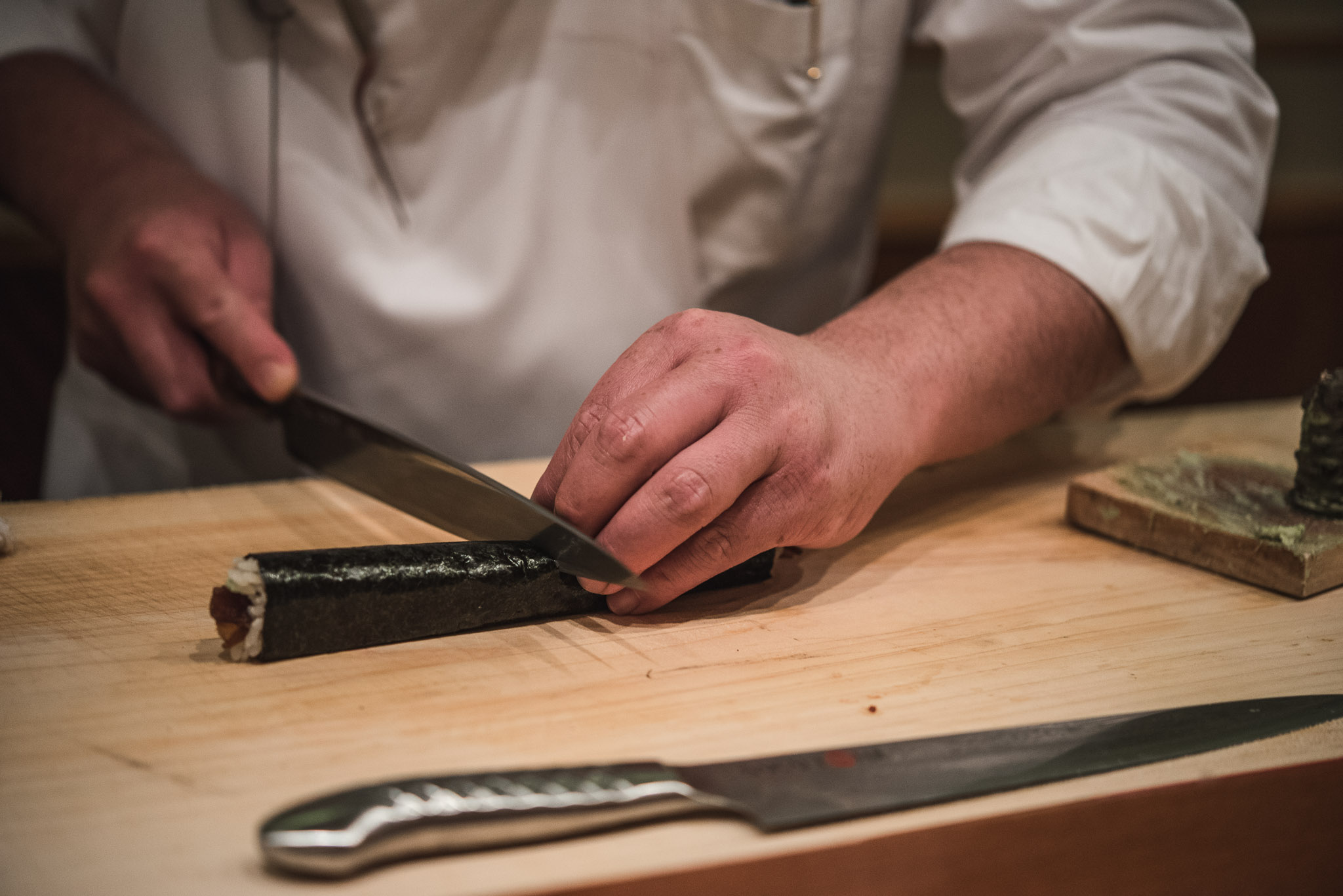 Maki roll with semi dried Japanese watermelon (??). Im not sure about that one.
But these were delicious, served with olive oil for dipping.
Overall, both nights were an amazing experience.
You can read about Sushi Yoshi on the Michelin Guide site.
I hope you enjoyed looking at the photos!